Well, close anyway. One of the quirky little niches I've written about before is Norwegian fisheries. There are five or six of them (that I was able to find) and I have made reference to this little group several time in the last couple of years. Fish and all that goes with it will play some role in the emerging market citizens eating more protein theme, which could then help any related stocks, not just the ones in Norway.
IndexUniverse reported that GlobalX, one of the small specialized ETF providers, has filed for several new ETFs, including the Global X Fishing ETF. The others, per IndexUniverse, are the Global X Aluminum ETF, the Global X Lithium ETF, the Global X Uranium ETF, the Global X Food ETF, the Global X Shipping ETF, and the Global X Waste Management ETF.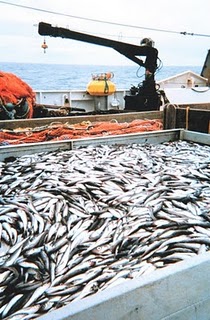 What, no farmland/plantation ETF? I actually think that could be an interesting one, but expensive if you look at where some of the names trade. Maybe the GlobalX Food will cover some of that ground.
As for a initial reactions on the others. Aluminum companies could run the gambit and be quite volatile. In the last few years Alcoa (AA) has been a serial disappointer and although I do not follow the group very closely it seems like this could be more of a trading vehicle.
I am surprised there are enough stocks to make a lithium ETF. Ok, there is Sociedad Quimica y Minera (SQM), which has other things in addition to lithium, and then there is um... er... well. Obviously, GlobalX didn't file for a one stock ETF, but this one will be obscure if it lists and could be interesting. The thing here is batteries for cars. You can read this article for more details, but most of the world's lithium is in Latin America and SQM is likely to be a very large component. I will be curious to see if the fund turns out to be more volatile than what is likely to be the largest holding--that being SQM.
The uranium ETF will obviously have a lot of Cameco (CCJ) and like the lithium fund I wonder if it will be more volatile than the largest holding, likely to be CCJ. I think this is a legitimate materials exposure for someone who expects nuclear energy to become a bigger part of the solution, thus creating more demand for uranium.
Depending on what direction the food ETF goes the question becomes if it is a staples fund or materials fund. If we are talking at least some exposure to farmland and plantations then I think staples is probably on the mark and could be a way to add emerging exposure in a sector where there are not many names to choose from. Someone could buy a stock like TH Plantations Berhad (THPLF) for example, which is in palm oil and palm kernel among other things in Malaysia, as a proxy for staples and emerging markets following this line of thought, or maybe just this proposed ETF.
The Shipping and Waste Management ETFs are not new concepts. There is a shipping ETF that went away on a technicality but will be coming right back, and there have been domestic waste stocks for years, so maybe the proposed ETF will put a different spin on thing for US investors.