Since the acquisition of Objet in 2012 and MakerBot in 2013, Stratasys (SSYS) has shown strong revenue growth, while synergies derived from these deals have positively impacted the bottom line too. The company announced its fiscal year 2014 revenue guidance of $660 million to $680 million, up from its $470 million to $490 million guidance for fiscal year 2013.
| | | | |
| --- | --- | --- | --- |
| | Fiscal year 2012 | Fiscal year 2013 | Fiscal year 2014 |
| Revenue | $359 million | $470 million to $490 million | $660 million to $680 million |
| Net Income (Non-GAAP) | $59.6 million | $77.7 million to $84.4 million | $113 to $119 million |
| Net Income (GAAP) | ($21.6 million) | ($35.0 million) - ($23.1 million) | $10.5 to $19.9 million |
Stratasys expects its organic sales, which exclude MakerBot sales, will grow at least 25% year over year in 2014, and MakerBot will add to this revenue growth. This revenue guidance looks solid, and I think the company's revenue will beat the market expectation due to MakerBot's strong product sales. Significant growth in both Makerbot's target markets, prosumer (engineers, architects, educators) and consumer (households), will result in strong sales.
Stratasys currently holds the leading position in 3D printing and controls 47% of the worldwide installed base. Also, 52% of the overall market systems sold at the professional end belongs to the company. Strong grip over the 3D printer market will perfectly position the company to capitalize on the market demand for 3D printers. Last year, big announcements came from two major jet engine manufacturers, General Electric (GE) and Rolls-Royce (OTC:RRCEF) that are considering use of 3D printing to make their jet engine parts in the future. GE Aviation plans to build more than 85,000 fuel nozzles for its new Leap jet engines, which is part of an overall $3.5 billion investment GE Aviation plans to spend in its supply chain. On the other hand, Rolls-Royce plans to deploy this technology soon for making parts of engines powering passenger jets. Market leader, Stratasys, will look to leverage its strong market presence in the professional segment to capitalize on this market opportunity.
Clash of Titans
The fight between Stratasys and 3D Systems (DDD) to grab the 3D printing market opportunity reached a new level, with Stratasys making a strong move towards color 3D printing by providing the world's first multi-material full-color 3D printer Objet500 Connex3. This 3D printer uses three base colors i.e. cyan, magenta, and yellow, which are combined to produce different color combinations as per the customer's requirement.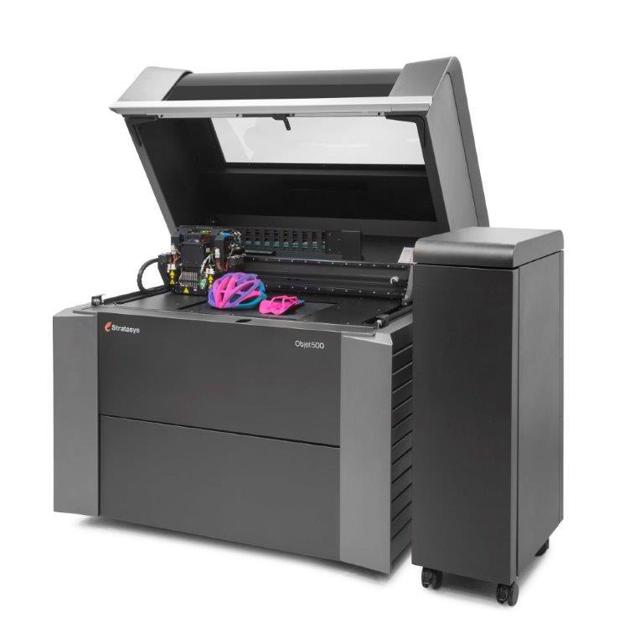 Click to enlarge
Source: Gigagom.com
This 3D printer is a direct challenge to Stratasys' main competitor, 3D Systems, which is a leader in color 3D printing. 3D Systems is best known for professional grade color 3D printers with its latest addition ProJet 5500X being a high-end multi material professional 3D printer, but its color range is limited to black, white, and certain shades of grey.
3D Systems has taken an extensive lead over Stratasys in color 3D printing by launching a full color 3D printer in the mid-price segment at the CES 2014. Branded as CubeJet, this 3D printer is priced under $5000 and can 3D-print colored objects in different colors. The CubeJet 3D printer targets small businesses, independent entrepreneurs, and hobbyists. Adding a color 3D printer in the mid-price range will prove to be a game changer for 3D Systems, and will help it maintain the lead in color 3D printing. Additionally, 3D Systems also revealed an entry-level 3D printer, Cube 3, which is priced at less than $1000. This desktop printer provides an option to print in two colors or two materials at once.
The roots of this fight between 3D Systems and Stratasys started with the commercialization of 3D printing, with 3D Systems bringing the first 3D printer to the market back in 1984 and followed by Stratasys commercializing its Fused Deposition Modeling technology in 1990. Since then, both companies have looked to gain the lead in the 3D printing market with their new products and acquisitions. Last year, industrial major Stratasys closed the acquisition of MakerBot and targeted the consumer segment for the first time. MakerBot's low priced 3D printers have been famous among hobbyists and manufacturers who use the machines to build prototypes and parts, and this acquisition added significant value to Stratasys' topline. This acquisition had positioned Stratasys in the leading position in the consumer market, close to 3D Systems.
Now with the launch of a multi-material full-color 3D printer by Stratasys, the fight has heated up in the color 3D printer market. It will be interesting to watch how 3D Systems sustains its market presence. I believe the new Objet500 Connex3 will help Stratasys gain traction in color 3D printing, though this will not be easy for the company due to 3D Systems' strong market presence.
Conclusion:
Despite a share price appreciation of 66% in 2013, Stratasys' peer comparison on valuation metrics indicates that the company is still undervalued and has an upside potential. Its PEG ratio for the upcoming five years is currently at 2.86x, as compared to 3D Systems' 4x. Also, it has a price to sales ratio of 13.70 compared to 3D Systems' 15.09. Therefore, strong end user spending growth in the 3D market along with Stratasys' leadership position will enable the company to sustain this growth momentum going forward. I recommend buying this stock.
Disclosure: I have no positions in any stocks mentioned, and no plans to initiate any positions within the next 72 hours.
Business relationship disclosure: Fusion Research is a team of equity analysts. This article was written by Rohit Gupta, one of our research analysts. We did not receive compensation for this article (other than from Seeking Alpha), and we have no business relationship with any company whose stock is mentioned in this article