A major portion of Marathon's (MRO) 2014 total projected capital expenditure for North America, around 64%, will be invested towards the Eagle Ford formation. This total planned capital expenditure of around $2.3 billion will be used for drilling and completion technique of wells in Eagle Ford. After successful integration of pad drilling and the horizontal drilling technique, Marathon implemented down spacing in its Eagle Ford shale.
Down spacing is the process of reducing the distance between the wells, adding more drilling location in dedicated acreages. By using vertical and horizontal drilling in Eagle Ford, Marathon has already achieved the production rate of around 81,000 barrels of oil equivalent per day (boepd) by the end of its third quarter of 2013. Now in line to meet the company's target of total production of around 405,000 boepd to 430,000 boepd in 2014, Marathon is focusing more on down spacing in Eagle Ford. Earlier the company drilled wells at 80 and 160 acres spacing, but in its fourth quarter of 2013, it drilled around 90% of its Eagle Ford wells at 60 and 40 acres spacing. This acre spacing denotes the space between two adjacent wells. During its fourth quarter, it reported total Eagle Ford production of 90,000 boepd, around 11% higher than the earlier quarter, and the company's total production improved by 45% at 40 and 60 acre spacing compared to the earlier 80 and 160 acre spacing. It is expected that Eagle Ford could be the largest U.S. onshore oil field with a potential reserve of around 7 to 10 billion barrels of oil, and I believe the company's narrowed down spacing process will enable it to acquire more reserve going forward.
To utilize the down spacing to the fullest, Marathon is using the Zipper stimulation technique. In this technique, the stimulation process between two adjacent wells located at the same pad runs at the same time. While the frac crew stimulates one well, the perforating crew works in the adjacent well at the same time. With this process, the total production grows along with cost saving on the well completion process. As a result, this year Marathon plans to reduce the completed well cost and will maintain it between $6.5 million and $7.5 million.
Along with the company's improved wells production rate, down spacing in Eagle Ford acreages has also helped Marathon increase the number of wells. By reducing the distance between two adjacent wells from 60 acre spacing to 40 acre spacing, the total number of wells in the drilling unit will grow accordingly. Marathon is expected to increase its gross company operated wells to around 340 - 355 from its existing 290 gross wells to meet its expected total production of around 140,000 to 160,000 boepd by 2017. The unit's net present value [NPV] will also increase compared to the 80 acre spacing, as shown below. Marathon expects that the NPV will increase by around 50% with the lowered spacing of wells compared to the 80 acre spacing. Moreover, the company estimated that these wells would achieve around 30% to 100% of the pre-tax internal rate of return [IRR], which signifies improved earnings going ahead.

Source: Company presentation
Competitors at a glance
Another major player, Pioneer Natural Resources (PXD), has also reduced the spacing between its wells. In Eagle Ford, Pioneer tested the opportunity to move from 120 acre spacing to 60 acre spacing, and now they are planning to move to 40 and 30 acre spacing. This company expects that the narrowed down spacing will help increase the estimated ultimate recovery [EUR] by around 20%. It added 300 drilling locations in liquid rich areas in the Eagle Ford and increased its total ultimate recovery to 1.2 million barrels of oil (mboe) from 1 mboe during November last year with its down spacing program. Murphy Oil (MUR) also integrated down spacing in its Eagle Ford shale and achieved an improved production rate from this formation. The company estimates that in its core net acres of 120,803, 397 wells can be achieved by applying 40 acre spacing between wells. Currently, Murphy has 112 down spaced wells in its Karnes and Tilden play below 80 acre spacing. With these downspaced wells, it reported total Eagle Ford averaged production of 41,900 boepd during December 2013, which is higher than 15,500 boepd in 2012.
Marathon, looking at the success rate of its 40 acre and 60 acre down spacing, planned to implement 30 acre spacing this year. I expect the company will witness improved recovery, which in turn will help strengthen the company's financial performance in the coming quarters.
Bakken: Growth continues
This year, the company initiated a 20% increase in rig activity for re-completion of open-hole wells in the Bakken formation. To achieve the re-completion with ease, Marathon planned to provide one dedicated rig for this purpose. Open hole wells indicate wells drilled on top of the hydrocarbon reservoir with a casing at the top exposed area, but the bottom parts of these wells are left open to save the cost of casing. As these reservoirs are promising in long-term production, drilling open-hole wells is a common practice in the Bakken. Marathon is more interested in re-completion of these wells this year, as with re-completion activity, it is expected that the total reserve's gross per well would increase by at least 280,000 barrels of oil equivalent. Presently, with the projected re-completion of around 100 open-hole wells along with more than 20 net existing wells, Marathon is expected to strengthen its production performance in the Bakken.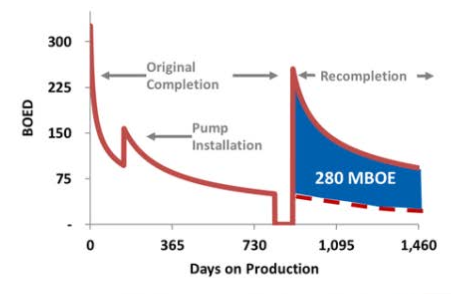 Source: Company presentation
To maximize the impact of open hole completion, Marathon continues its frac stages stimulation in its Bakken wells. This stimulation technique is used to increase the flow from the reservoir rock formation and improve the total production rate of wells. In the well fracturing process, it breaks the reservoir rock and eases the way for hydrocarbon to flow towards the exposed section of the well. Marathon initiated 30 stages frac to increase its total cumulative production from the Bakken formation. It witnessed a 90 day cumulative production increase by more than 25% in 2013 and reported average production of 40,000 net boepd approximately during its fourth quarter. It is estimated that hydraulic fracturing can increase the production by 1.5% to 30% of the initial rate of flow and the overall production by around 15%.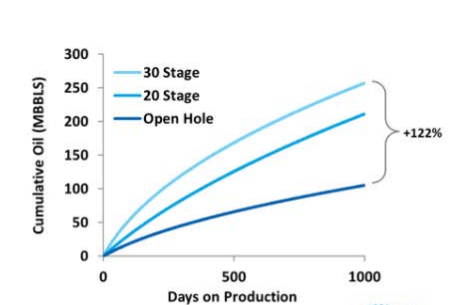 Source: Company presentation
With a combined net acreage of 370,000 in the Bakken and Three Forks formations and a well inventory of around 1300, I believe the company will be able to increase its total production and will meet its projected production rate of around 70,000 boepd by 2017. Going forward, I expect that Marathon will witness a better earning opportunity with this technical advancement in production.
Conclusion:
Marathon is accelerating its growth and ensuring its long-term financial performance with its Eagle Ford and Bakken formation. Projected capital expenditure and improved production activity will strengthen its bottom line through substantial cost savings. Moreover, with the re-completion activity of its open hole wells and its capability of increasing the reserve amount with more frac stages, I believe this company will provide long-term returns to the investors.
Disclosure: I have no positions in any stocks mentioned, and no plans to initiate any positions within the next 72 hours. I wrote this article myself, and it expresses my own opinions. I am not receiving compensation for it (other than from Seeking Alpha). I have no business relationship with any company whose stock is mentioned in this article.