Big retail companies including Target (NYSE:TGT), Home Depot (NYSE:HD) and Macy's (NYSE:M) now have stores on eBay Inc. (NASDAQ:EBAY). However, this online seller has struggled in the past against its competitor Amazon (NASDAQ:AMZN) who is considered a better alternative in terms of locating products and a better shopping experience. However, with PayPal under its hood and with significant improvements, it will be no time before eBay begins posing a challenge to Amazon. In this article, we will go through the company's latest quarter bringing up the key highlights. Later, we will shift our focus towards the company's future initiatives that will help drive investor value.
The Quarter
Beginning with the marketplace, the holiday season quarter gave strong revenues that increased 11% to $2.3 billion as a result of 14% growth in active accounts obtained by improvement in mobile and customer experience and partially due to the Christmas season. I will discuss these improvement highlights later in the article. The margin was 41.1% in the quarter at the upper end of the company's 38-42% guidance range strengthening our confidence in the projection of the company.
With regards to PayPal, it can be said that the payment merchant is a strong backing for the company that will take it to greater heights. Revenue reached $1.8 billion, increasing nearly 20% on a currency neutral basis year over year driven by accelerating merchant services growth and strong growth on eBay. The unit increased penetration on eBay by 175 basis points this quarter.
As of year-end, 70% of the US internet retailer and 63% of the EU internet retailer had integrated PayPal. It is evident that PayPal is a very strong component that Amazon lacks, and together with its integration on channels other than the eBay marketplace, it will ensure that seasonal variation for eBay is smoothed through revenues brought from online retail vendors.
Total operating expenses were 40% of revenue down 165 basis points mainly due to lower sales and marketing from improved marketing efficiencies and a shift in spending on improving product and user experience. Non GAAP EPS increased 16% to $0.81, and the company generated $1.4 billion in free cash flow. All in all, the quarter was successful owing to PayPal's strong performance, increasing mobile usage, and better features that are being introduced.
The Future
I believe the features that have come to my attention could enhance the viewership on eBay resulting in immediate sales. Good search placement is vital for any eBay seller to sell their products. A year ago, this was a simple process, as search results were based on the presence of keywords in listing titles. However, this didn't bring much success for the company, as Amazon still offered a better alternative. However, things have begun changing since eBay introduced Best Match. Now, the company has launched what it calls Cassini. Cassini is data-driven and is about moving outside listing titles and producing a direct correlation between the list of results and the word that a shopper has typed. eBay has an enormous block of data on hand that includes seller performance, buyer preferences, market trends and correlations of an infinite variety. Through Cassini, rather than just finding a keyword match, the company is enhancing the way buyers search for products.
Good search capabilities are a vital component that can make a sale for eBay. This is the same reason why users prefer Google's (NASDAQ:GOOG) search engine over those of competitors. Cassini might not look big at the moment, but I believe it can create a psychological impact in the longer term for consumers to revisit eBay after their initial purchase.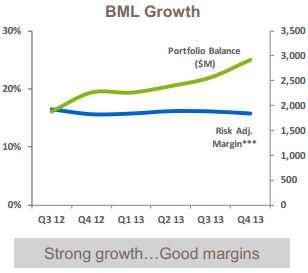 Source: Presentation
The BML Option is Another Achievement for the Company
Moving away from search results and towards making payments, the Bill Me Later [BML] option recently introduced by PayPal is proving to be another success and is at its market making stage. By greater adoption on eBay, the company is able to accelerate usage of BML on eBay by giving consumers another funding choice. The increased penetration is further helping the bottom line by lowering PayPal's transaction expenses.
The BML option is an addition to preserve the dominant position PayPal holds. The business generates around 40% of the company's sales and is growing faster than the marketplace. Regarding the concern about the spin-off of PayPal offered by Icahn, I don't think it will come to fruition, because there is a lot of healthy growth on the back of PayPal and its mobile operation. Spinning off the unit is unlikely in such a situation, as PayPal accounts for as much as half of eBay's $70 billion market value.
These two features sum up my analysis regarding factors that can significantly impact the company's value. However acquisitions, such as that of Braintree, will also help company reduce potential threats that could snatch market share from PayPal in the future. These strategies together portray how eBay is destined to deliver superior performance for those long term investors.
Conclusion
Research firm Forrester estimated last year that online retail sales in the US will reach $370 billion by 2017, increasing from $231 billion in 2013 by a 10% CAGR over the next five years. Though eBay and its ecommerce peers are positioned to benefit from this trend with better search optimization and PayPal behind to successfully back payments, it seems evident eBay will be performing nicely for the betterment of investors in the future and much better than its competitors. Based upon the analysis, I give eBay a strong buy rating.
Disclosure: I have no positions in any stocks mentioned, and no plans to initiate any positions within the next 72 hours. I wrote this article myself, and it expresses my own opinions. I am not receiving compensation for it (other than from Seeking Alpha). I have no business relationship with any company whose stock is mentioned in this article.