Gold and silver posted their biggest weekly gains since last August as the metals ended at three-month highs on Friday, above the psychologically important levels of $1,300 an ounce for gold and $21 an ounce for silver. A "steady as she goes" outlook from new Federal Reserve Chairman Janet Yellen combined with disappointing economic data in the U.S. led to a weaker dollar and a boost for metal prices.
If precious metal ETF flows are any indication, U.S. investors continue to make tentative additions to their gold and silver holdings, however, outflows on Friday following big inflows earlier in the week and surging prices raised new questions about their conviction.
The relaxation of gold import curbs in India was discussed again last week but, so far, no action has been taken, and this will likely relegate the nation to second place in global gold demand, behind China, for the second year in a row. China remains the world's most reliable gold buyer, and early-2014 statistics on physical demand are even more impressive than a record=setting 2013 as more and more analysts attempt to determine just how much gold the people of China and the central bank of China have accumulated at lower prices in recent years.
For the week, the gold price rose 4.1 percent, from $1,267.10 an ounce to $1,319.10, and silver jumped 7.6 percent, from $20.00 an ounce to $21.51. The gold price is now up 9.4 percent for the year, still 31 percent below its all-time high of over $1,920 an ounce in late 2011, and silver moved further into positive territory for the year, now up 10.6 percent in 2014, but still 56 percent below its record high near $50 an ounce almost three years ago.
Clearing their 200-day moving averages for the first time in many months were key achievements for both gold and silver.
Though silver traded briefly above its 200-day exponential moving average last summer, it has been more than a year since both metals traded above their 200-day moving average for any significant length of time.
As shown below via StockCharts, gold last broke through this mark in August of 2012.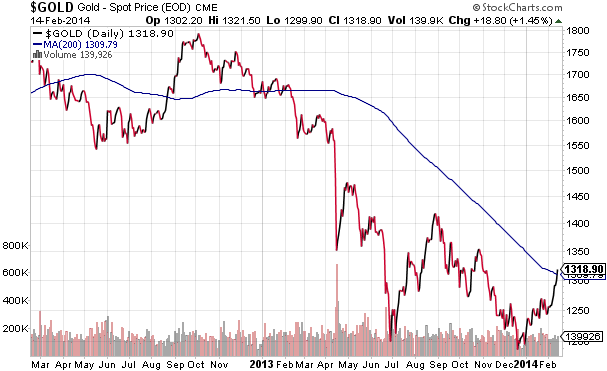 To be sure, time will tell if recent market action is anything more than a vicious short-covering rally, however, traders are clearly paying more attention to the constructive price action after both metals broke through key levels on Thursday and added to those gains on Friday.
Profit taking has been minimal in recent days as dips were eagerly bought, however, other technical indicators such as relative strength indexes indicate precious metals are now overbought and ripe for a pullback.
A steady stream of buyers in the West is what will be needed to sustain last week's rally, and it is unclear at this juncture whether there has been anything more than a bottoming out for gold demand in the U.S. The fact that the natural resource sector in general has seen a resurgence in recent weeks has added to the appeal of precious metals and weak economic data makes it more likely the Federal Reserve will remain accommodative.
Last week's dismal economic data - surprisingly weak retail sales and the sharpest decline in manufacturing output since mid-2009 - pressured the U.S. dollar that often moves opposite precious metals. Absent an economic rebound that many expect as bad winter weather gives way to spring warming, the Fed is more likely reduce the pace at which it has been tapering its money printing effort and, with a big increase in the M2 money supply so far this year and nascent signs of rising inflation, this could spur gold demand in the West.
You don't hear too much talk about inflation these days, however, it's worth pointing out that, according to this Bloomberg article, long-time deflationist David Rosenberg of Gluskin-Sheff is now warning that the Fed will soon get what it wants as it carries out "the mother of all reflationary policies."
Though recent developments have been encouraging for precious metal investors, there is no clear consensus that higher prices, over the near-term, lie ahead.
As measured by flows into and out of the popular precious metal ETFs, it continues to be a case of false starts as, last week, the SPDR Gold Shares ETF (NYSEARCA:GLD) added 7.5 tonnes to its holdings on Thursday and then saw 5.1 tonnes exit the trust on Friday.
GLD holdings increased for the fourth time in five weeks, something that hasn't happened since late-2012 when the gold price was about $500 higher, but the gains have been very modest.
Similarly, holdings for the iShares Silver Trust ETF (NYSEARCA:SLV) dropped by 61 tonnes on Friday after rising by 45 tonnes just days earlier, indicating a similar lack of conviction.
More good measures of gold and silver market sentiment in the U.S. are the premiums paid for Sprott gold and silver ETFs. As shown below per their website, premiums for the Sprott Physical Gold Trust (NYSEARCA:PHYS) have recently moved back into positive territory for the first time since last summer.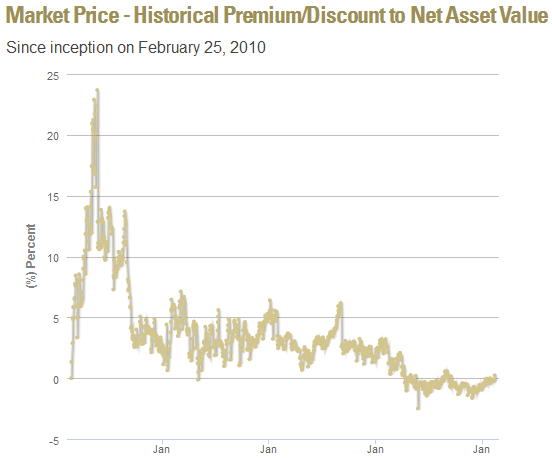 The premium for the Sprott Physical Silver Trust (NYSEARCA:PSLV) have also jumped recently, topping four percent last week for only the second time since 2011.
What makes both of these ETFs appealing to investors is that, should a disruptive physical supply shortage develop, they are far less likely to be affected than other ETFs simply because the gold is held in Canada rather than by bullion banks in the U.S. and the U.K.
China is likely to be the source of any physical supply shortage and, with their return last Monday from the Lunar New Year holiday, the gold market was reminded of their impact. Reuters reported that China's gold consumption jumped 41 percent last year to a whopping 1,176 tonnes and, according to this report from Koos Jansen (who thinks the 1,176 tonne figure is far too low), January deliveries from the Shanghai Gold Exchange totaled 247 tonnes.
The Financial Times took note of this questionable demand data and offered up China's 500-tonne gold gap fuels talk of stockpiling that will only add to the controversy surrounding how much gold is really leaving Western vaults and entering China, never to return due to a ban on gold exports. One thing is certain; if Western investors do bid metal prices higher, demand in Asia will fall as both China and India have proven to be very cost sensitive buyers.
It's funny how investors in Asia buy when the price is low or falling and investors in the U.S. buy when the price is high or rising. This can be seen clearly in the China gold import data over the last year or so alongside trends in Western gold and silver ETF holdings from 2008 to 2012.
It's possible that last week's big rally could turn into something much bigger if, at the same time that U.S. investors seek to again capture some of the gains of a rising gold price, investors in Asia see this as their last opportunity to buy the metal at a discounted price.
Disclosure: I am long GLD, PHYS, PSLV. I wrote this article myself, and it expresses my own opinions. I am not receiving compensation for it (other than from Seeking Alpha). I have no business relationship with any company whose stock is mentioned in this article.
Additional disclosure: I also own gold and silver coins and bars