Executive summary:
Loeb's 1.9% purchase of BlackBerry is a major catalyst for BlackBerry's stock price.
His reputation as a distressed securities investor was earned due to his numerous successful investments in other turnaround stocks across various sectors.
Short-term security prices do not give investors information about the validity of either a long- or short thesis.
_________________________________
On February 14, 2014 Daniel Loeb's Third Point LLC filed a 13F holdings report (link here) with the United States Securities and Exchange commission for the period ending December 31, 2013. Interestingly, Loeb bought 10,000,000 shares of BlackBerry (NASDAQ:BBRY) which represents about 1.9% of BlackBerry's outstanding shares. Shares of the smartphone manufacturer rose sharply in after-hours trading after performing weakly during the normal trading session. The stock closed down 3.65% for the day but increased almost 5% after news about Loeb's BlackBerry endorsement made headlines on financial news sites.
(Source: Yahoo Finance)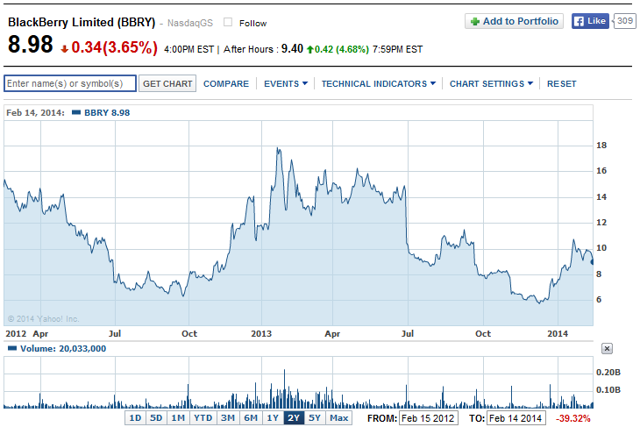 Short-term volatility likely to persist
BlackBerry is a restructuring play that suffers from a distorted public perception with respect to its future business model. Turnaround equity investments like BlackBerry usually exhibit high short-term volatility while investors eagerly wait for news that signals whether the company makes sustainable progress in its restructuring efforts or not. Hedge fund heavyweights like Loeb almost always affect short-term security prices as investors try to piggyback and benefit from possible activist strategies.
BlackBerry has risen quickly from $9 to $10 at the beginning of February and has now fallen back (at least in regular trading) under the $9 mark. I have repeatedly argued that BlackBerry is a suitable investment only for long-term oriented investors who can stomach a high degree of volatility. The reason for this is simple: I believe that a long-term mindset applied to investing yields superior investment results. Short-term oriented investors often make the mistake to believe that the validity of an investment thesis is reflected in short-term security prices. This becomes especially visible with an investment in turnaround stocks such as BlackBerry.
After a good week for the share price, BlackBerry Longs feel reaffirmed, and after a bad week, the Bears usually are back bashing the company and proclaiming imminent collapse. Under no circumstances, ever, investors should extrapolate. Short-term security prices don't reflect who is right and who is wrong. Only the long-term will show whether the company has been a good turnaround or not. An adopted long-term investing mindset gives investors a competitive advantage and shields them from the noise surrounding an investment.
Loeb is a first-class turnaround investor
I usually look at 13F filings from hedge fund managers that have credible investment records, and it is usually quite interesting as well to see where investment managers are sniffing around for value. After all, 'smart money' flows usually offer valuable insight into where superior value generation opportunities lurk (as opposed to 'dumb money' flows).
Loeb, for instance, has a high degree of street credibility due to his successful contrarian investment record. Many of his investments are truly contrarian; few other people would touch his equity and debt securities he invests in. He invested in distressed mortgage-backed securities, auto companies and financial firms at the height of the financial crisis. He also purchased restructuring plays such as American International Group (NYSE:AIG) and LyondellBasell Industries NV (NYSE:LYB) when those companies went through extraordinary distress. His hardcore contrarian bet on Greek government debt at a time when investors panicked over a possible eurozone exit, made him a cool $500 million. Investing $1 billion in one of the worst European economies and arguably the most difficult time in Greece's recent history, is a seriously bold move which only added to his reputation as a contrarian investor. His BlackBerry endorsement clearly reflects his belief that BlackBerry is substantially undervalued and a promising turnaround bet.
Loeb's intentions regarding his BlackBerry purchase
Loeb's BlackBerry purchase is relatively small with a current market value of $94 million, and given his estimated $14 billion of assets under management. Also, it is quite unclear whether Loeb intends to just hold his BlackBerry shares for a bounce or if he intends to become a longer-term shareholder. Loeb usually seems to hold the majority of his high-conviction positions for a few years while taking an aggressive public stance with management of such companies. At the moment, I think it is unlikely that Loeb makes BlackBerry a higher-profile investment in his portfolio (mostly because he had already had ample time to do so). However, he does have an outstanding reputation as a contrarian stock picker, which should be hugely comforting for existing BlackBerry shareholders.
Bottom line
BlackBerry's after-hours share price pop clearly is an encouraging sign that investors value Loeb's position as a vote of confidence in the company. His purchase will also likely lead to an increased discussion about BlackBerry's future business model as well as Loeb's activist intentions. In addition to Loeb, Prem Watsa still has a massive stake of more than 10% in BlackBerry, which often seems to be forgotten in a discussion about the company. Prem Watsa, founder, chairman and Chief Executive Officer of Fairfax Financial Holdings, is also dubbed the 'Canadian Warren Buffett' due to his endorsement of a long-term value investing strategy.
Investors who want to participate in a transformational and catalyst-rich shift in BlackBerry's business model toward an Enterprise company with a high cash per share value (around $5-6), now have a renowned contrarian hedge fund manager on their side who build his reputation by purchasing stakes in blue chip turnaround companies. Strong long-term BUY.
Disclosure: I am long BBRY, AIG. I wrote this article myself, and it expresses my own opinions. I am not receiving compensation for it (other than from Seeking Alpha). I have no business relationship with any company whose stock is mentioned in this article.