Executive summary:
JPM's valuations remain appealing as the stock trades at solid discounts to peers and market levels.
Primary near-term catalyst would be the company's Investor Day conference on February 25 as management is expected discuss plans on how to achieve its financial targets.
Investors are expected to gain on both earnings growth and valuation multiple expansion as profitability continues to improve.
__________________________________________
Share price of JP Morgan Chase (NYSE:JPM) tracked closely with overall market performance by returning 18% over the past 12 months. The shares currently trade near its 52-week high at $59.82 achieved recently, and I believe investors should accumulate shares at this level given that the company's fundamental momentum will likely continue to build while the shares' valuations appear to be very attractive.
In terms of the company fundamentals, it is believed that JPM's main businesses (i.e. consumer, commercial, corporate, and investment banking, as well as asset management) are well positioned to benefit from current macro developments:
Interest rate would climb up steadily; and
Capital market activities (e.g. M&A and corporate borrowings) are expected to trend up given the favorable development in market level (e.g. rise in equity market);
To be more specific, I expect the company's loan growth will accelerate in 2014 driven by the improving outlook of the employment and housing markets as well as increasing M&A transactions, and its net interest income will rise amid the rising interest rate environment.
Management expects to drive the company's return on average tangible common equity ("ROTCE") from the current 11% level in 2013 to 16% by 2016. A few initiatives have already been taken including management's continued effort to de-risk balance sheet and improve corporate efficiency by cutting operating expenses. A near-term catalyst would be JPM's Investor Day on February 25, 2014. Market expects management to provide a detailed growth plan and addressing how the plan would enable the company to meet its financial targets. Given the beneficial macro developments and management's proven ability to drive double-digit growth in tangible book value even during financial crisis, I believe commentary on Investor Day should strengthen investors' confidence. As such, I recommend investors taking a long position before this event.
On the valuation front, the stock trades at 9.2x 2015 forward P/E multiple, which is at a 41% discount to S&P 500 Index, despite the facts that JPM's current consensus long-term earnings growth estimate at 8% is fairly close to the average estimate for S&P 500 companies and the stock's dividend yield at 2.4% exceeds the market average at 1.9%. On a PEG basis, JPM trades at 1.2x, notably below S&P 500's 1.6x.
Compared to the comps' valuations, JPM's forward P/E, price to book, price to tangible book, and PEG multiples all trade at solid discounts to its US peers', though the company's earnings growth and profitability metrics do not seem to be far off from the peer averages (see chart below).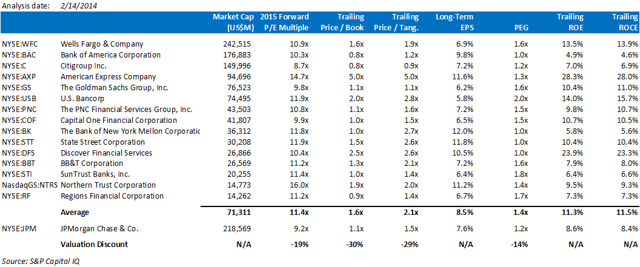 Given the magnitude of the valuation discount, I believe market's concern on regulatory uncertainty has already been fully reflected. Considering that JPM's potential improving profitability trend (even if management misses slightly on its 16% ROTCE target, the medium-term ROTCE level may still outperform the industry average), I believe the stock's valuation multiples will expand steadily from here to match the industry averages. Based on the comps' average PEG at 1.4x, which is in line with JPM's 1-year average (see chart below), JPM would trade at $68, representing a 16% upside.

In summary, investors should accumulate JPM shares at the current level owing to the attractive risk-reward profile. Share price will likely trade up as we get close to the Feb 25 Investor Day, and I expect more gains over a medium term owing to the fundamental improvement.
All charts are created by the author and data used in the article and the charts is sourced from S&P Capital IQ, unless otherwise specified.
Disclosure: I am long JPM. I wrote this article myself, and it expresses my own opinions. I am not receiving compensation for it (other than from Seeking Alpha). I have no business relationship with any company whose stock is mentioned in this article.