Recently, American Capital Agency (NASDAQ:AGNC) created quite a stir by saying that they had been acquiring shares of competing mREITS. During the course of the earnings call, CEO Gary Kain stated (from the transcript):
In addition to buying our own shares, in December and January when mortgage REIT stocks were near their lows we purchased approximately 400 million of other agency REIT stocks. While it may seem very strange that we would support the stocks of our peers, our actions are indicative of our desire to generate value for our shareholders by extracting value from the agency MBS market both directly and in this instance indirectly.
You can think about the investment decision in this way, regardless of how much stock we buyback we will own significant quantities of agency MBS in our portfolio. Does it make sense only to hold agency mortgage securities directly or should we sell some and buy similar MBS assets in REIT equity form at around 20% discount.
We see from a January 29, 2014 Schedule 13G filing that American Capital Mortgage Management, LLC had acquired shares of Hatteras Financials (NYSE:HTS) for the two mREIT funds they manage - American Capital Agency and American Capital Mortgage Investment Corp. (NASDAQ:MTGE). The funds own 7.5% and 1% of Hatteras' shares. Put differently, AGNC holds 7,300,543 shares of common stock MTGE holds 977,619 shares of common stock.
Was Hatteras that much cheaper than AGNC or MTGE that it presented such a tremendous opportunity to scoop up value? Lets take a look: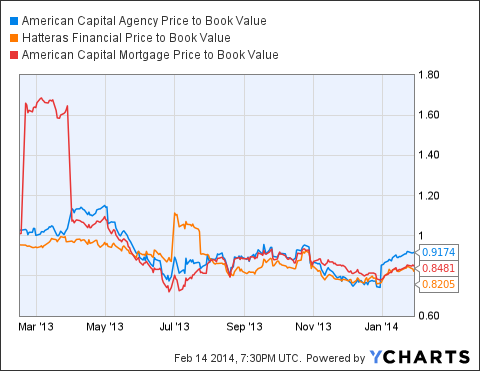 AGNC Price to Book Value data by YCharts
Hatteras, at the time of the 13G filing was trading at a 10% greater discount to book value than AGNC but only a 2% greater discount to book value than MTGE.
Why not just buy the shares of the portfolio you know (if you are AGNC buying MTGE)? Why not just buy your own shares (AGNC or MTGE)?
AGNC does have share repurchase authorization in place (from the 9/30/13 10q):
In October 2012, our Board of Directors adopted a program that may provide for stock repurchases of up to $500 million of our outstanding shares of common stock through December 31, 2013. In September 2013, our Board of Directors increased the authorized amount to up to $1 billion of our outstanding shares of common stock and extended its authorization through December 31, 2014. Shares of our common stock may be purchased in the open market, including through block purchases, or through privately negotiated transactions, or pursuant to any trading plan that may be adopted in accordance with Rule 10b5-1 of the Securities Exchange Act of 1934, as amended.
During the three months ended September 30, 2013, we repurchased 11.9 million shares of our common stock at an average repurchase price of $22.16 per share, including expenses, totaling $263 million. During the nine months ended September 30, 2013, we repurchased 12.1 million shares of our common stock at an average repurchase price of $22.24 per share, including expenses, totaling $270 million. As of September 30, 2013, the total remaining amount authorized for repurchases of our common stock was $653 million.
AGNC has, in fact, been repurchasing shares and stepped up that pace in the fourth quarter. From the Q4 earnings transcript:
Our price-to-book ratio at 81% essentially says that the equity market is applying an additional 20% discount on top of what is already priced in by the bond market. This in our minds creates a unique opportunity. For this reason we have aggressively bought back our own stock repurchasing around 600 million or 7% of our outstanding shares in the fourth quarter alone.
But is there, perhaps, a different reason for pursuing this course of action? Let's look at this from a different perspective.
From American Capital Agency's 9/30/13 10q:
We pay our Manager a base management fee payable monthly in arrears in an amount equal to one twelfth of 1.25% of our Equity. Our Equity is defined as our month-end stockholders' equity, adjusted to exclude the effect of any unrealized gains or losses included in either retained earnings or accumulated OCI, each as computed in accordance with GAAP. There is no incentive compensation payable to our Manager pursuant to the management agreement. We incurred management fees of $35 million and $32 million during the three months ended September 30, 2013 and 2012, respectively, and $105 million and $82 million during the nine months ended September 30, 2013 and 2012, respectively. The period-over-period increase was primarily a function of our follow-on equity raises, net of share repurchases and net realized losses on sales of agency securities and settlement, expiration or termination of our derivative instruments.
So a reduction in equity through share repurchases would lead to a reduction in the manager's compensation. Interesting. I have read articles recently stating that this move is akin to Warren Buffett buying undervalued companies (here). While this may have merits, Buffett doesn't alter his compensation based on the companies he buys or if he does share repurchases.
I am not saying that the purchase of Hatteras was off base, off the mark or American Capital Mortgage Management engaged in playing compensation games, what I am saying is that it cannot be ruled out. At the very least, the optics are negative and imply their core business is not attractive right now.
But what of the compensation? Management compensation increased by $23 million during 2013, a 20% increase while the shares were lower by 22%.
The 20% increase must have been warranted due to outperformance, not merely due to increased share count right? Well, the chart below might put it in perspective versus peers Annaly Capital (NYSE:NLY), Hatteras and there own American Capital Mortgage Investment: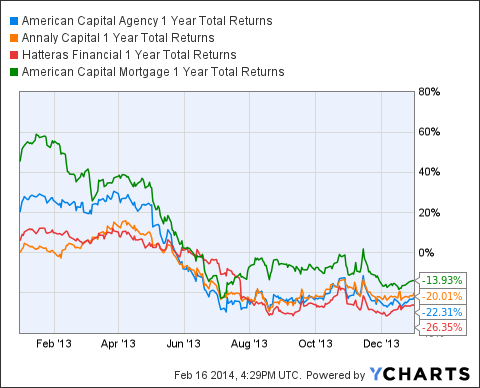 AGNC 1 Year Total Returns data by YCharts
The chart above implies that returns were run of the mREIT mill (MTGE lead the pack). Was AGNC's compensation in line with these other mREITs?

I will let the above table speak for itself.
Many investors might say "look at the discount, what is your problem with what they did?" And they have a point, but I have the following issues:
1. Yes, they bought at a discount to book value, but what did they buy precisely?
To us the choice was straight forward as the almost 20% discount more than compensates us for the incremental fees and reduced transparency into this subset of the portfolio. (transcript)
2. They now own 8.5% of Hatteras, will this cause a problem with their "peer company"?
3. Will share repurchases continue? There is a compensation disincentive for this.
4. What if the trades don't work, you cannot model the management of other portfolios.
Bottom Line: I have long believed that Gary Kain and team are skilled mortgage managers and savvy investors. During 2013 they sold over 57mm share at over $31/sh and repurchased 40mm shares at a price of $21 - this kind of throws me, they raised capital and then took it back (no opportunities greater than the share discount - despite the increased leverage), but it was a great trade and the shareholders equity account shows a net increase. This shows me they are sharp at capital management as well. They know the business and bought another company's investment prowess and fund. I am long AGNC, but I am wondering, should I do the same?
Disclosure: I am long NRF, WMC, AGNC. I wrote this article myself, and it expresses my own opinions. I am not receiving compensation for it (other than from Seeking Alpha). I have no business relationship with any company whose stock is mentioned in this article.
Additional disclosure: This article is for informational purposes only, it is not a recommendation to buy or sell any security and is strictly the opinion of Rubicon Associates LLC. Every investor is strongly encouraged to do their own research prior to investing.