In August 2013 when its stock was $140 I published an article suggesting investors not short Tesla (NASDAQ:TSLA) on the basis it had substantial profit potential. Tesla stock ran to $190 shortly thereafter, but fell back to the $150 range about year end. Along the way I bought and sold the name at a profit.
On January 5, 2014 when Tesla was $150 a share I wrote an article suggesting that the stock remained a buy. Today it is hitting all-time highs at about $200 a share.
I like the company and think Elon Musk is a genius. The products are beautifully designed with elegant sleek lines and impressive performance. I occasionally drool over my neighbor's Tesla and think I should buy one too, only to persuade myself that here in Canada you really need a four wheel drive car in the winter and I already have four cars, so I pass.
Tesla will report February 19, 2014 and the analysts see the company putting up a very solid quarter likely double last year's sales and well into the black on earnings.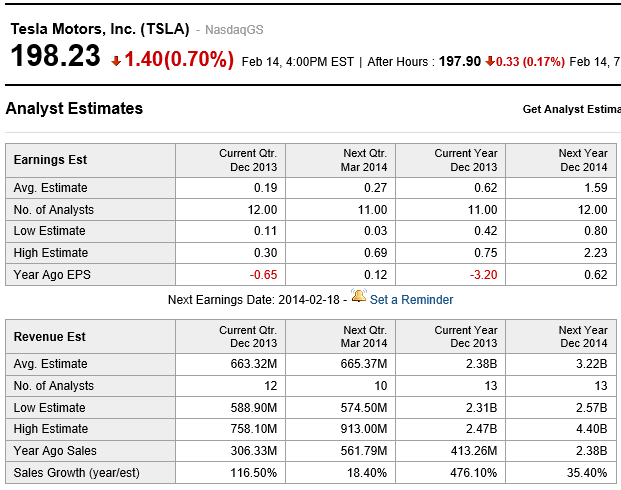 Source: Yahoo.com
For all of 2013, some observers see Tesla reporting as many as 25,000 vehicles sold. That would be an impressive accomplishment for sure. But at $200 a share, Tesla is discounting growth to over 100,000 vehicles a year and that might take a while to happen. December is usually a strong month in car markets. Clean Technica reports that Tesla December sales may have been as low as 1,500. That could set the company up for a mild disappointment if it is the case.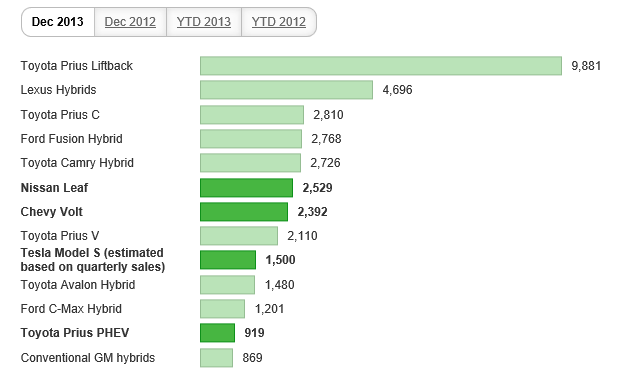 Source: Clean Technica
Much as I love the company and admire its products, I think investors might consider taking some money off the table. Tesla has a long way to go to grow into a $24 billion market valuation and there will be bumps in that road. General Motors (NYSE:GM) and Ford (NYSE:F) both put up pretty slow January sales, no doubt in part a reflection of the bitter cold winter, but soft nonetheless. The cold hasn't eased up much and the first quarter could be slow for the entire industry, making investors somewhat shy about automotive exposure. Stocks that are priced for perfection can suffer dramatically when they miss a quarter even if by a small amount.
I don't think Tesla will miss on orders despite high expectations since I believe its order book has been strong and deliveries gated by production up to this point. However, the cold weather may have impeded December deliveries. In any event, there is a significant risk and investors should either hedge that risk or step aside for at least part of their position. I don't own any Tesla right now but I will buy a few puts going into earnings and wait for TSLA to trade back to the $150 range before considering another long trade.
Disclosure: I have no positions in any stocks mentioned, but may initiate a short position in TSLA over the next 72 hours. I wrote this article myself, and it expresses my own opinions. I am not receiving compensation for it (other than from Seeking Alpha). I have no business relationship with any company whose stock is mentioned in this article.