I find Corning Inc. (NYSE:GLW) stock to be a good combination of value and growth dividend stock. Although the stock price has risen 51.4% since the beginning of 2013, it is still an excellent buy right now. This is compared to the 28.9% rise of the S&P 500 index and the 40.6% rise of the Nasdaq Composite Index during the same period. In this article, I will explain why, in my opinion, Corning stock is a remarkably promising long term investment.
The Company
Corning is a world leader in the manufacture of specialty glass and ceramics. Drawing on more than 160 years of materials science and process engineering knowledge, Corning creates and makes keystone components that enable high-technology systems for consumer electronics, mobile emissions control, telecommunications and life sciences. Corning manufactures and processes products at approximately 70 plants in 13 countries. Corning Incorporated was founded in 1851 and is based in Corning, New York.
Segments
Corning operates in five reportable segments: Display Technologies, Telecommunications, Environmental Technologies, Specialty Materials and Life Sciences. A comparison between the different segment's revenue in the fourth quarter of 2013 to that of 2012 is shown in the chart below.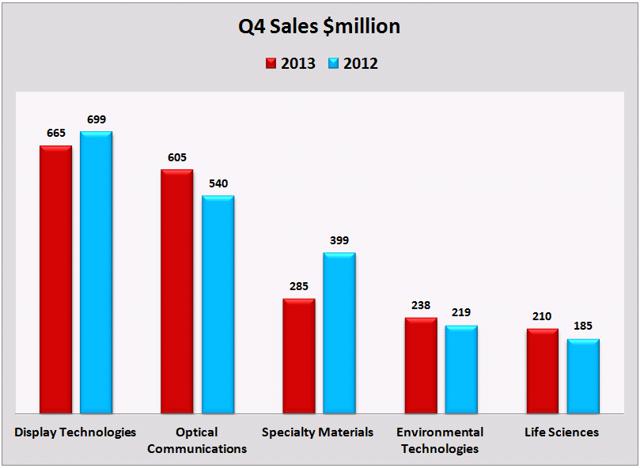 Source: Corning's quarterly reports
The Life Sciences segment showed the highest sales growth, sales were $210 million, a 14% increase from $185 million in sales from a year ago. Core earnings increased 31% year over year. These increases were driven primarily by the company`s recently acquired Discovery Labware business.
The Specialty Materials segment showed the highest sales decline, sales were $285 million, a 29% decrease from the very strong fourth-quarter performance of $399 million last year. This decline was primarily the result of significant customer inventory builds that occurred in the fourth quarter 2012. Core earnings for the segment were down 42% on a year-over-year basis, driven by lower Corning Gorilla Glass volumes.
Valuation Metrics
The table below presents the valuation metrics of GLW, the data were taken from Yahoo Finance and finviz.com.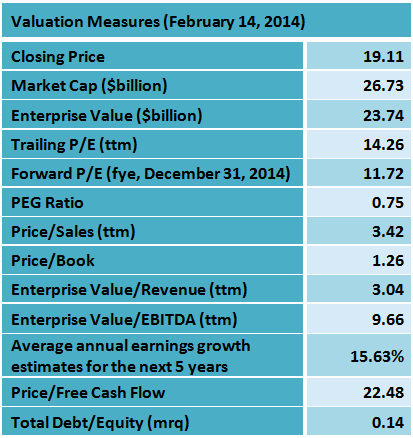 Corning's valuation metrics are very good; the company has a low debt, the forward P/E is very low at 11.72, and the average annual earnings growth estimates for the next five years is high at 15.63%. According to Yahoo Finance, GLW's next financial year forward P/E is at 11.72 and the average annual earnings growth estimates for the next 5 years is at 15.63%, these give a very low PEG ratio of 0.75. The PEG Ratio - price/earnings to growth ratio is a widely used indicator of a stock's potential value. It is favored by many investors over the P/E ratio because it also accounts for growth. A lower PEG means that the stock is more undervalued.
Dividend
Corning has been paying uninterrupted dividends since 2007. The forward annual dividend yield is at 2.09%, and the payout ratio is only 29%. The annual rate of dividend growth over the past three years was very high at 24.97% and over the past five years was also high at 14.29%. I consider that besides dividend yield, the consistency and the rate of raising dividend payments are the most crucial factors for dividend-seeking investors, and GLW's performance has been impressive in this respect.
Corning's dividend is paid every quarter, as shown in the charts below.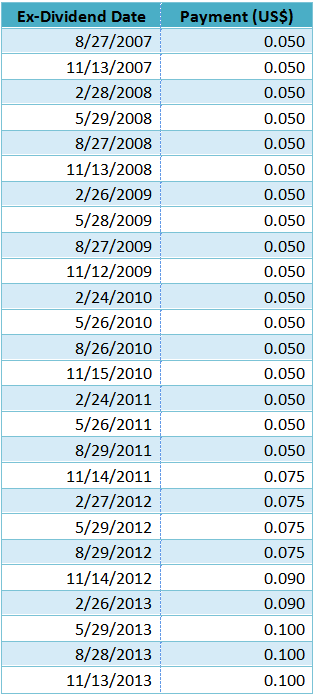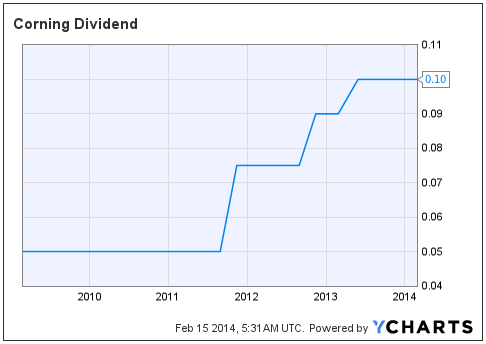 Latest Quarter Results
On January 28, Corning reported its fourth-quarter year 2013 financial results, which beat EPS expectations by $0.01.
Fourth-Quarter Highlights
Core earnings per share were $0.29, an increase of 4% over last year`s fourth quarter, and better than expected. GAAP earnings per share were $0.30.
Core sales were $2 billion, a 2% decline from the comparable period last year. GAAP sales also were $2 billion.
In the Display Technologies segment, price declines for the quarter were again moderate. Total LCD glass volume was at record levels, improving 4% over the year-ago period. The total glass volume combines Corning`s wholly owned business and Samsung Corning Precision Materials Co., Ltd.
Optical Communications segment (formerly Telecommunications) sales increased 12% over the year-ago period.
Full-Year Highlights
Core sales were $7.95 billion, a 5% increase from $7.61 billion last year. GAAP sales were $7.82 billion.
Core earnings per share were $1.23, a 16% year-over-year improvement compared to last year`s core earnings of $1.06*. GAAP earnings per share were $1.34.
Free cash flow for the year was strong at $1.2 billion.
In the report, Wendell P. Weeks, chairman, chief executive officer, and president, said in summarizing full-year results:
2013 was a very successful year for Corning. We achieved the company`s primary performance goal of restoring earnings growth. This was accomplished by regaining positive momentum in our LCD business and growing the earnings in our other segments. We also delivered on our commitment to enhance shareholder value by increasing the cash dividend and executing more than $1.5 billion in share repurchases. The company`s performance was recognized by a 41% improvement in the year`s share price, a result with which we are delighted.
Major Development
On February 07, Corning hosted annual investor meeting conference. On that occasion, Mr. Weeks said that the company has delivered on its commitment to improve earnings and is now focused on creating the company`s next growth surge. Mr. Weeks briefly reviewed performance highlights from 2013, including delivering five consecutive quarters of core earnings-per-share growth, outperforming major competitors, and acquiring full ownership of Samsung Corning Precision Materials, Co., Ltd. He also noted that the company was honoring its commitment to return cash to shareholders by doubling the dividend payment and repurchasing 13% of outstanding shares since October 2011. Mr. Weeks shared examples of past innovations that have transformed industries and created long-term advantages for Corning, including glass ceramics, low-loss optical fiber, and LCD glass substrates. He noted that all Corning innovations share fundamental ingredients: a really tough problem, a combination of materials and process innovation, and a solution that makes a real difference in people`s lives.
Also in the conference, Dr. David L. Morse, executive vice president and chief technology officer, explained that Corning`s Emerging Innovations Group is focused on new revenue streams by extending current products into new markets. He pointed out that Corning is not only providing Corning® Gorilla® Glass for a high-end automotive application, it is also collaborating with industry-leading auto glazers to bring Gorilla Glass to more mainstream vehicles. At nearly six billion square feet of glass consumed annually, it is a sizeable opportunity. The company expects to announce some of these new relationships in the near future. Corning is also looking to extend Gorilla Glass into additional transportation applications including rail and aviation. Mr. Morse noted that Corning has entered into collaborations with both SnapCab® Elevator Interior Systems and Elevecture LP, to use Gorilla Glass in modular wall systems, including elevator walls, lobbies, and conference rooms. He also highlighted new business opportunities secured with Egan Visual, Krystal(NYSE:TM) Writing Boards, Inc., and MooreCo, Inc., on marker boards featuring Gorilla Glass.
On February 6, 2014, Corning announced a commercial agreement with SnapCab® Elevator Interior Systems for thin, lightweight, durable Corning® Gorilla® Glass. SnapCab will design Gorilla Glass into its modular wall-panel systems, which are used in residential and commercial elevators. The same Gorilla Glass that has helped protect handheld electronic devices will now be used in interior architecture to enable new lightweight designs for elevator cabs, lobbies, and conference rooms.
Competitors and Group Comparison
According to Corning, it competes across all of its product lines with many large and varied manufacturers, both domestic and foreign. Corning believes its competitive advantage lies in its commitment to research and development, and its commitment to quality.
A comparison of key fundamental data between Corning and its main competitors is shown in the table below.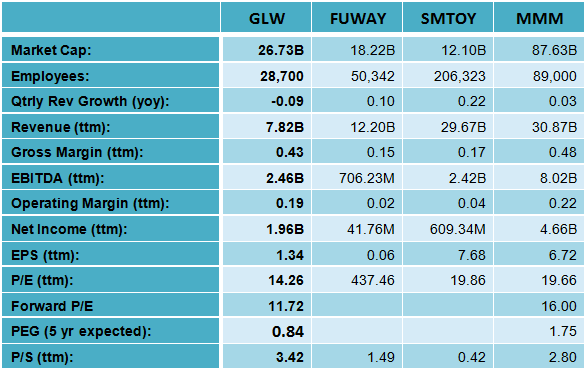 Source: Yahoo Finance
Corning's valuation metrics look better than those of its main competitors. Corning has a lower P/E ratio and a lower PEG ratio.
Most Corning's margins, return on capital and stock valuation parameters have been much better than its industry median, its sector median and the S&P 500 median, as shown in the tables below.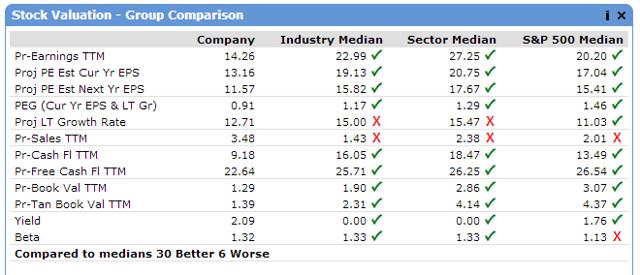 Source: Portfolio123
Technical Analysis
Personally I am using only fundamental analysis for my investment decisions. After many years of experience, and after having tried all kinds of decisions making including technical analysis, I have reached the conclusion that relying on fundamental information is giving me the highest return. Nevertheless, some investors are successfully using technical analysis to find the proper moment to start an investment (I am not talking about traders, my analysis is only for investors). The charts below give some technical analysis information.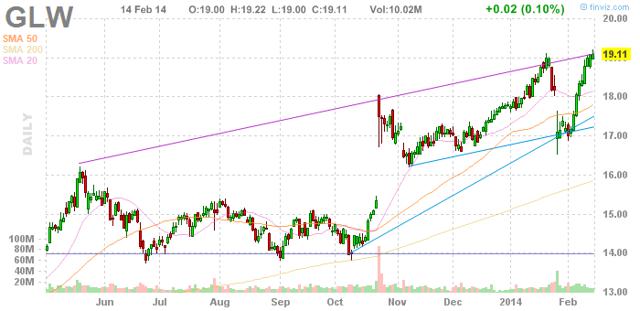 Chart: finviz.com
The GLW stock price is 5.33% above its 20-day simple moving average, 7.54% above its 50-day simple moving average and 20.60% above its 200-day simple moving average. That indicates a strong short-term, mid-term and long-term uptrend.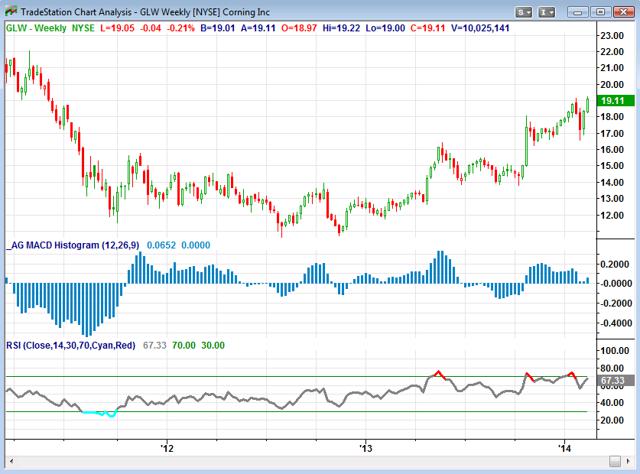 Chart: TradeStation Group, Inc.
The weekly MACD histogram, a particularly valuable indicator by technicians, is at 0.0652 and ascending, which is bullish (a rising MACD histogram and crossing the zero line from below is considered an extremely bullish signal). The RSI oscillator is at 67.33 approaching overbought conditions.
Analyst Opinion
Analyst opinion is divided, among the twenty one analysts covering the stock, five rate it as a strong buy, five rate it as a buy, ten rate it as a hold and one analyst rates it as an underperform.
Discussion
I consider Corning's decision to acquire full ownership of Samsung Corning Precision Materials, which manufactures LCD glass in Korea, very positive to Corning. The acquisition was completed on January 15, and it is expected to deliver important financial and strategic benefits to Corning. By gaining full control of its global fusion-glass manufacturing platform, the company can achieve greater flexibility in asset use, improved operational efficiencies, and better positioning for new specialty-glass market opportunities. The company anticipates that shareholders will benefit from increased earnings and incremental free cash flow.
Specialty Materials revenues nearly doubled in 2011 and grew 25% in 2012, due mainly to sales of Gorilla Glass, which is used for mobile devices, but the segments showed about 10% decline in revenue in 2013 due to an inventory buildup in late 2012 of Gorilla Glass and lower large cover glass demand. The company believes the unit will return to growth in 2014 as the inventory returns to normal. Furthermore, the fact that SnapCab will design Gorilla Glass into its modular wall-panel systems, which are used in residential and commercial elevators, can also increase the demand for Gorilla Glass along with some more creative uses of the glass in an automotive application and in rail and aviation.
Recently there has been much talk about Apple (NASDAQ:AAPL) planning to use sapphire in their next phone and the influence of this move on the demand for Gorilla Glass. In my opinion, it should not have a significant effect on the demand for Gorilla Glass due to the fact that sapphire is suitable only for small areas, and iPhone only represents relatively small part of Gorilla Glass applications. A thorough SA excellent article by Doc Mike "Sapphire Update: Can It Win Against Gorilla?" explains this matter.
Risk
LCD glass generates a significant amount of the Company's profits and cash flow, and any events that adversely affect the markets for LCD glass substrates could have a material and negative impact on Corning's financial results. The company is subject to strict environmental regulations and regulatory changes that could result in fines or restrictions that interrupt its operations. According to Corning, its ten largest customers accounted for about 50% of its sales. In addition, three customers of the Display Technologies segment accounted for 63% of total segment net sales when combined. A significant decrease in the amount of sales to any of these customers could have a material adverse effect on the financial performance and business prospects of the company.
Conclusion
Corning has compelling valuation metrics and strong earnings growth prospects, its PEG ratio is only 0.75. Furthermore, Corning has a strong balance sheet, it has total cash of $5.24 billion and its total debt is at $3.74 billion. Corning's quick ratio of 4.40 is one of the highest among S&P 500 tech stocks. Corning is generating strong free cash flows and returns value to its shareholders by stock buyback and by increasing dividend payments, the company was honoring its commitment to return cash to shareholders by doubling the dividend payment and repurchasing 13% of outstanding shares since October 2011.
All these factors bring me to the conclusion that GLW stock is a smart long-term investment.
Disclosure: I have no positions in any stocks mentioned, but may initiate a long position in GLW over the next 72 hours. I wrote this article myself, and it expresses my own opinions. I am not receiving compensation for it (other than from Seeking Alpha). I have no business relationship with any company whose stock is mentioned in this article.