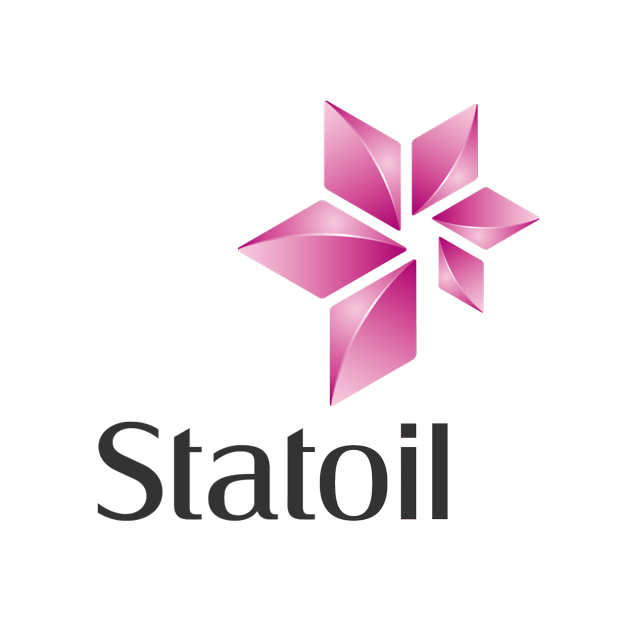 A week ago I predicted Statoil (NYSE:STO) would reach $28 in 2014 and generate an annual total return of 20%. Since then there have been additional bullish developments serving as positive short-, medium-, and long-term catalysts. The shares are undervalued compared to peers and its strategy of diversifying away from the Norwegian Continental Shelf ("NCS") is working beautifully. As a result, I am raising my 12-month price target from $28 to $31 and my 2014 total return estimate to 25%. The stock could double over the next 4-5 years.
Short Term Catalysts
As I reported in the article, Statoil: A Strong Buy After Making Game-Changing Announcements, the company will introduce quarterly dividend payouts in 2014 which will result in two quarterly payments during 2014 in addition to the annual 2013 payout ($1.27). Based on the 2013 annual dividend, I estimate the two quarterly payments will be $0.30/share for a total 2014 dividend of $1.87/share. That equates to a forward pre-tax yield of 7% based on Friday's $26.12 closing share price. The company also announced it would be "more active" with share buybacks.
Another near-term catalyst is strong US oil & natural gas prices. STO has diversified nicely into the Bakken, Marcellus, and Eagle Ford shale plays in the US. From the company's Q4 presentation it is clear North American operations are now a significant portion of STO's production mix: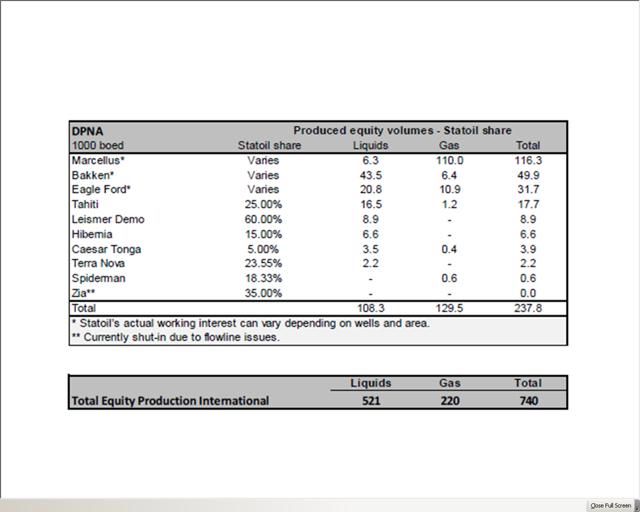 In Q4, NA production composed 32% of STO's total international production and 20% of overall production. These results were achieved despite weather-related impacts on US production during the quarter. Yet the growth in NA production is significant not only in its size, but also in its favorable tax exposure when compared with its Norwegian production where taxes are very high.
In particular it is worth noting STO's presence in the Marcellus where 110,000 boe/day of natural gas production equates to ~660 MMcf/day. Low domestic gas inventories combined with harsh winter weather pushed natural gas prices to $5.21/MMBtu on Friday. This is up well over $1 from the similar period of 2013. An extra dollar per MMcf works out to an extra $675,000/day for STO from the Marcellus or ~$60 million over the course of a quarter. Most of which should fall through to the bottom line and be seen in Q1 2014.
A Statoil presentation on its unconventional assets in the Marcellus can be seen from this presentation: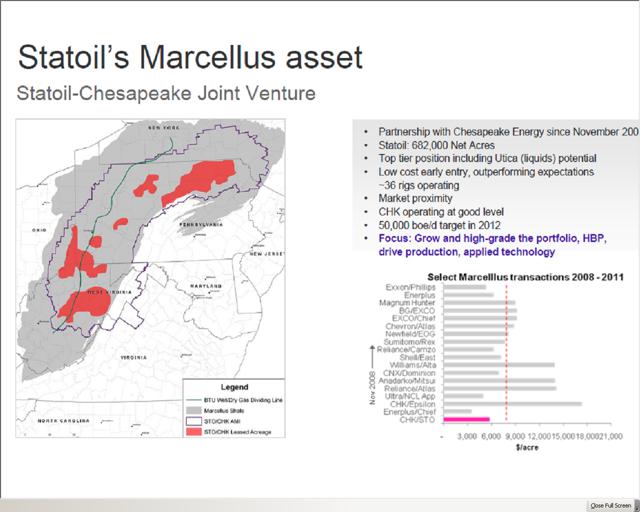 STO was an early mover in the Marcellus shale. Back in 2008, STO entered into a joint venture with Chesapeake Energy (NYSE:CHK) and has over 682,000 net acres. STO holds significant prime acreage in Northeast Pennsylvania much of which was acquired at very favorable prices. This slide is dated: STO was planning to grow production to 50,000 boe/day by 2012 and now we know it was over twice that at year-end 2013.
Another pleasant surprise was announced just this week by Magnum Hunter (MHR) when the company said the Stadler #3UH well in the Utica produced excellent results.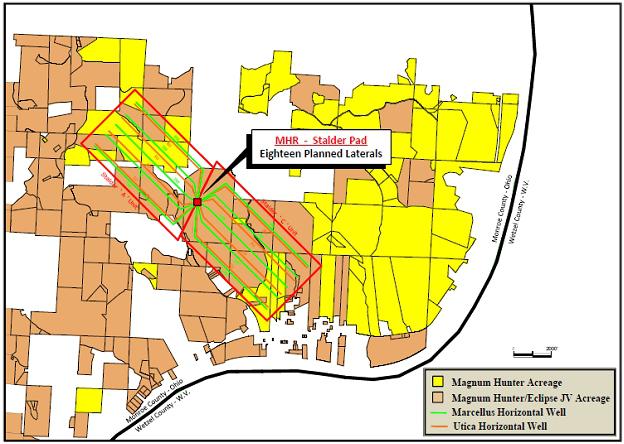 The well was placed on production earlier this week and has recently tested at a peak rate of 32.5 MMcf/day of natural gas on an adjustable rate choke with 4,300 psi FCP. This is a massive gas well and was producing near pure (97%) methane. Shares of Magnum Hunter were up ~7% on the news. Even better, the Stadler pad was designed and planned for a total of 18 laterals. Statoil is a partner on the well. I am still looking for STO's working interest in the well and will report my finding in the comment section of this article.
Other short-term catalysts for the stock include the Jack/St. Malo, Bigfoot, and Julia projects in the Gulf of Mexico. Statoil has significant working interests in these GOM wells:
25% of Jack
21.5% of St. Malo
27.5% of Bigfoot
50% Julia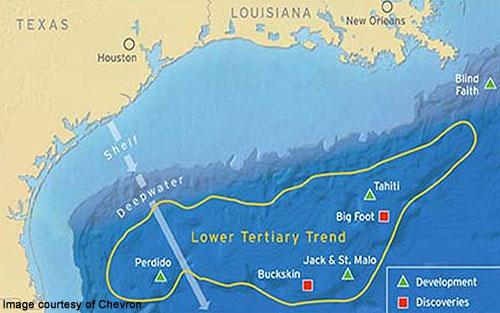 Chevron (NYSE:CVX) is the operator of the Jack/St. Malo fields and says planned capacity of the project is 170,000 barrels/day and 42.5 MMcf/day of natural gas. That works out to about 39,000 bbl/day and 9.8 MMcf/day net to STO.
Chevron is also the operator of Bigfoot. Bigfoot startup is expected in the first half of 2015 and will have a production capacity of 75,000 barrels of oil and 25 MMcf/day of natural gas. That puts STO's cut at 20,600 bbls/day and 6.9 MMcf/day.
Julia is operated by Exxon Mobil (NYSE:XOM) and is scheduled for startup in mid-2016. Exxon and STO both have a 50% stake. The initial development phase is being designed for daily production of 34,000 barrels of oil and includes six wells with subsea tie-backs to the Jack & St. Malo production facility operated by Chevron. STO's take is 17,000 bbl/day.
In total, these four projects in the GOM represent new production of 76,000 bbl/day oil and 16.7 MMcf/day of natural gas net to STO. That's a 33% increase over Q4's total North American production and is predominately oil weighted.
Medium Term Catalysts
Over the medium term, STO has projects like Hebron off the Eastern coast of Canada, Mariner in the UK, and Johan Castberg on the NCS.
Statoil also has a 36% working interest in the Corrib natural gas field off the NW coast of Ireland. This field is scheduled to come online in mid-2015. Partner Vermilion Energy (NYSE:VET) expects its 18.5% stake to be equivalent to ~9,700 boe/day net to the company. That would put STO's 36% stake at 18,875 boe/day. VET predicts the nat gas price to fetch ~$11 Mcf.
In addition, STO's Marcellus natural gas assets bode well when LNG exports begin in earnest sometime in 2016.
Long Term Catalysts
Longer term, STO has a bevy of recent discoveries to bring online:
All of these projects are very large scale hydrocarbon projects in which STO has either a majority share or a very large working interest.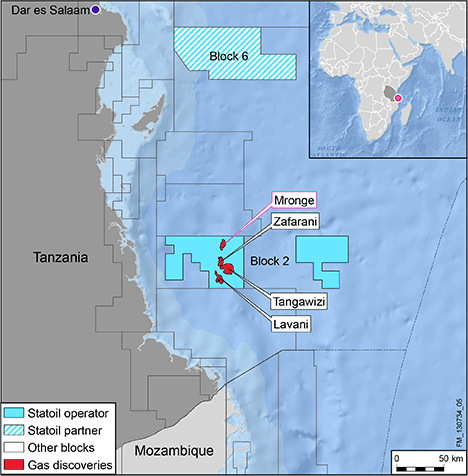 Statoil, which has discovered as much as 20 Tcf of natural gas in Tanzania's offshore Block 2, says recoverable volumes are as much as 15 Tcf in three neighboring blocks. Statoil operates the licence on Block 2 and has a 65% working interest, with Exxon Mobil and Tanzania Limited holding the remaining 35%. The Mronge-1 discovery is the venture's fifth discovery in Block 2. This is a massive natural gas resource which is geographically advantageous for exporting LNG to fast-growing gas hungry markets like India and Asia. Production could start in 2021-2022 time frame.
If the size of that project doesn't impress you, just this week STO announced initial development plans for the massive Johan Sverdrup oilfield. Sverdrup is estimated to contain between 1.8 billion and 2.9 billion bbls of oil. Production could peak at 550-650,000 bbls/day and STO's interest is roughly 40%. Production is expected to start in 2019 and will run for 30 years. STO's cut of peak production could be in the neighborhood of a quarter million barrels of oil per day - or roughly 13% of the company's entire 2013 Q4 total production rate.
An additional long-term catalyst is STO's reserve replacement results after years of outperforming its peers in exploration success. In 2013, Statoil discovered more oil and gas than did any other company. In the Q4 presentation referenced earlier (slide 3), STO reported an organic RRR of 147% while adding 1.25 billion boe of resources to its asset base. Statoil should be able to post comparable numbers over at least the next few years as it moves high-impact discoveries from the "possible reserves" ledger into the proved and probable "2P" reserves category.
Current Valuation
I am not alone in my bullish outlook for STO. Deutsche Bank recently rated STO a "BUY":
We see scope for a 65% 'value uplift' by 1/1/19 (40% NAV accretion, 25% yield). Trading at a 7% discount to peers on 1/1/14 P/NAV this appears underappreciated... Statoil offers investors twice the leverage to exploration as its major peers. This is a long-term value call.
Yet this bullish ratings upgrade from Deutsche Bank was made on January 21st and does not reflect the bullish news STO recently announced regarding the dividend, the cutback in cap-ex, the more active share buyback activity, and the Sverdrup production plans and estimates. As a result, STO could easily have a total return of 25% during 2014. The stock is a rather conservatively managed company that operates primarily in low-risk countries with stable fiscal regimes. Meanwhile, the company has trimmed and optimized its portfolio by divesting over $18 billion in assets since 2009 and reaped ~$10 billion in capital gains: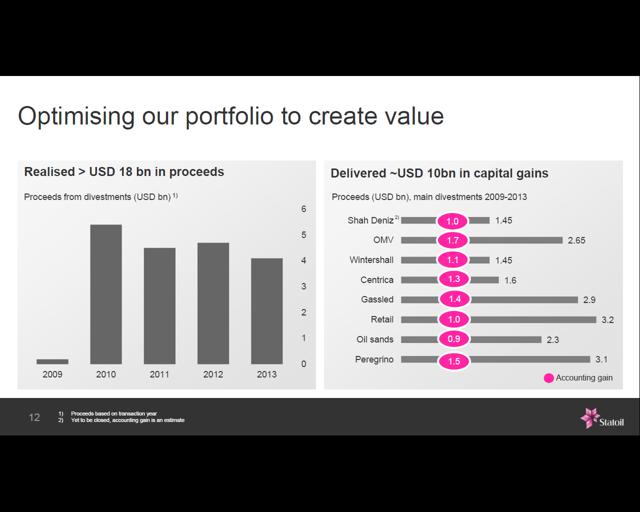 What remains is a highly-focused company capable of exploiting its recent high-impact and high-margin discoveries. Yet the market has not responded.
A very useful valuation metric is market capitalization divided by enterprise value. According to Yahoo Finance (click on the ratio for source information) here is how STO compares to its two largest US peers Exxon and Chevron:
On this valuation metric, the stock market is valuing both Exxon and Chevron at enterprise value. On a Mkt Cap/EV basis, STO looks to be 10% undervalued.
Summary & Conclusion
Over the past couple weeks, Statoil has made several announcements which reinforce bullish short-, medium-, and long-term catalysts. As a result, I am increasing my 12-month price target to $31/share and my 2014 total return estimate to 25%.
Deutsche Bank believes STO is 7% undervalued with respect to its peers. The company is 10% undervalued when compared to both Exxon and Chevron. STO shares should begin closing the gap because of the catalysts discussed in this article. For 2014, I expect STO to beat current estimates by generating earnings toward the top-end of the range ($2.85/share) as compared to $2.19 for full-year 2013. A prime reason will be growing tax-advantage North American production. In particular, the outperformance of its Marcellus assets combined with significantly stronger year-over-year natural gas prices will be a positive tailwind. Also, STO will increase free cash flow by its intention to reduce cap-ex by $5 billion over the next three years which will allow the company to repurchase shares "more actively".
Energy analysts have apparently gotten bored by STO. Yahoo Finance reports only 7 analysts reported earnings estimates for 2014. That compares to over 20 analysts reports for both Exxon and Chevron. In short, I believe recent developments for STO are not currently reflected in the company's market value.
At $31/share, my 2014 total dividend payment estimate of $1.87/share would equate to a pre-tax yield of 6%. After the 15% foreign tax, that works out to $1.58/share or 5.1% @ $31. If the company hits my 2014 earnings estimate of $2.85 a share and carries its current P/E (11.9), that also equates to a $31+ share price ($33.91).
On a technical basis (see chart below), the stock appears to be bumping up on long-term resistance at the $26 level. I expect it to blow through $26 on all the strength of all the recent bullish news. Seasonally, the stock normally picks up steam heading into the annual once-a-year ex-dividend date. Historically, the ex-dividend date is around the third week of May. You want to be in this stock prior to the breakout and prior to the ex-dividend date.
Despite numerous high-impact discoveries over the past few years, Statoil's stock is at the same price it was in January of 2010. The market has simply not kept pace with Statoil's exploration progress and its growing asset base and enterprise value. Recent catalysts have highlighted just how undervalued the company is and the market is starting to take notice: the stock is up 8.3% since my STRONG BUY article of one week ago. But it has much more running room. Statoil is a STRONG BUY with a 12-month price target of $31. Including the dividend, that equals a total annual return of near 25% from Friday's close.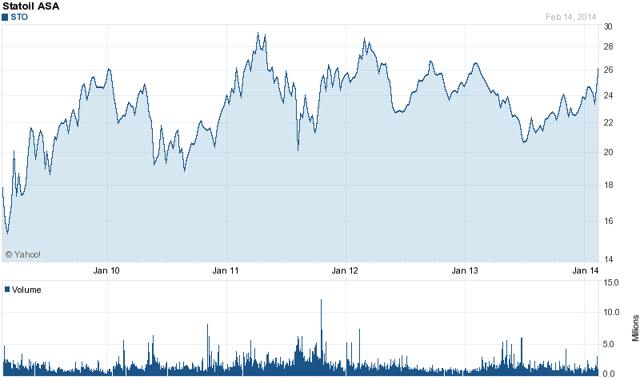 Disclosure: I am long CVX, STO, XOM. I wrote this article myself, and it expresses my own opinions. I am not receiving compensation for it (other than from Seeking Alpha). I have no business relationship with any company whose stock is mentioned in this article.
Additional disclosure: I am an engineer, not a CFA. The information and data presented in this article was obtained from company documents and/or sources believed to be reliable, but has not been independently verified. Therefore, the author cannot guarantee its accuracy. Please do your own research and contact a qualified investment advisor. I am not responsible for investment decisions you make. Thanks for reading and good luck! NOTE: I am considering buying shares in VET over the next 48 hours.