Executive summary:
AIG remains best large-cap value play in the insurance sector.
AIG P&C and Mortgage Guaranty showed strong y-o-y improvements in after-tax operating income.
AIG Life & Retirement continues to do well and higher interest rates down the road should provide another earnings boost.
The Property & Casualty unit continues to post underwriting losses which suggests a lack of underwriting discipline.
AIG retains meaningful upside potential due to its persistently high discount from book value.
_________________________________
American International Group (NYSE:AIG) had a good run in 2013 when its stock price increased from around $35 per share at the beginning of the year to over $50 in October. Since then not much happened. AIG's stock price hovers around the $50 mark and makes no attempt to move either much higher or lower at the moment. At any time I prefer a slow rise, which doesn't attract mainstream financial news reporting, with occasional breathers over a quick, forceful increase accompanied by high volume. Speculators are often good for short-term spikes in share prices but rarely play a constructive role in supporting long-term capital appreciation.
Both life and property- and casualty companies were sold off in the last month as part of a broader slide in equity valuations across a variety of sectors. In any case, I think that American International Group still represents outstanding value for investors as indicated by its sizable discount to book value and low earnings multiple.
The discussion about book values for insurance companies often neglects that many companies (both Life and P&C) have traded at premiums to book value in phases of exuberance. This is not to say that I expect a phase of exuberance in the short-term, but a better operating environment for insurance companies should support higher valuations in the medium term as the United States returns to stronger economic growth. After all, AIG and other insurance companies are cyclical companies which are expected to perform better when the economy runs on full steam.
American International Group has returned 80% over the last two years and has actually outperformed a variety of other Life and P&C insurance companies including large-cap peers Metlife (NYSE:MET) which gained 30% and Prudential (NYSE:PRU) which returned 38%. P&C play Hartford Financial Services Group (NYSE:HIG) gained 60% and Allstate (NYSE:ALL) 69%.
Fourth quarter results - encouraging and disappointing
Not everything with regard to AIG's fourth quarter earnings was sunshine. But the company, overall, presented decent financial performance that leaves room for improvements in the coming quarters. The most notable results for the fourth quarter 2013 include:
Revenues for the fourth quarter 2013 hit $17.3 billion -- up 1% y-o-y.
Turnaround in operating- and net income: AIG's Q4 2013 after-tax operating income came in $1.7 billion ($1.15 per share) vs. $290 million ($0.20 per share) a year ago. Q4 2013 net income swung around to $2.0 billion ($1.34 per share) compared to a loss of $4.0 billion ($2.68 per share) in Q4 2012.
AIG's book value per share grew at a slow rate of 3% y-o-y to $68.62. At a current share price of $48.98 this represents a discount to book value of 29%. Book value per share ex. AOCI stood at $64.28 (a y-o-y increase of 11%) reflecting a 24% discount to book value per share ex. AOCI. Both discounts to book value are substantial and the largest in the insurance peer group.
Both AIG Property & Casualty and Mortgage Guaranty achieved much better operating income results for the fourth quarter 2013 compared to the same period last year: AIG P&C achieved after-tax operating income of $1.1 billion vs. a loss of $944 million in last year's fourth quarter. Mortgage Guaranty, supported by a surging housing market and mortgage demand, presented after-tax operating income of $48 million vs. a loss of $45 million a year ago. Sandy storm losses affected AIG's P&C results by around $2.0 billion in Q4 2012.
AIG Life & Retirement continues to do well with operating income (after-tax) of $1.4 billion vs. $1.1 billion in Q4 2012 driven by high variable annuity sales, higher net investment- and fee income.
Strong financial results have led AIG to increase its quarterly dividend by 25% to $0.125 per share and authorize $1.0 billion in additional share repurchases.
While quarterly results point toward better financial performance due to the absence of large cat losses, AIG clearly needs to make improvements with respect to its combined ratio. AIG's P&C unit delivered an underwriting loss of $330 million which is substantially better than last year's underwriting loss of $2.2 billion but AIG needs to appropriately price its risks. AIG's adjusted combined ratio stood at 102.0 in the fourth quarter of 2013 -- up 120bps compared to 100.8 in the fourth quarter of 2012.
AIG's valuation still comparatively low
Focusing on both forward earnings- and book value multiples one can assert that the insurance sector is still vastly undervalued - this goes for both Life and P&C companies. AIG trades at less than ten times forward earnings which indicates that the industry-leader retains significant upside potential as insurance companies progress through the underwriting cycle.
The insurance peer group below exhibits an average forward P/E multiple of less than nine.
(Source: Achilles Research, Yahoo Finance)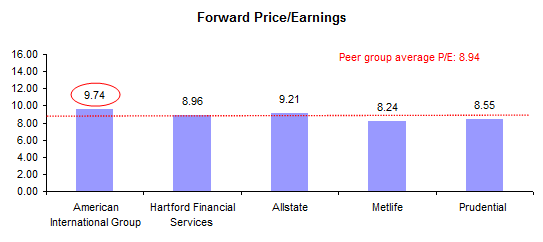 Investors often look at book value multiples or discounts from book value in order to determine the attractiveness of an insurance company investment. American International Group exhibits the largest discount to book value in the peer group: A massive 29%. Allstate and Prudential actually already achieve premium valuations with their respective P/B ratios quoting above one. The average P/B ratio in the peer group stands at 0.95 indicating that AIG is vastly undervalued on a comparative basis.
(Source: Achilles Research, Yahoo Finance)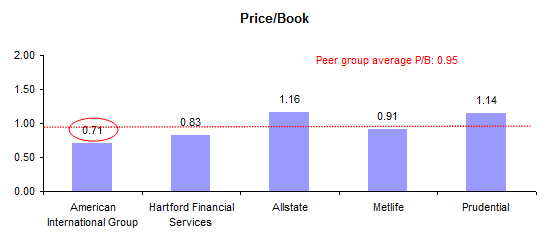 Final thoughts
If American International Group achieves just the average peer group P/B ratio of 0.95, AIG would trade at about $65 per share -- an upside potential of 33%. However, the approach neglects that insurance companies' P/B ratios are still largely depressed and firms in the industry have historically traded at significant premiums to book value in buoyant times. The approach also underestimates AIG's book value per share growth prospects which could contribute vastly to shareholder value generation in the coming years. If AIG grows book value per share (via operating performance and share repurchases) by just 4% over the next three years and manages to trade at just a slight premium of 10% to book value, AIG's share price could easily hit $85 -- representing about 73% upside potential (I have restructured my AIG Long position and now hold only AIG long-term warrants expiring in 2021).
Looking forward, interest rates will surely increase which should further benefit AIG's Life & Retirement unit and lead to higher investment income. I am also quite bullish on Mortgage Guaranty which benefits from high levels of new written insurance and declining delinquencies. Challenges clearly exist with respect to AIG's P&C unit which needs to show more pricing discipline and should demonstrate the willingness to walk away from select underwriting opportunities if prices do not compensate sufficiently for assumed risks. In any case, the upside potential vastly exceeds the downside potential stemming from continued underwriting losses. With a 29% discount from book value, AIG is still the best large-cap insurance investment in the sector.
Disclosure: I am long AIG. I wrote this article myself, and it expresses my own opinions. I am not receiving compensation for it (other than from Seeking Alpha). I have no business relationship with any company whose stock is mentioned in this article.