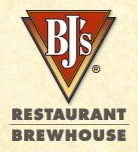 Investors in BJ's Restaurants Inc. (NASDAQ:BJRI) are optimistic souls. After all, the company has been able to show strong earnings even through the financial crisis, opening new stores during a time when consumer spending was very much in question. And as discretionary purchases have grown over the past few months, the stock has become even stronger, testing its pre-crisis high near $27.50.
Pizza and beer are a good combination and BJ's appears to have perfected the art of offering an exceptional neighborhood "feel" while still expanding the number of locations to 94 at last count. Over the last four quarters total revenue has increased anywhere from 9% to 19% (year-over-year). The strength is both due to existing restaurants seeing improving sales, and new restaurants coming online.
In the first quarter, BJRI opened two new locations. Management is guiding for an additional 2 openings this quarter with expectations of four new stores in the third quarter and another 2-3 in Q4. So for the full year, there will be 10 to 11 new stores in play and generating revenue for the company.
While management seems pleased with the rate of growth, I am worried that investors are setting themselves up for disappointment when it comes to the future growth of the company (and the stock price). Expanding by 10 to 11 new stores is hardly a "high-growth" rate of openings – basically an 11% to 12% store base expansion. This rate would be good for a well-established chain like Applebee's, but is not very impressive for a small pizza chain with high hopes.
Don't get me wrong – I believe that in the current retail environment, it makes a lot of sense for a company like BJ's to be very conservative in how many stores they open. If consumer spending becomes weaker as a result of high unemployment and the potential for stimulus measures to decline, then BJ's will want to keep a higher cash balance and be very selective about where it opens new stores.
But investors appear to be much more aggressive in their growth assumptions. Currently, the stock is trading at 36 times expected earnings for this year. This during a time when same-store-sales are increasing by just 4.4% and most of the growth should come from new locations, not from better revenue in existing locations. In fact, management recently unveiled a new menu with smaller items at lower prices. The decision may help the company keep customers loyal, but will likely result in lower profit margins for the entire firm.
Shorting BJ's may be a bit of a dangerous game because the float is very small (only 14 million shares are actively traded), which could lead to a "short squeeze." This occurs when too many short sellers have negative positions and the stock begins to rise. At times like this, traders can feel trapped as they are forced to buy back shares which lead to higher prices. But after a short squeeze in less-than-liquid names like BJRI, the opposite can easily occur with the stock dropping sharply as fundamental metrics lead to a much lower price.
Based on my concern for the retail sector, along with my respect for the company and the conservative approach management is taking, I believe BJRI could easily command a multiple of 20 times this year's earnings. Unfortunately, that metric would bring the stock to about $13.60 which would be a significant decline from current levels.
Aggressive traders might want to consider buying puts on the restaurant chain which would allow for the volatility associated with a smaller-illiquid name, but still give traders an opportunity to capitalize on a potential decline in the stock. The July 22.5's look attractive to me, trading at 85 cents.
The environment for today's retail investor is quite treacherous. With high expectations for growth and inflated prices, there is plenty of room for disappointment – resulting in lower prices. I would avoid long positions in the group, but if you must have exposure, be sure to keep close stops or hedge against potential losses. Once earnings season is over, there is a good chance many of these high-momentum names will back off quickly.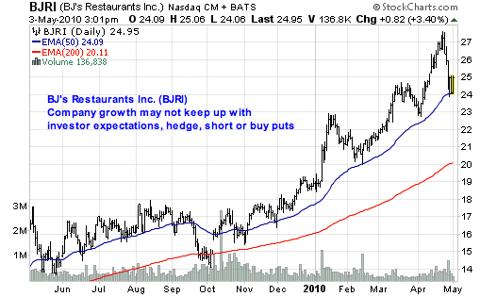 Full Disclosure: Author does not have a position in BJRI