Final Days
The final days of Wal-Mart Stores Inc. (Wal-Mart) suggest a moment may soon arrive when Wal-Mart has no remaining way to increase profit since it has saturated all possible markets. Its growth will cease when the cost for creating the next sale results in a loss.
Wal-Mart History
The world's largest retailer, Wal-Mart (WMT), sells four times as much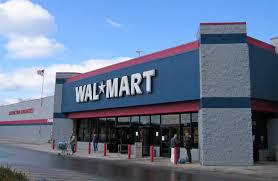 merchandise as its nearest competitor, the French retailer, Carrefour S.A. It operates three business models, two that sell general merchandise, Walmart U.S. and Walmart International, and Sam's Club, the deep discount membership warehouse, which represents 12% (2012) of Wal-Mart sales. Walmart International operates in 27 foreign countries, extensively in Mexico
Wal-Mart's $44 billion debt represents 11.5% of its annual sales. It pays an annual dividend of $1.88 per share or 2.50% of its current stock price, 14.2 times its annual earnings.
The stock value of Wal-Mart has shown a pattern of large growth followed by lethargy. In January 1979 its adjusted price was $.06 a share and rose to $3.84 a share in January 1988. It increased to $10 in January 1996, then to $55.75 in December 1999. The stock price was $37.60 in August 2007. Since then its stock price doubled and on February 14, 2013 it closed at $75.79.
A Record for Wal-Mart's last 5 years' sales, earnings & stock prices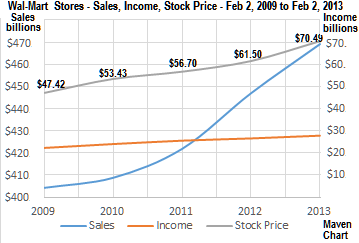 Sales and income data is from WMT annual reports. Stock price data is from Yahoo historical prices.
On January 31, 2000, Wal-Mart's sales were $165.1 billion and its profit was $5.4 billion. By January 31, 2013, Wal-Mart grew to $466.1 billion in sales and a profit of $27.8 billion. Stock holders have not fared as well as Wal-Mart. On January 31, 2000, Wal-Mart's stock price was $61.50; on January 31, 2013, it was $70.49.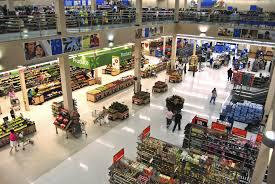 Increase Profitability
The Sam's Club division has many options to increase success, including a complete image change and operational revisions, while the major portion of Wal-Mart, its general merchandising divisions, Walmart U.S. & Walmart International, have four apparent paths to increased profitability:
Increase sales within existing stores.
Increase gross margin.
Increase operational efficiency.
Open new stores.
Sales increase within existing stores will probably follow economic inflation. Wal-Mart is a skilled merchant and has applied its skills to increasing sales. It has little room to improve.
Controlling gross margin may be accomplished as simply as changing a price tag. Walmart U.S. & International might be reluctant to make price changes, since a misstep could cause customers to seek other retail merchants, and might lessen its flow of new shoppers. Walmart U.S. & Walmart International's large purchasing volume points to the likelihood that it has negotiated lowest price with its suppliers. It is doubtful that Walmart U.S. & Walmart International may show a significant margin change.
Improving operation efficiency has been a method customarily used to increase profit. Wal-Mart is an established well-run organization. It uses latest technology, has fine management and the best equipment. One may expect that it has reached maximum efficiency.
Expansion of its retail store base seems to be the best track for Wal-Mart to achieve additional profitability. Walmart U.S. has increased store count 8.5% during the last five years and Walmart International has increased its number of stores 98.5% for the same period. Walmart U.S. has saturated its markets with more than 4005 (2012) stores along with Sam's Club's 620 stores (2012). Walmart International now operates 6158 (2012) stores of which 2353 (2012) stores are located in Mexico.
The opportunities within the US and Mexican markets for additional outlets are small. Walmart International operates 565 stores in Great Britain, followed by 558 units in Brazil and 438 outlets in Japan. Walmart International represents its only venue where large growth may still occur.
It is easier to have a single operating model in which to conduct one's business than to support several. As a business becomes multinational the model must be altered in ways to meet the rules, customs and requirements of the countries in which it operates. These circumstances alter organizational efficiency, and make it more difficult for a business to achieve the same level of sales and profits as it customarily experiences. Foreign expansion may bring Wal-Mart a lower rate of capital appreciation. This shortfall will show in Wal-Mart's bottom line, and will accelerate the decline rate of financial growth.
Concern About Growth
Wal-Mart has other options to increase its stock price. It has recently conducted a stock buy-back program. The advantages of a buy-back to increase stock price may be tempered by some operational problems.
▪ Wal-Mart has the reputation for paying low wages and offering limited employee benefits. Public pressure is forcing Wal-Mart to alter this policy. Wal-Mart is likely to increase its wage levels and benefits within the next few years in order to maintain its reputation as a responsible community member. The resulting increased costs will have an adverse effect on profits. Of course, Wal-Mart may receive the advantage of paying higher wage levels by giving better customer service and receiving elevated employee productivity.
▪ Walmart International has undergone problems with development in foreign countries. It has been accused of inducing Mexican officials to accelerate the issue of occupancy permits by offering monetary payments. Remediation of this matter is very expensive, and alerts foreign countries to be very cautious in permitting Wal-Mart's expansion within their borders. Wal-Mart's expansion may become slower and less profitable than in the past. Other problems may occur because of cultural differences and business practices that exist in countries unfamiliar to Walmart International.
The Wal-Mart organization has some underlying risk embedded within its operation.
Foreign expansion has unknown political risk. In countries where Wal-Mart has a large presence such as Mexico a political disruption could be very expensive. In 1938, using Mexico as an example, the Mexican Government nationalized the oil industry, which had been run by foreigners. There are countless other instances where this type and other kinds of political change have been costly to foreign interests.
Retailing ways are changing. The Internet has not greatly affected Wal-Mart sales downward nor does Wal-Mart have a great presence on the Internet on its own. Sam's Clubs are protected from price undercutting because of its low markup and Wal-Mart has not been greatly affected by Web pricing. The convenience of purchasing everyday items is not offset by any savings that the Internet may offer. The future effect of the Internet upon Wal-Mart either beneficially or adversely is unknown.
The Hyperstore
Competition from a new concept in retailing, the hyperstore, such as those operated by the French Carriefour Group, could greatly change Wal-Mart's viable position in the marketplace. These stores combine the features of large variety stores with the benefits of the warehouse club retail outlets. The hyperstore concept has not been well-formed but its development and implementation is on the horizon. These stores have potential to be a natural outgrowth of the large drug store chains such as CVS and Walgreen (WAG), which now approach the limit of their growth. A medium-sized retailer in the mid-west that operates 285 stores, Menards, is developing a hyperstore concept. Menards is not thinking 'hyperstore', but it is coming very close to this concept with normal development. This type of entrepreneurial fortune is what occurred at Wal-Mart many years ago, and may occur again. Hyperstores may pose a large threat to Wal-Mart because it might offer more merchandise and better services in a more appealing manner.
Risk Factors
Another threat to Wal-Mart is the possible infusion of large retail chain store groups into the American retail scene with general merchandising stores similar to those operated by Wal-Mart. Carriefour Group, The Metro Group, the German giant, and Tesco Stores, the large British retailing groups, have no substantial profile in the US. They, like Wal-Mart's expansion abroad, may look toward the US. This would dilute both Walmart U.S. and Sam's Club sales.
As Walmart International expands throughout the world, it will experience growth limitations and the operational problems that occur with very large organizations. History teaches a large enterprise to slow in growth as it reaches maturity.
The slowdown of growth is somewhat offset by Wal-Mart's provision of moderate investment return that exceeds some of its competitors, and despite aforementioned risks, it provides a factor of safety that is greater than for many other retailers.
Alternative Investment
If one wishes to invest in the retail industry one may consider Wal-Mart a conservative venture into the retail investment sector, but better opportunity may be found in TJX stores, a general retailer, or with Costco (NASDAQ:COST), a retail warehouse club. These retailers have shown excellent performance during the past 5 years.
Disclosure: I have no positions in any stocks mentioned, and no plans to initiate any positions within the next 72 hours. I wrote this article myself, and it expresses my own opinions. I am not receiving compensation for it (other than from Seeking Alpha). I have no business relationship with any company whose stock is mentioned in this article.