Editor's Note: This article covers a stock trading at less than $1 per share and/or with less than a $100 million market cap. Please be aware of the risks associated with these stocks.
Last week, I wrote an article on Sam Zell, and specifically I was arguing the point that Zell made in an interview with Betty Liu of Bloomberg. In that interview, Zell said:
I think that there are probably 30 of them (REITs) that have size, scale, market impact, et cetera, and will be leaders and growing in the future.
He went on to say:
And I would expect over the next 20 years we will have more and more consolidation as the REIT industry continues to grow.
In another article last week, I mentioned that "it should be no surprise when the REIT market begins to rally, it will be led by the institutional buyers that have a much higher degree of analyst coverage and much lower risk tolerances. Alternatively, Small and Mid cap REITs have always been seen as more risky bets than large caps."
But wouldn't it be great to own a handful of smaller REITs? Granted, they don't have the diverse revenue streams or stable cash flows like the big-named players; however, because they "fly under the radar," these so-called "less relevant" REITs could offer better potential in the long term.
It's true. Small cap stocks are more susceptible to wide swings in price due to lower trading volumes, and their greater volatility deters action and often invites selling (and buying). However, the small cap REITs have a much better chance to "move the needle," resulting in an underestimation of operational health and growth prospects.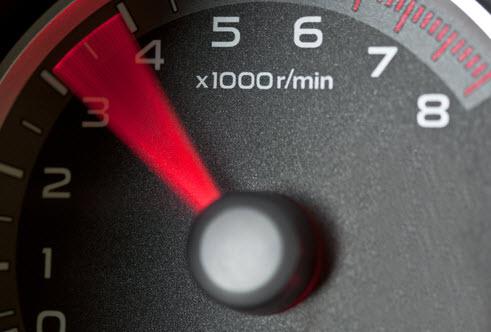 An Excel-lent REIT That Can Move the Needle
On Thursday (last week), we saw one such REIT capable of moving the needle. Excel Trust (NYSE:EXL), a San Diego-based shopping center with a market cap of $603 million, reported fourth quarter and year-end earnings. Highlights for the year included:
Adjusted Funds from Operations (or AFFO) for the quarter of $11.4 million, or $0.23 per diluted share, and for the year of $43.8 million, or $0.90 per diluted share (15% annual increase over 2013)
Funds from Operations (or FFO) for the quarter of $11.3 million, or $0.23 per diluted share, and for the year of $44.6 million, or $0.92 per diluted share (24% annual increase over 2013)
Acquired approximately $178.6 million in properties
Improved terms and increased unsecured credit facility to $300 million, expandable to $500 million
Subsequent to year-end, published Moody's investment grade credit rating of (P)Baa3
Subsequent to year-end, increased share buyback program to $50 million
Maybe because Friday was Valentine's Day or maybe because Mr. Market was ready to spread the love, but regardless of the affection, Mr. Market was paying attention.
For the latest week, Excel shares advanced around 9.39% for a closing price (on Friday) of $12.46. This was the best-performing shopping center REIT for the week:

Also, during the most recent 30 days, Excel returned more than 11.85%, making this small cap REIT the best-performing REIT for that period.

This isn't the first article that I have written on Excel Trust. My first article was on June 15, 2011, just a few months after the company listed on the New York Stock Exchange (the IPO was on April 28, 2010). Then, my second article was on Jan 25, 2012. My third article was on December 6, 2013, and this is my fourth article, and I'm placing a BUY TARGET of $12.50 on Excel shares. The closing price on Friday was $12.46, and it's likely that I will initiate a BUY during the first quarter. The purpose of this article is to evaluate the company in greater detail and determine whether or not there is an adequate margin of safety in the shares.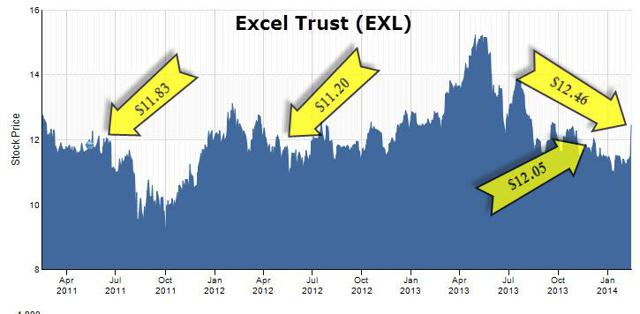 Let's Check Out This Excel-lent Small Cap REIT
As I referenced above, Excel Trust is a shopping center REIT; however, the primary differentiation with this REIT vs. the others (or peers) is the fact that this company leases from leading necessity and value-oriented retailers with strong credit. During the period of time that I have been researching this REIT, it has become clear to me that this REIT has evolved into a company that owns high-quality assets. Here is a snapshot of Excel's market capitalization compared with the other shopping center REITs.

As mentioned above, Excel Trust commenced as a REIT in April 2010 (raised $210), and since that time, the company has evolved into a diverse landlord with properties from coast to coast.

As of the latest quarter (Q4-13), Excel Trust has 38 shopping centers in 11 states and Washington, DC. Here is a snapshot of Excel's properties owned and the peer group;

Excel focuses on markets with attractive demographic and property fundamentals trends, typically in "smile states" (West Cost, Sunbelt, and East Coast), with a long-term strategy of clustering properties around regional hubs in San Diego, Dallas, Atlanta, Greater SF By Area, Washington, DC, and Phoenix.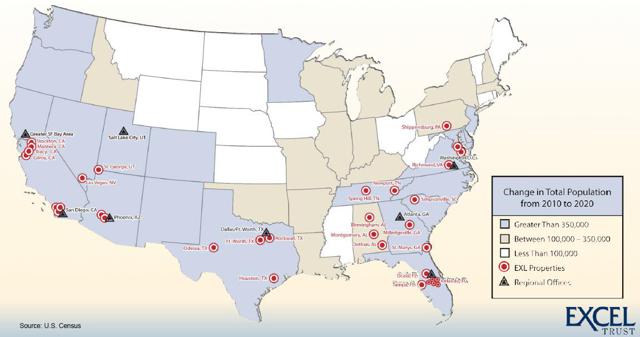 Excel has a portfolio that is 70% anchored and the majority of inline tenants (30%) - based on gross lease area. Also, the anchor tenants represent 52.3% of income, and the inline (or shop tenants) represent 47.7% of space (based on income).

Excel's Top 10 Tenants all offer necessity and value-oriented items, and the Top 5 Tenants are: Publix, Ross Dress for Less, Lowe's (NYSE:LOW), Regal Cinemas (NYSE:RGC), and TJX Companies (NYSE:TJX).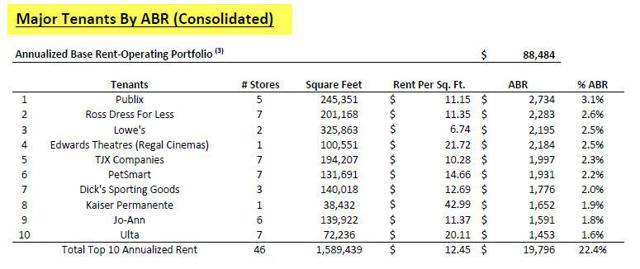 Excel's portfolio is more than 6 million square feet, with a weighted average lease term of seven years. The average price per square foot for the portfolio is $184. Here's a snapshot of several of the stable anchor tenants: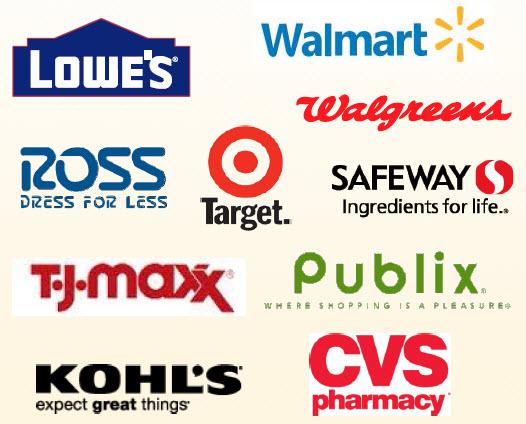 Excel's Healthy Demographic Trends
I'll admit, when I first started covering Excel Trust, I was not impressed with the portfolio quality. I was concerned that the company was more focused on "quantity" than "quality." However, throughout the years, I have now seen that the management team has become more disciplined with its strategy of investing in strong demographics. For example, Excel's three-mile weighted average household income is $90,000. That ranks this REIT in the top tier in terms of asset quality.

Also, Excel's three-mile weighted average population is around 47,000 (people). As mentioned above, the company invests in "gateway" markets with strong population growth. Here is a snapshot of Excel's future population growth - it ranks #1 in that category.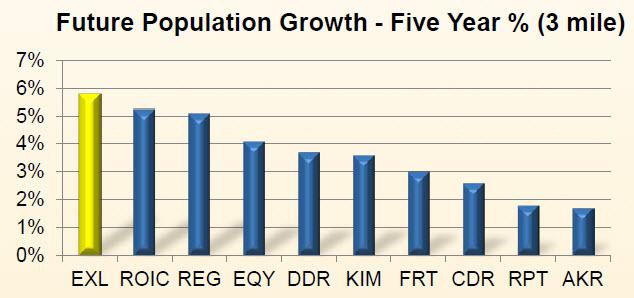 As noted above, Excel has a weighted average lease term of seven years, and the snapshot below reflects the health of the stable lease maturities.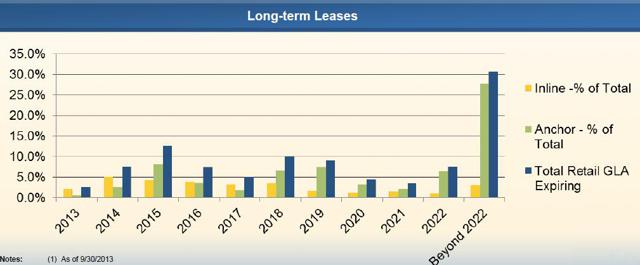 In addition to investing in shopping centers, Excel also invests in free-standing net lease properties. Although not a big part of the company's investment strategy, Excel has demonstrated proficiency in capturing gains from selling net lease assets (as well as non-core assets). Here is a snapshot of several transactions that resulted in nice, risk-adjusted gains:

I believe that Excel's biggest strength is asset sourcing (or acquisitions). The company's management team has deep experience in the shopping center sector, and as a result, it sources most of its assets from relationships in the industry. I wanted to share a few select deals with you.
Last year, the company acquired West Broad Village in Richmond, VA. This was an "off-market" deal, and Excel was able to acquire the property for around $171 million. At the time of the acquisition, the property was 79% leased with major tenants: Whole Foods, HomeGoods, REI, Wells Fargo, Kona Grill, Dave & Buster's, and Mimi's Café.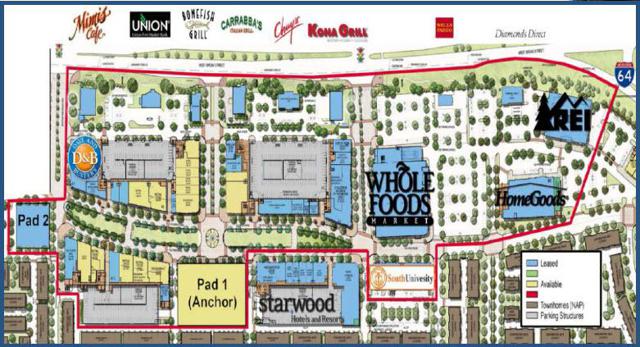 Excel also acquired another Class A property in Scottsdale, AZ. This deal consists of two components: (1) retail center acquired for $110 million (in 2011) and (2) two office towers acquired for $56 million. Tenants in the retail center include Old Navy, Stein Mart, Trader Joe's, Cost Plus World Market, and others. As noted above, Excel looks for strong demographics, and this center in Scottsdale has more than 171,000 people in a five-mile radius, with robust sales per square foot (Trader Joe's averages $2,600 sales per sf).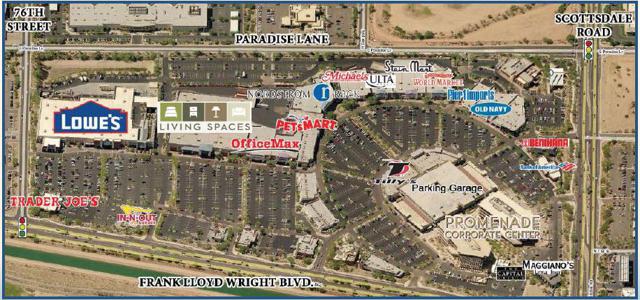 Last year, Excel acquired League City in Houston, TX for $39.5 million. By overcoming several barriers that had discouraged other buyers, Excel was able to buy this center below market prices. The center is 100% leased, and includes tenants such as Ross Dress for Less, TJ Maxx, Staples, Michaels, and PetSmart.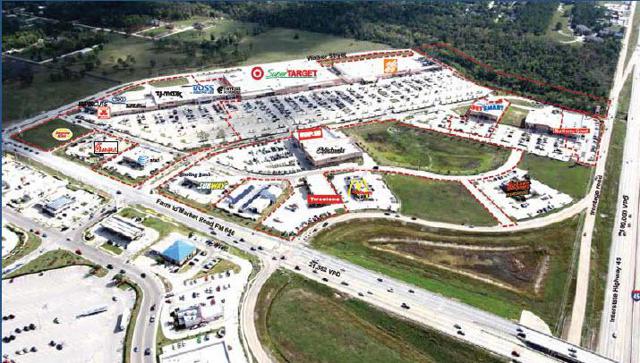 Could Excel Be The Next Federal Realty?
Excel has evolved into a stable income model, with a cohesive and tenured senior management team with a proven track record. Although not nearly as large as many of the peers, such as Kimco Realty (NYSE:KIM) or Federal Realty (NYSE:FRT), Excel has carved a niche of owning and investing in higher-quality assets.
Here is a snapshot of the company's revenue growth:

Here is a snapshot of the company's asset growth:

Although Excel has grown significantly, the company has not sacrificed its balance sheet (for the sake of growth). In fact, Excel has demonstrated its success for managing capital prudently. The company has improved its capital structure, and is now less than 40% leveraged (debt-to-assets).

Excel's capital structure consists of around 48% in equity, 11% in preferred, 15% of unsecured debt, and 25% of secured debt. The Total Capitalization is around $1.235 billion.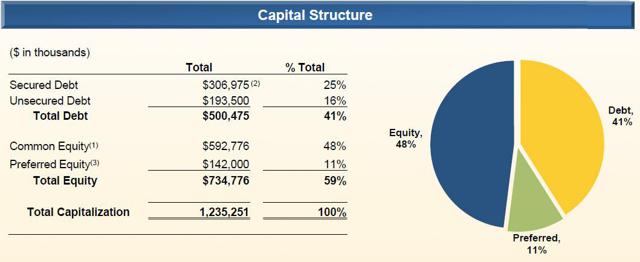 Excel has become much more disciplined with its use of secured debt, and, as evidenced below, the company has become much stronger as a result of its decreased reliance on secured borrowing.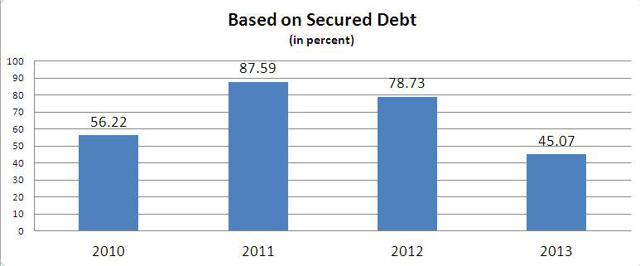 Just a few days ago, Excel announced that Moody's Investor Services had assigned the REIT an investment grade rating of Baa3. According to Moody's, the Baa3 rating reflects Excel's high-quality property portfolio, sound liquidity, and moderate leverage. Moody's noted that Excel's tenant base is diversified and benefits from a well-laddered lease expiration schedule.
Why Do I Want to Buy Excel Trust?
In reviewing the various shopping center REIT options today, Excel appears to be "the best dividend opportunity." That's not to say that Excel has the highest-paying dividend; however, it means that on a "risk-adjusted" basis, I consider that Excel pays the best "pound for pound" yield. As you can see, Whitestone REIT (NYSEMKT:WSR) and Wheeler Real Estate (NASDAQ:WHLR) pay a higher dividend; however, I believe these two REITs are exposed to extremely more risk (in both asset-level and debt-level metrics), and therefore I believe Excel Trust is the "pound for pound," best paying shopping center REIT.

Now, let me be clear. Excel has not experienced a "Great Recession," and although I like what I'm seeing, the company has not lived through a tough, "time-tested" event, and therefore, the comparisons to Federal Realty are unreasonable. But then again, let's compare the valuations of these companies.

As you can see, there are only three other shopping center REITs that trade at a lower multiple. Last week, Kite Realty (NYSE:KRG) announced it was effectively doubling in size by acquiring Inland Diversified (a non-traded REIT), and that should move the needle (for Kite). However, Kite needs to move more than the needle… it should move the dividend, as the current yield is a puny 3.83%. I like Inland Real Estate (NYSE:IRC) - see my recent article HERE - and I consider this REIT a formidable competitor.
Let's examine Excel's earnings model. As noted above, the company increased FFO by more than 24% in 2013, and AFFO increased by more than 15%. Remember, the company acquired only $179 million (in 2013), however, that "moves the needle."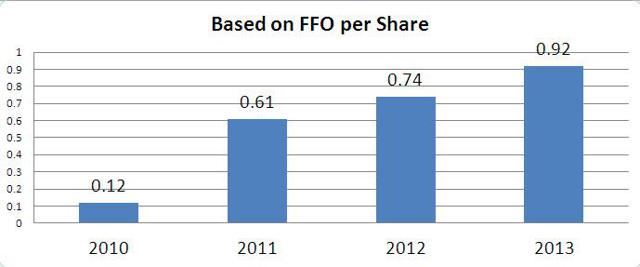 Also, Excel's estimated 2014 FFO growth spells OUTPERFORMANCE. Take a look at the peer chart:

As evidenced by the F.A.S.T. Graphs chart (below), Excel is clearly in the BUY RANGE, and at $12.46, I consider the shares to be trading at SOUND value. As the credit quality has continued to improve, Mr. Market has not given this REIT a lot of attention. I consider Excel to be a BUY, and I'm maintaining my TARGET of $12.50.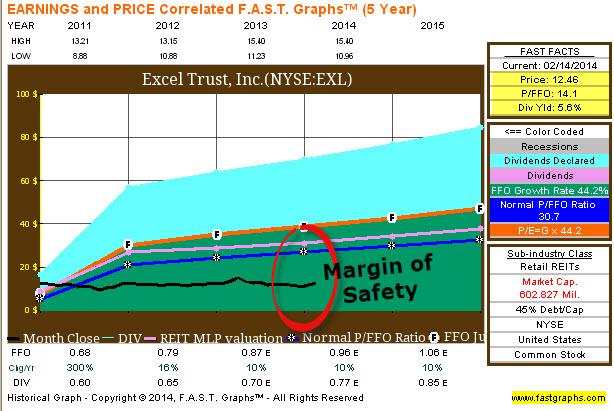 Finally, it's clear to see that Excel has begun to develop a dividend policy. Although the company is still relatively small, the three-year track record has begun to unfold, and I'm starting to see more and more consistency in the value proposition of the company. I believe that Mr. Market is speaking "loud and clear," and management is clearly closing the gap between the current stock price ($12.46) and the underlying asset valuation. The recent investment grade rating news gives me even more confidence, and I'm feeling more warmth now that Mr. Market Is Starting to Spread the Love for this Small Cap REIT.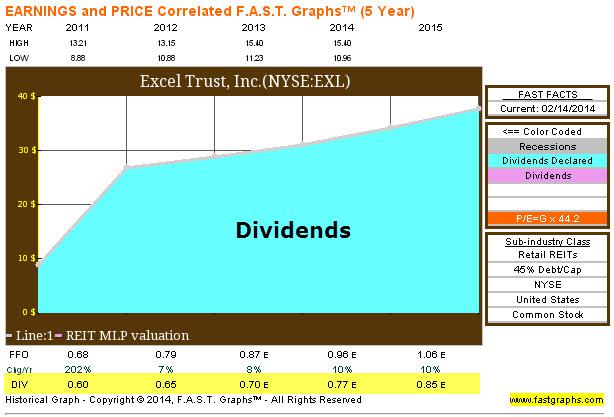 For more information on Excel Trust, check out my SALSA portfolio in my monthly newsletter, The Intelligent REIT Investor.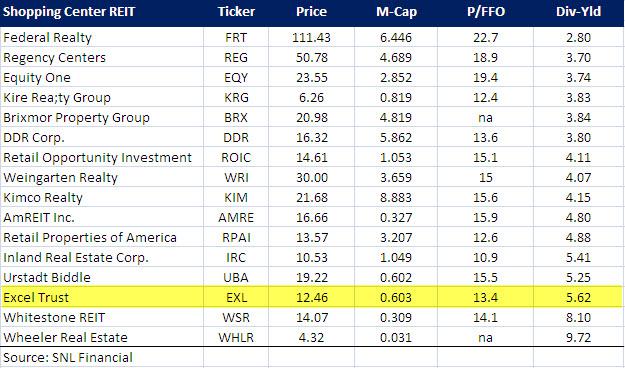 Source: FastGraphs, SNL Financial, and EXL Investor Presentation.
Other REITs Mentioned: (NYSE:EQY), (NYSE:BRX), (NYSE:DDR), (NASDAQ:ROIC), (NYSE:WRI), (NYSE:AMRE), (NYSE:RPAI), and (NYSE:UBA).
Disclaimer: This article is intended to provide information to interested parties. As I have no knowledge of individual investor circumstances, goals, and/or portfolio concentration or diversification, readers are expected to complete their own due diligence before purchasing any stocks mentioned or recommended.
This article includes hypothetical analysis and the author does not warrant any of the data or research to be relied upon for the purpose of investing in Darden or any other company listed.
Disclosure: I am long O, DLR, VTR, HTA, STAG, UMH, CSG, GPT, ARCP, ROIC, MPW, HCN, OHI, LXP, KIM. I wrote this article myself, and it expresses my own opinions. I am not receiving compensation for it (other than from Seeking Alpha). I have no business relationship with any company whose stock is mentioned in this article.