One of my less-favored courses in high school was Biology. I just hate anatomy and when it came time for dissecting a pig, I was simply scared to death. I'm glad there are knowledgeable physicians who have the skill for that, but I'm not one of them.
However, I do like cutting into REITs, especially when they report earnings. It's not as glamorous of a job as being a brain surgeon and it certainly doesn't pay as well. Yet, I do derive pleasure in dissecting the inner-workings of a REIT and determining whether or not it's healthy and, more importantly, whether it helps me build my nest egg over time.
Ironically, it's time to dissect Medical Property Trust (NYSE:MPW). Last week, the "pure play" hospital REIT announced its fourth quarter (and year-end) earnings and now I get to put on my surgical gloves and find out whether this REIT meets the all-important test of risk control. That is, I plan to provide a valuable lesson in assessing the risk of Medical Property Trust and determine whether or not this REIT offers strong sources of differentiation.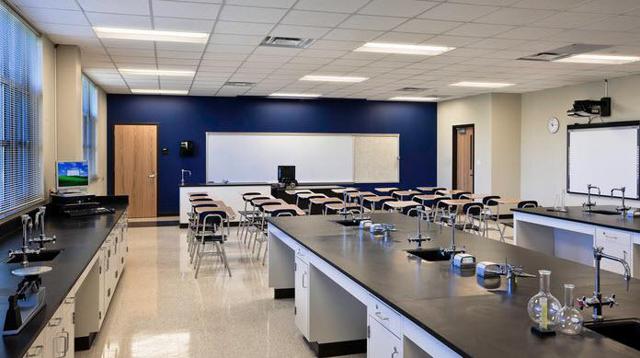 Why I Own Shares in Medical Properties Trust
In November (2013) I decided to dip my toe in shares of MPW. I purchased a few shares for $13.04 and since that time (around 90 days) the price has climbed up by around 3.6%.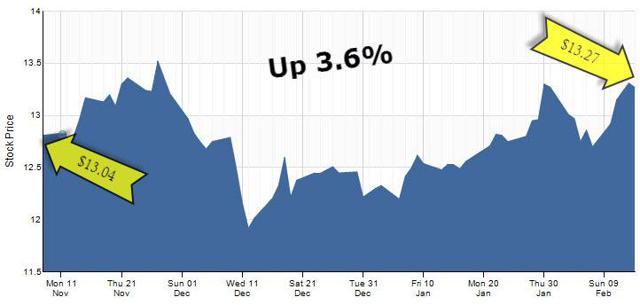 In early November, I wrote an article on MPW and I was hoping to get into the shares at around $13.00. My research demonstrated that there was a "margin of safety" in the share price and I summarized the article as follows:
MPW shares are now valued fairly and I am much more confident that my principal investment would be safe and the dividend reliable. I'm circling (the wagons) on this one and a mild pullback would put me in the buyer's seat at $13.00. Some things are worth waiting for, especially when it comes to protecting my cake (principal) and icing (dividends) at ALL COSTS.
Since hitting an all-time high of $17.50 back in mid-May, MPW shares have fallen by over 32%. On that metric, it looked as of MPW was trading at a reasonable "margin of safety".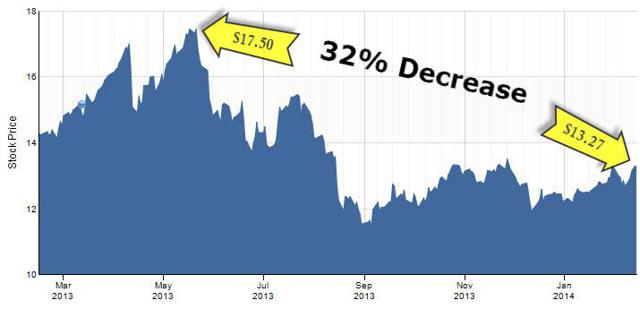 Although it's been only around 90 days, I'll admit that I was looking to see more of a boost in the share price of MPW. Admittedly, I bought MPW for the high-paying dividend (6.33% now); however, I was looking to see a modest recovery in the share price. I feel good about the return (to date) and it's plausible that I may increase my exposure in MPW after dissecting the latest earnings performance.
Based upon the current Price to Funds from Operations (or P/FFO) multiples, MPW is still trading at fair value. Here is a snapshot of MPW's P/FFO and the other Health Care REITs:

Normally a low P/FFO multiple means a high dividend yield. Let's see:

Check that box. Based upon current valuation metrics (and the high dividend) MPW is still attractive. Let's peel back the onion a little further.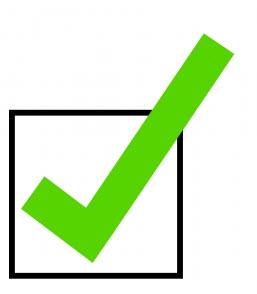 The Latest Earnings
For 2013, MPW's normalized Funds From Operations (or FFO) per share was $0.96, a 35% increase in normalized FFO per share over a two-year period. MPW ended 2013 with an FFO run rate for 2014 of $1.10 per share using the midpoint range. This amount represents a 55% increase over two years.
Most importantly, MPW does not have to do any new acquisitions to achieve the $1.10 FFO per share for 2014. The $1.10 is based on all the acquisitions in place at 12/31/13 and produces a run rate FFO payout of 76%.
Also remember, the $1.10 FFO run rate that MPW announced is not guidance for 2014. This $1.10 is what the company said it had in place as the FFO run rate. This does not include any acquisition activity for 2014, which the company guided (earnings call) to be $500 million for 2014.
As referenced in my previous article (on MPW), the company achieved this remarkable growth through a steady and strategically accomplished acquisitions plan over the past two years, which allowed the "pure play" REIT to increase revenue by 79% since 2011.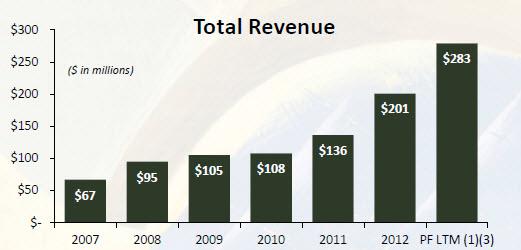 During the same period, MPW's total shareholder return for shareholders was 43%. In 2012, the company made $800 million in investments. In 2013, MPW made approximately $700 million in investments. Prior to 2011, the average annual investments had been $280 million per year.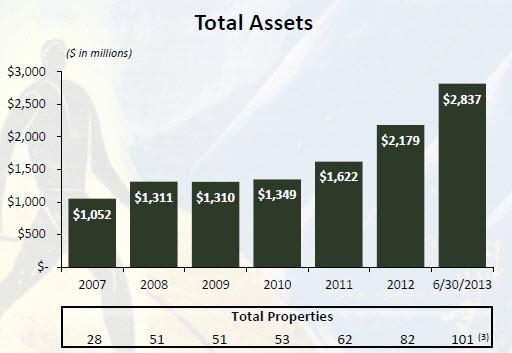 As referenced in the latest earnings call, the vast majority of investments will be in general acute care hospitals with the majority being with tenants new to MPW. As of the latest earnings report, MPW owns 102 properties worldwide (91 in the US and 11 in Europe) including around 9,600 beds. The portfolio consists of 39 Acute Care Hospitals, 24 Long-Term Acute Care Hospitals, and 32 Inpatient Rehab Facilities.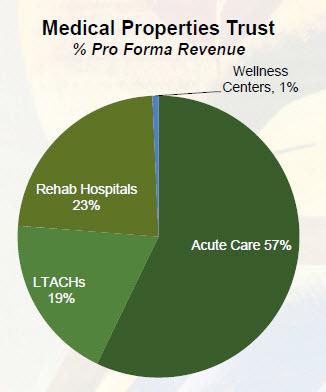 The reason I have referred to MPW as a "pure play" REIT is because this is the "only" REIT that focuses on hospitals. Although Health Care REIT (NYSE:HCN), HCP, Inc. (NYSE:HCP), Ventas, Inc. (NYSE:VTR), and Healthcare Realty Trust (NYSE:HR) invest in a fractional interest in hospital related assets, MPW is the only REIT that has a "hospital" focus.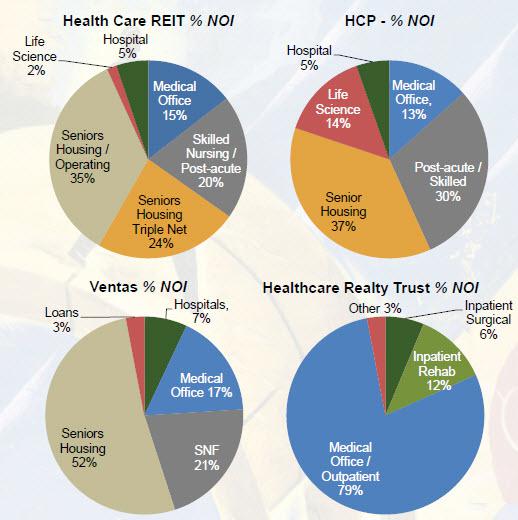 As of 12/31/13 no one property represents more than 3.7% of MPW's total portfolio. When looking at the concentration on a state basis, three largest concentrations are Texas with 24% of the portfolio, California with 17% and Arizona with 6%.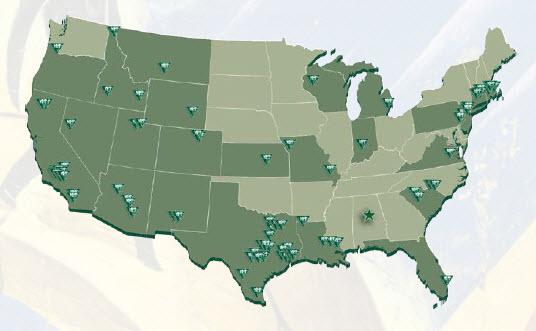 Looking at concentration from an operator standpoint, Prime Hospital represents 22.67%, RS facility is 15% and IASIS hospitals 11%. As MPW continues to grow in size, it has reduced exposure to the concentration risks associated with having one property that generates more than 3.5% of revenue.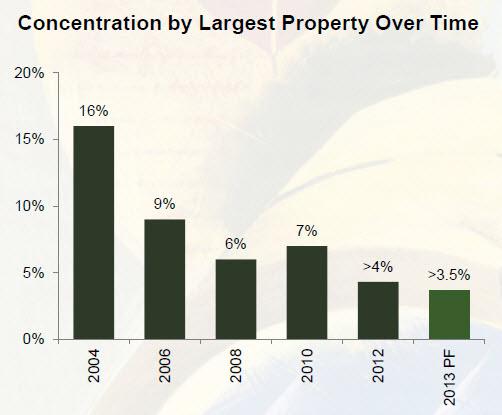 MPW has only one lease term expiring in 2014 and that lessee has the option to repurchase the property, which generates approximately $2.1 million in annualized rent. MPW does not believe that the lessee will vacate.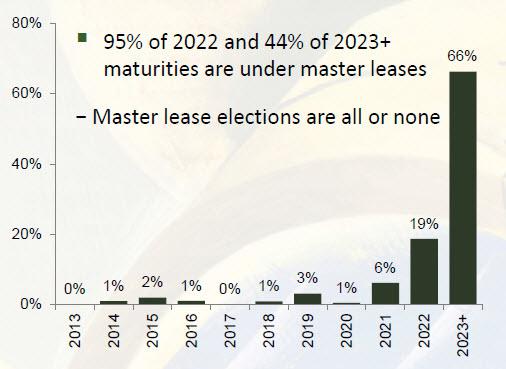 Clearly, MPW has amassed a diversified portfolio of assets and the latest earnings prove it (check the box). But how can it grow?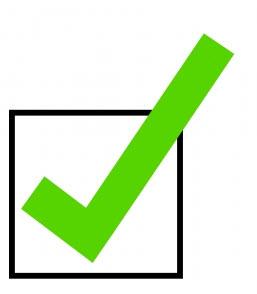 Medical Properties Trust Balance Sheet
MPW's acquisition and development pipeline of at least $500 million in new hospital real estate is a good expectation for 2014. And so, as far as funding near-term acquisitions, MPW has a number of alternatives from which it can select depending on market conditions at the appropriate time. To begin with, MPW has immediately available about $300 million in cash and under its revolver.
For permanent funding of acquisitions, MPW has an impressive credit profile that consists of just $14 million in secured debt - just 1% of its overall debt.

MPW's leverage target is in the 40% to 45% range of net debt to gross assets, which generally equates to the 5 to 5.5 times debt-to-EBITDA range. Current debt to total assets is around 48% with total debt of around $1.38 billion.
MPW is currently BB rated by S&P and I suspect that the REIT will move up the credit curve as the company's profile has significantly improved. Debt maturities are well-staggered and the $350 million revolver and cash provide ample "gun powder" for upcoming acquisitions.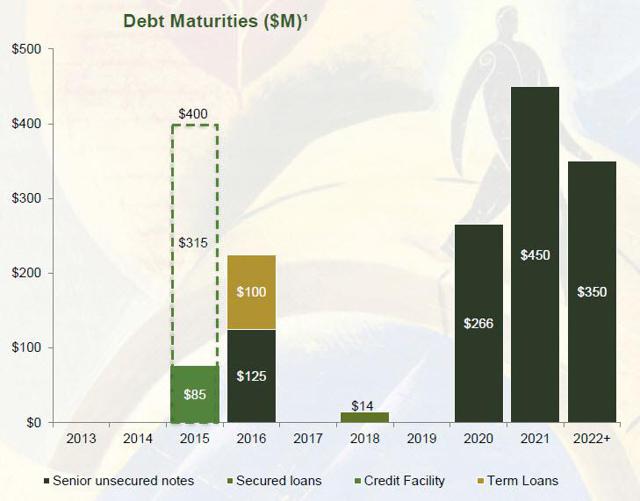 MPW has a healthy balance sheet and the metrics for Q4-13 are improving. Check the box.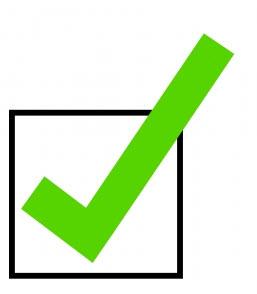 The Heart of MPW is the Dividend
As I conclude my dissection of MPW, I'll warn you that this summary could be grotesque. As I stated at the outset, I don't like cutting inside of pigs and for that reason, I don't eat much bacon. But I suppose you have to experience some bitter times in life to truly appreciate the good things.
As I said, I own MPW for the dividend. Granted this is not the safest REIT today, but I do feel as though the dividend is sustainable. After suffering a dividend cut in 2008 and 2009, the company has maintained a steady stream or payouts - 80 cents a year.
More importantly, MPW recently announced a 5% dividend increase (to $81 cents) just a few days after I bought the stock. That was rewarding news and it also demonstrates that management is committed to the earnings stream - the ultimate sign of corporate strength.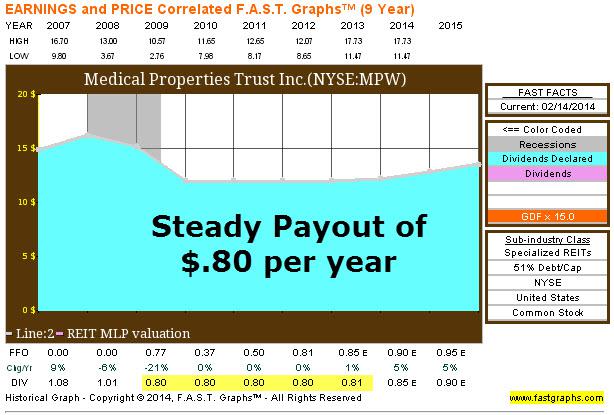 Based on a current share price of $13.27, I consider MPW to be trading at "sound value". I intend to add more shares as my BUY TARGET remains $13.00. Since my last article I am even more confident in MPW as the earnings record, balance sheet management, and growth prospects all translate into strong fundamentals.
As far as upside, I believe MPW could hit $17 over the next 12 months. I base that primarily on the fact that MPW's multiple could move more in-line with other Health Care stock multiples (of 14x). Also, I can't rule out a merger opportunity, although MPW's size has now become more challenging for M&A. I expect to interview MPW's CEO soon, and if you have any specific questions to include, please message me below.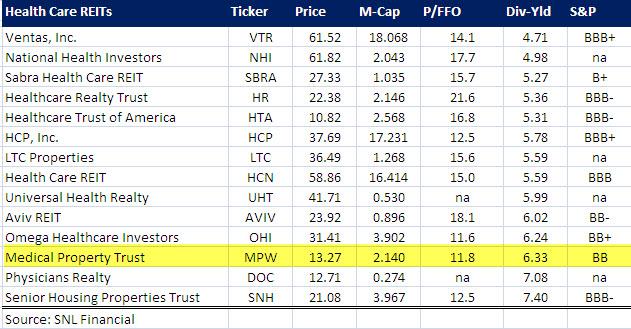 Now I guess that wasn't too bad. No bad dreams about Biology. Heck, I might even sleep well at night. Long MPW.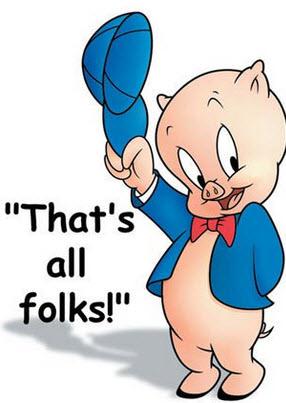 My REIT Newsletter: Only $99 a year. Subscribe HERE.
Source: FastGraphs, SNL Financial, MPW Investor Presentation.
Other REITs Mentioned: (NYSE:NHI), (NASDAQ:SBRA), (NYSE:HTA), (NYSE:LTC), (NYSE:UHT), (NYSE:AVIV), (NYSE:OHI), (NYSE:DOC), and (NYSE:SNH).
Disclaimer: This article is intended to provide information to interested parties. As I have no knowledge of individual investor circumstances, goals, and/or portfolio concentration or diversification, readers are expected to complete their own due diligence before purchasing any stocks mentioned or recommended.
Disclosure: I am long O, DLR, VTR, HTA, STAG, UMH, CSG, GPT, ARCP, ROIC, MPW, HCN, OHI, LXP, KIM. I wrote this article myself, and it expresses my own opinions. I am not receiving compensation for it (other than from Seeking Alpha). I have no business relationship with any company whose stock is mentioned in this article.