At the close of 2013, many economists, financial strategists and market commentators were bearish on gold and recommended that investors sell the precious metal. Judging from what we have seen in market performance so far this year, that advice thus far is proving costly and wrong.
What the consensus failed to recognize was that gold's performance in 2013 already reflected - and, in our view, even overstated - the anticipated economic recovery and a return to monetary-policy normalization in the U.S. Similarly, few had prognosticated the impact higher rates in the U.S. would have on emerging markets, many of which are now encountering currency and growth troubles of their own and spurring some knee-jerk sell-offs of equities.
We believe market developments so far this year should remind investors that predictions and forecasts can be wrong. Moreover, they underscore the importance of portfolio diversification to manage risk effectively.
Year to date, gold has performed solidly-climbing 9.5% this year and making it one of the best asset classes so far. The S&P 500, by comparison, is down 0.5%.1
As we see it, investor sentiment is clearly changing. Major gold-backed ETFs seen net inflows this year while short interest has fallen, COMEX net-long futures positions have increased, and money is again flowing into gold in major markets.2
So, why gold?
Despite Fed watchers recommending that investors sell gold in 2014, it is clear to us that investors remain confused about gold's ability to help manage portfolio risks. Gold can be an effective hedge against fiat currency depreciations and market turmoil. It can also provide diversification and protection of purchasing power.
While higher interest rates increase the opportunity cost of investing in gold in the U.S., they don't necessarily affect demand from other regions or for other uses. We do not see U.S. rates as a bellwether for global gold demand.
Similarly, those who think that emerging-market weaknesses are necessarily negative for gold haven't , in our view, accounted for the benefits of gold in emerging markets. It is not simply a luxury item whose sales rise and fall with economic output. It is a preeminent way to preserve wealth, especially in periods of local currency weakness.
Take India, for example. In 2013, the strength of gold demand surprised many, even as the economy slowed and the rupee depreciated. As we see it, similar cases can be made today for Turkey, Thailand and other developing markets experiencing a tumble in investor confidence.
Further, we expect that if investors in developed markets fear contagion from one region and look for high-quality assets for protection, they will likely turn to gold. A study of the recent 2008-2009 financial crisis and European sovereign debt crisis illustrates this point all too well.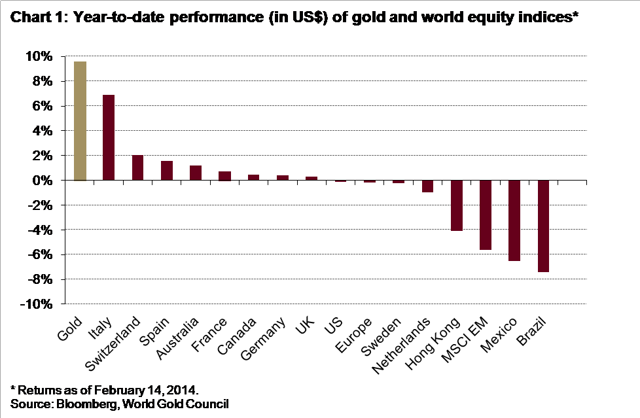 As demonstrated in the chart above, investors who chase trends or follow forecasts sometimes win, but so far this year they are on the wrong side of the market and were, in our view, ill-advised by many vocal sages at the close of 2013.
Instead of chasing the next big thing, investors should focus on what they can control - namely asset allocation, which accounts for the biggest impact on long-term performance.
Our research indicates that even a modest allocation - 5% in a 60/40 portfolio of stocks and bonds - can go a long way to reduce long-term risk without sacrificing long-term returns.
In our view, it is precisely because gold marches to a different drum beat that it can improve overall portfolio performance.
1 As of February 14, 2014.
2 Ibid.
Disclosure: I have no positions in any stocks mentioned, and no plans to initiate any positions within the next 72 hours. I wrote this article myself, and it expresses my own opinions. I am not receiving compensation for it. I have no business relationship with any company whose stock is mentioned in this article.