"Opinion is the medium between knowledge and ignorance." - Plato
Thanks to the market being closed on Monday I have some extra time to peruse the Barron's top 20 insider buy list in this week's magazine. It appears insiders are heavier buyers than they were earlier in the year as eleven companies had over $1mm in stock purchased in the last reported week. Earlier in year, it seems that number varied from 1-4 companies.
This makes sense as the significant market decline earlier in the year gave lower entry points for insiders to deploy their funds especially after quarterly earnings have been submitted and quiet periods are over for a bit. The technology sector seems to be a favorite for insider purchases this week. Here a couple of technology stocks insiders are buying that look interesting at these levels. One is trading significantly below highs hit in summer. The other is an earnings turnaround story.
Teradata Corporation (NYSE:TDC) provides analytic data solutions. The company offers data warehousing solutions that include software, hardware, and related business consulting and support services. The company reported earnings in early February that beat on both the top and the bottom lines.
Post earnings four insiders picked up over $500K in new shares. It seems like an opportune time to pick up some additional stock. TDC is down a third from its highs six months ago and appears to be bouncing off some technical support levels (See Chart).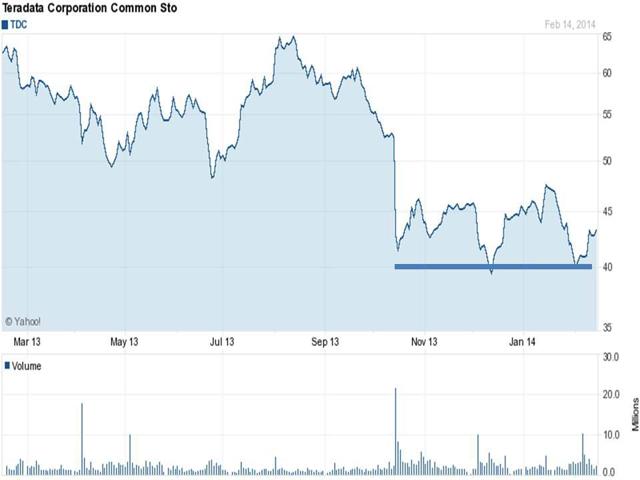 Teradata's revenues are growing in the 5% to 7% annual range. This is slightly better revenue growth that is expected for the overall S&P in 2014. The stock also sells for under 15x forward earnings, again just under the market multiple of the overall market and significantly below the company's five year average (20.6).
Vitesse Semiconductor Corporation (NASDAQ:VTSS) designs, develops, and markets various semiconductor products for carrier and enterprise networking applications worldwide. It is a different story for Vitesse's stock than for Teradata's. VTSS has moved up more than 50% since summer.
A beneficial owner still looks like he believes in the company's future and has picked up more than 2mm new shares in the last two few weeks. The stock's big run was preceded by several insiders picking up shares in late June.
Vitesse is in the midst of an earnings turnaround. The company lost 45 cents a share in FY2013 but analysts project it will cut that loss by more than two thirds (14 cents a share loss) in FY2014. Vitesse is expected to return to profitability in FY2015 with current consensus earnings projections of 18 cents a share. New share purchases seem to point to confidence by an insider in those forecasts. Even after its recent run, the stock is down some 60% from its highs last hit in 2010.
Disclosure: I have no positions in any stocks mentioned, but may initiate a long position in TDC over the next 72 hours. I wrote this article myself, and it expresses my own opinions. I am not receiving compensation for it (other than from Seeking Alpha). I have no business relationship with any company whose stock is mentioned in this article.