As most followers of the technology landscape are aware, Apple (NASDAQ:AAPL), the world's richest and most powerful computer company, runs a very tight ship. The company get its new products out on-time and on-schedule and has an unprecedented reputation for providing the highest quality, no-compromise systems to its loyal customers. Intel (NASDAQ:INTC) is the world's largest semiconductor company by revenue and, despite its failings in mobile, it is far and away the most versatile processor vendor in PCs, servers, and across various segments of the datacenter.
The MacBook Air Needs A Redesign
Last year, Apple introduced the new MacBook Air. The headline feature of this device was its all-day battery life, enabled in large part due to Intel's "Haswell-ULT" processor (and, of course, Apple's optimization of OS X to really take full advantage of the processor). Unfortunately, despite the wonderful battery life and superb operating system, the MacBook Air really does need a refresh for the following key reasons:
1366x768 TN panel; this is simply unacceptable when the competition is putting 1920x1080 (and above) IPS panels on its machines and when Apple's own iPad lineup sports 2048x1536 panels.
An old industrial design. While the Windows PC ecosystem is trying new/fresh designs, Apple has stuck with largely the same chassis for multiple generations in a row - it's time for a new (likely fanless) design.
Now, while Apple probably could have done one for the 2013 MacBook Air, I suspect that Apple was really waiting on the next generation "Broadwell" processors from Intel to go all-out in making a next generation design that will probably sport the following features:
"Retina" Display. I fully expect that the power savings in moving from Haswell-ULT (15W TDP) to Broadwell-ULX (4.5W TDP) will enable Apple to stick in a much higher resolution panel in without a meaningful impact to battery life
Broadwell-ULX. I am going to make the bold prediction and claim that Apple will likely use Broadwell-ULX and NOT the traditional "Ultrabook" processor for the next MacBook Air. The "ULX" line sports a significantly lower TDP (with the necessary performance sacrifice from the ULT SKUs) and allows for fanless designs, whereas the 15W parts still necessitate designs with fans.
Fanless. A corollary to (2) is that the next generation MacBook Air will be fanless. The irony of the name does not escape me.
Will Intel Fail Apple?
In order for this all to work, Intel will need to deliver "Broadwell-ULX" silicon to Apple for a Q3 launch, unless Apple wants to launch its new MacBook Air in Q4 (which would mean that Apple would have one less quarter of a "new" MacBook Air's worth of revenues booked during the current fiscal year).
Interestingly enough, VR-Zone leaked the following roadmaps detailing roughly when Broadwell-ULT (15W and 28W) would launch: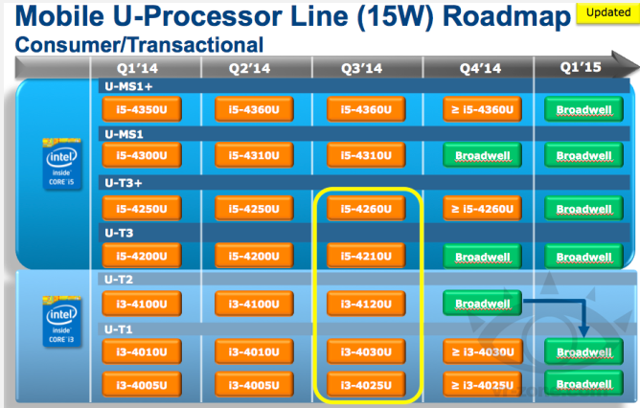 For the 15W "U" processors (Core i3 and i5, anyway) it looks like launch doesn't happen until Q4 2014 (although i7 could come sooner).
The 28W lineup looks even more subject to delay as the product rollout doesn't happen until Q1 2015: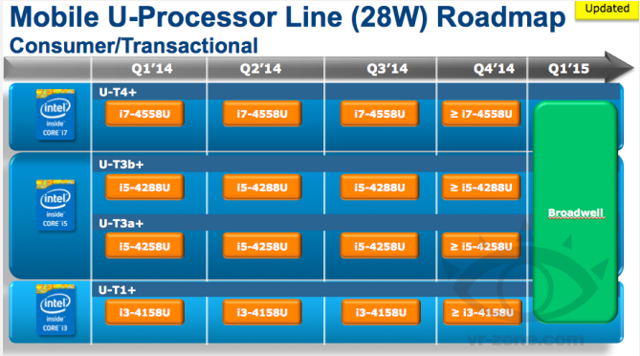 The good news is that if my suspicions of a fanless MacBook Air are true, then we don't yet know if Intel will "fail" Apple as those processors could very well be on track for a Q3 launch. Or, since Intel is eager to please Apple (and since Apple likely does a better job of clearing older inventory than the other PC vendors), Apple could get its hands on Broadwell-ULT (for a 13" MacBook Pro refresh) and Broadwell-ULX (for the 13"/11" MacBook Air products) well ahead of the rest of the PC OEMs which are still trying to peddle Ivy Bridge systems.
In short: I would not be so quick to assume that just because Intel has delayed the "official" launch of Broadwell-ULT that Apple won't get "special treatment" as it did with Haswell-ULT. Remember that the new MacBook Air sported the Ultrabook flavor of Haswell well before any other PC OEMs did. Intel will not fail Apple as long as it is in its power to get Apple the product that it needs. I think Intel can get the first batch of Broadwell-ULT/ULX products to Apple for a Q3 2014 launch.
As always, time will tell.
Disclosure: I am long INTC. I wrote this article myself, and it expresses my own opinions. I am not receiving compensation for it (other than from Seeking Alpha). I have no business relationship with any company whose stock is mentioned in this article.