With all of the bad weather here in the East, this aging number cruncher has had his hands full with scraping and shoveling. But I just had to take a break and comment on Twitter's (NYSE:TWTR) recent Form 8-K (February 5, 2014), particularly given the company CEO's comments last Fall on the importance of transparency to being a good leader.
According to Kurt Wagner of Mashable, CEO Dick Costolo said the following about transparency at a TechCrunch Disrupt event last September:
The way you build trust with your people is by being forthright and clear with them from day one. You may think people are fooled when you tell them what they want to hear. They are not fooled. As a leader, people are always looking at you. Don't lose their trust by failing to provide transparency in your decisions and critiques.
Well, when you go "on the record" about one of my favorite themes, I just had to give Twitter's 8-K a look. And what did I find? Apparently, Twitter's CFO does not share the same transparency philosophy as his boss.
But before I begin, I thought it useful to report on the accuracy of some predictions that I made about Twitter's financial performance before the Company's IPO. In "What Will Twitter's Financials Really Tell Us?," I took a shot at forecasting the company's post-IPO balance sheet using a comp group consisting of Facebook (NASDAQ:FB), Sina (NASDAQ:SINA), Yelp (NYSE:YELP) and Meetme Inc. (NASDAQ:MEET). And while the average revenue to assets percentage for this comp group (46.84%) yielded total assets of only $1.3 billion instead of $3.4 billion, the forecasted balance sheet category percentages were quite close as illustrated in the following table: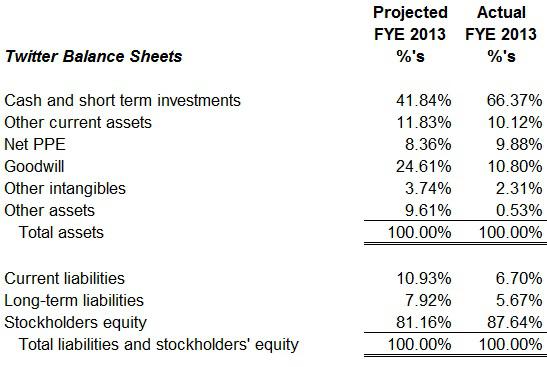 My comp analysis forecasted the high levels of cash and short-term investments and stockholders' equity reported by Twitter, and was almost spot on in predicting other current assets, net PPE and other intangibles. However, my predictions for goodwill were a bit off the mark.
As for the income statement, I expected operating losses (no surprise there), but nothing close to the $645 million reported by Twitter for the 12 months ended December 31, 2013. And of course, I predicted the Company's use of non-GAAP metrics to transform poor performance into "a great year" as noted by CEO Costolo (Exhibit 99.1, page 1). Sure enough, Twitter converted its over half a billion dollar net loss into an Adjusted EBITDA of $75.4 million by deducting over $600 million in stock-based compensation from EBITDA.
When it came to operating cash flows (OCF), I expected either negative or transitory numbers, and the company delivered exactly that: an anemic $1.4 million in OCF driven largely by the non-payment of accounts payable and increases in accrued and other liabilities. So, basic market multiple analysis did a decent job painting us a picture of Twitter's post-IPO primary financial statements.
Then, there was my rant about the company's cost structure in "Twitter's S-1: More Social Media Company IPO Drama." As you may recall, I used the High-Low Method of Cost Estimation to calculate a breakeven sales point of $639.5 million for Twitter. Well, guess what? Had the company not expensed $600 million for stock-based compensation (an increase of $575 million over the prior year), this prediction would have come close to being reality. Actual revenues which approximated $665 million yielded an adjusted net loss of $45.3 million (actual net loss of $645.3 million less stock-based compensation of $600 million). So again, fundamental cost estimation tools can provide insights even for social media companies.
But back to the transparency of Twitter's recent 8-K. What really stirs me up this time is the company's blatantly positive spin to the exclusion (or minimization) of anything negative. For example, quarterly and annual revenue increases are reported, but little or nothing on costs. And when losses are reported, they are accompanied naturally by non-GAAP numbers that paint a much rosier performance picture. What about some real operating data? After all, Twitter devoted a whole page to non-GAAP metrics (Exhibit 99.1, page 8)! Could it be that real operating data highlights some "chinks in the armor?" The following table raises some questions about the company, its business model and its management: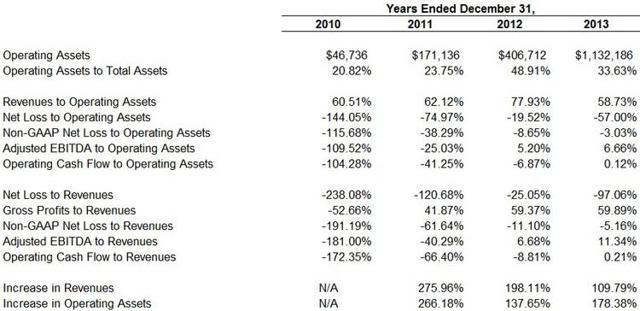 Of particular concern is the slowdown in growth in the company's revenues over the prior year (almost 200% growth in 2012 and only 110% for 2013). Also of interest are the declines in several key percentages: operating assets to total assets and revenues to operating assets. And if we buy into the validity of adjusted EBITDA, note that the ratio of adjusted EBITDA to operating assets increased only about 1.5% during the past year, despite a 178.4% increase in operating assets during the same period. What are those operating assets contributing? Well, it's definitely not OCF, as OCF to revenues totaled only .21% for 2013. I am not sure that I buy into the "great year" description of CEO Costolo.
And why doesn't the company tell us about its cost problems? I'd gladly swap the non-GAAP metrics page for some insights into why costs increased over 230% from the prior year. Yes, earnings were adversely affected by over $600 million in stock-based compensation, but that raises another question. Given this type of performance, were these "rewards" really earned and warranted? And this wasn't just a one-time pop ... the 8-K indicates that next year's stock-based compensation will be just as large (Exhibit 99.1, page 3).
If we adjust the company's operating expenses for stock-based compensation and amortization of intangibles, some interesting insights about Twitter's business model (or lack thereof) surface.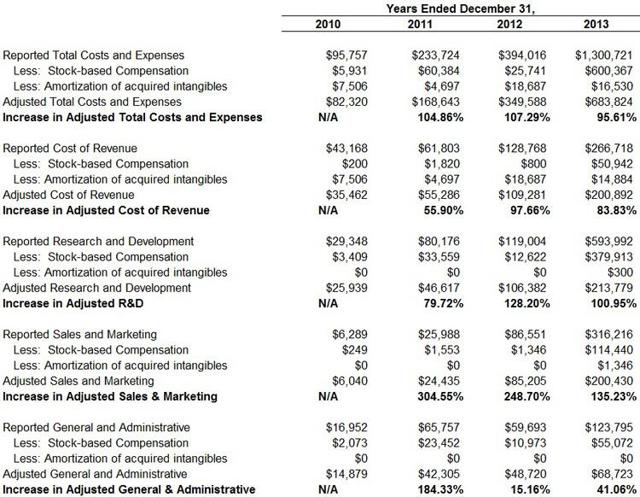 Without stock-based compensation and intangible amortization, total costs and expenses still increased at a whopping 95.6% rate. Although this represents a slight decline from the prior year (12.2%), the decline is much less than the revenue decrease for the same period (88.3%). And as the above table shows, this year's increase was driven primarily by continued triple digit R&D spending and sales and marketing, suggesting that the company's business model is still ill defined and in flux.
And as I pointed out in "Twitter's S-1: More Social Media Company IPO Drama," goodwill and intangible asset valuations are more questionable than ever given the company's operating losses and anemic OCF. Then, there's the issue of potentially unrecorded liabilities for contingent consideration associated with the company's recent acquisitions.
So will Twitter address these financial reporting and operating concerns in its next quarterly or annual report? Probably not... why should management tackle these tough questions, when the answers just might jeopardize the company's share price? On the other hand, didn't CEO Costolo preach transparency just a couple of months ago? Or is this just another case of "do as I say, not as I do?"