For five years, Applied Materials' (NASDAQ:AMAT) stock has underperformed the NASDAQ market by a big margin. But in the last six months, the company's stock has come back to life, outperforming the NASDAQ.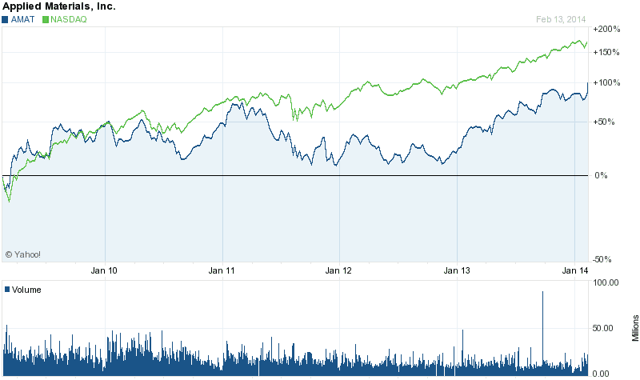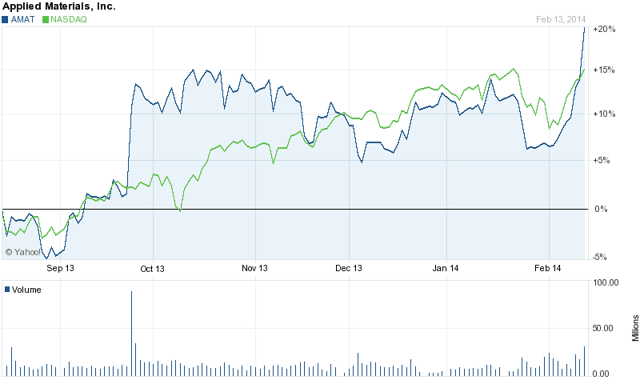 Applied Materials operates in four segments:
· The Silicon Systems group develops equipment for the chip fabrication process and accounted for 55% of FY 2013 sales.
· Global Services provides support to improve the efficiency of semiconductor factories, and accounted for 20% of FY 2013 sales.
· The Display segment develops equipment used to produce flat panel displays, and accounted for 9% of FY 2013 sales.
· Energy and Environmental services produces equipment used in the production of solar cells and energy efficient glass, and accounted for 16% of FY 2013 sales.
What's the catalyst for the turnaround?
An improvement in the company's core business and profit margins, as evidenced in the company's earnings report published this week.
• Net sales and non-GAAP EPS up sequentially and in high end of guidance
• Silicon systems net sales up 19% sequentially reflecting strong customer demand for the company's latest technologies for advanced transistors and NAND memory
Applied generated orders of $2.29 billion, up 9 percent from the prior quarter, led by demand for Silicon Systems Group products. Net sales were $2.19 billion, up 10 percent sequentially. Non-GAAP adjusted gross margin increased to 42.5 percent while non-GAAP adjusted operating income grew 18 percent sequentially to $380 million or 17.4 percent of net sales. Non-GAAP adjusted net income grew 22 percent sequentially to $279 million or 23 cents per diluted share.
The company recorded GAAP gross margin of 40.7 percent, operating income of $330 million or 15.1 percent of net sales, and net income of $253 million or 21 cents per diluted share.
"In our first fiscal quarter, Applied Materials delivered earnings near the high end of our guidance range, while demonstrating momentum in revenue, orders and market share," said Gary Dickerson, Chief Executive Officer. "This performance reflects healthy investment by our semiconductor and display customers and major technology, trends that are playing to our strengths in precision materials engineering."
That certainly makes the stock a solid buy, especially at these valuation levels (see table).
But there are three more factors that make AMAT a solid buy. First, the proposed acquisition of Tokyo Electron, which will create a company with a combined market value of $29 billion. Most notably, the acquisition will raise the market share of the combined company, limit competition, and give it another boost to profit margins.
Acquiring competitors to boost profit margins has been a popular strategy in high-technology industries characterized by rapid technological change and threats from imitators and alternative products - Western Digital (NYSE:WDC) and Seagate Technology (NASDAQ:STX) - have been using this strategy effectively, as discussed in another piece here.
Second, a turnaround in the semiconductor equipment sector that has boosted sales across the sector (see table).
Third, a 2.5% dividend - unusually high for technology companies. Not that bad for a high-technology company in a low interest environment.
| | | | |
| --- | --- | --- | --- |
| Company | Forward P/E | Operating profit margins (%) | Quarterly revenue growth (yoy) |
| Applied Materials | 13.98 | 10.28 | 20.80% |
| KLA-Tencor Corp. (NASDAQ:KLAC) | 25.88 | 26.05 | 4.80 |
| Lam Research (NASDAQ:LRCX) | 11.20 | 11.43 | 29.60 |
Source: Yahoo.finance.com
The bottom line: Applied Materials is a solid long-term buy, with a few words of caution. First, the proposed acquisition may not survive antitrust scrutiny. Second, the semiconductor industry is a highly cyclical industry. This means that the momentum for the stock could disappear as soon as the next global slowdown hits the company's customers.
Disclosure: I am long AMAT. I wrote this article myself, and it expresses my own opinions. I am not receiving compensation for it (other than from Seeking Alpha). I have no business relationship with any company whose stock is mentioned in this article.