Executive Summary
Peer-to-Peer (P2P) lending platforms have created an opportunity to invest in consumer term loans, an old and well-understood asset class. An investor can now construct a diversified portfolio of securities representing consumer loans with potentially attractive yield, duration, and credit characteristics.
A confluence of regulatory and technological changes impacting traditional bank lenders have created an opportunity for investors to directly participate in this asset class. A combination of technology and financial innovation has made consumer term loans available to a much broader segment of the investor population in the form of investable securities called "Borrower Dependent Notes" which represent fractional interests in individual consumer term loans.
Consumer borrowers with prime and better credit represent one of the most historically profitable categories of bank lending. Over the past 100 quarters including the Great Recession, aggregate bank credit card lending as reported by the Federal Reserve Board2 has never had an unprofitable quarter after loan defaults and delinquencies and earned a 10.8% annualized compounded return with very small measured standard deviation.
P2P consumer term loans represent a similar unsecured obligation to a higher quality sub-segment of the consumer borrowing population as represented by credit card outstanding balances but with comparable gross yield and similarly predictable credit losses.
Conclusion
Investing in P2P originated loans is becoming an institutionally accepted asset class which can deliver attractive yields with an extremely short duration in a yield starved investment environment with fairly predictable returns net of expected defaults.
I. Introduction
Fifty years ago, prior to the rapid proliferation of credit cards, most consumers who required credit went to their local bank for an unsecured term loan, typically known as a "signature loan" as the borrower's promise to repay was the bank's sole collateral. In the 1960's, signature loans represented up to 20% of all bank lending as reported by the Federal Reserve and was a consistent and very profitable asset class.
Beginning in the 1960's, the rapid growth of privately issued credit cards, both retail credit cards and credit cards issued by specialized consumer credit companies such as Diners Club, American Express and Discover began to make serious inroads into bank consumer lending balances. The result was the creation of VISA and MasterCard as well as the development of branded money center bank credit cards which allowed bankers to recapture their consumer loan balances in the form of credit card receivables which typically mirrored their historical signature loan experience in terms of pricing and risk.
In addition, credit card issuers were able to reach levels of diversification that local banks could never achieve. Combined with a focus on automation, banks were now able to make credit decisions based on the "Law of Large Numbers" with the expectation that a highly diversified pool of credit card receivables would mirror the expectation for defaults and delinquencies subject to the credit card companies underwriting policies for risk.
In recent years, major changes to the laws governing credit card companies and favorable changes to the Federal Bankruptcy Code have given these companies greater control over default risk and pricing, i.e. the ability to increase interest rates charged to borrowers or reduce their maximum credit line with little to no change in the consumer's underlying credit status.
At the same time, banks have moved away from traditional signature loans for small (less than $100,000) borrowers due to a confluence of events including regulatory and credit limitations imposed in the aftermath of the Great Recession; balance sheet limitations due to the number of troubled credits remaining on their books; increased reserve requirements; and possibly most importantly, the cost of manually underwriting small consumer loans.
This confluence of regulatory and technological changes have created an opportunity for investors to directly participate in this asset class rather than indirectly through the purchase of banking instruments such as certificates of deposit which banks have traditionally used to finance the purchase of these assets.
Market Size and Performance
Investor Perception. In numerous conversations with prospective investors in P2P loans, we have often heard the opinion expressed that consumer lending is generally risky and unsecured consumer lending is extremely risky. While the historical data presented below in Figure 1 suggests that, in the aggregate, net returns on aggregate credit card receivables are consistently positive within a fairly tight range, there are two reasons this investor perception exists in our opinion. Banks and other financial institutions have periodically gotten into trouble through the aggressive use of financial leverage where even small changes in net spreads can impact levered institutions when their underlying cost of capital increases or dries up. Compounding the leverage issue has been the occasional general reduction in credit criteria within certain securitized credit card pools. We believe the combination of these two factors has resulted in a generally negative view of consumer lending by investors.
The Facts. The Federal Reserve Board3 reports that bank credit card balances are currently $834 billion having peaked at $1.005 trillion in 2008. We have calculated a data series4 which seeks to represent the gross yield, delinquency rate and net yield since consistently reported data became available in 1990. The current average gross yield for all bank reported credit card balances is 12.89% and the currently reported delinquency rate is 2.45%. Over the past 90 quarters since 1990, the average annualized gross yield measured on a quarterly basis was 13.86% within a range between 11.96% and 15.37%. As can be seen in Figure 1, the average annualized delinquency rate was 4.37% within a range of 2.41% to 6.61%.
Figure 1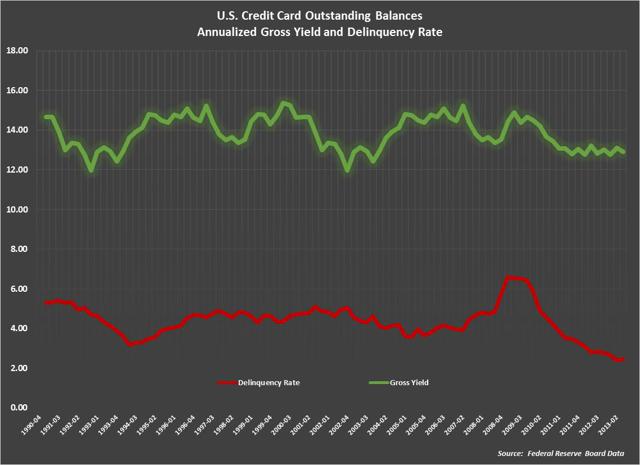 The average net yield (gross yield less delinquencies) during this entire period was 9.5% with a range of 6.91% to 11.34% as shown in Figure 2. While net yields are influenced and tend to follow broader economic activity (i.e. unemployment related to recessionary periods), there was never a period over the past 90 quarters where the aggregate bank credit card receivable pool had a negative quarterly yield.
Securities Based On Credit Card Receivables
Prior to 2008, credit card issuers regularly securitized pools of credit card receivables. A number of these securities remain outstanding and provide an important source of data on the gross yields and delinquency rates associated with a pool of unsecured consumer credits. It is important to note that, in some cases, these credit card receivable pools include credits which are far below the credit quality of P2P loans at issuance. In the Fall 2012 report on US bank credit card performance, Barclays Securitization Research. Consumer ABS Strategy dated November 16, 2012, Barclay's reported the following data from August 2009 to August 2012: Gross Yields ranged from 22.68% to 18.22%, delinquencies and defaults ranged from 2.36% to 3.76%, and net yields ranged from 11.64% to 11.48%. The Barclay's report included bank card trust-level data for American Express (AMXCA), Bank of America (BACCT), Capital One (COMET), Citigroup (CCCIT), and Discover (DCENT). Our independent subsequent review of the publicly reported data on these trusts concludes that gross and net yields have remained at our above these reported levels and delinquencies and defaults have remained at the low end of the reported range.
Figure 2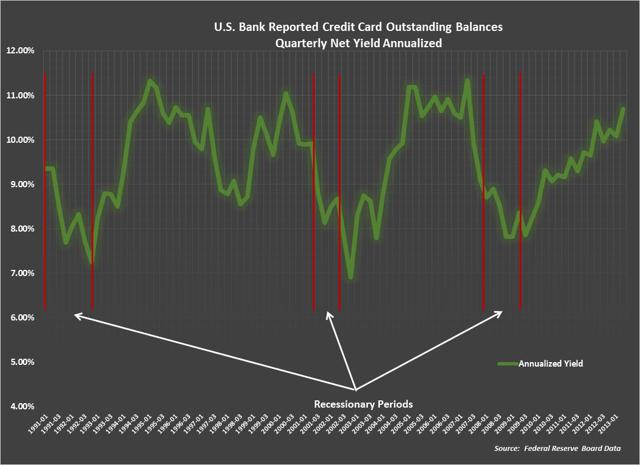 P2P Consumer Lending Platforms
What is peer-to-peer consumer lending? While P2P consumer lending began in England with a company called Zopa, it had its beginning in the U.S. with several companies with a vision of using the social media aspect of the Internet to attract prospective borrowers and lenders to a platform which would facilitate term loans entered into directly between the parties using crowd-funding techniques. This was not a successful model and companies which did not evolve failed. Two San Francisco-based companies which developed early P2P platforms, Prosper and Lending Club, have survived and thrived. Both of these companies were launched by previously successful technology entrepreneurs with strong financial backing from well-known venture capital investors allowing them to reinvent their business models.
As the market pioneer, Prosper's original business model suffered several early missteps including providing little to no independent underwriting of prospective borrowers. Lending Club was the first to sort out these issues and to launch a website which offered consumer borrowers an easy and confidential method to apply for a term loan and provide initial credit information while authorizing Lending Club to conduct a thorough independent underwriting of the prospective loan. Lending Club built up a credit team of experienced credit card underwriters who brought to the process traditional credit card rating methodologies to control and price risk. Lending Club also made an early decision to focus on "Prime" and "Super Prime" credit card users, as those terms are used in the credit card community. These decisions led to a period of sustained growth for Lending Club and the P2P consumer lending industry. Prosper has adopted many of these improvements and added several of their own.
P2P has come of age as P2P platforms are able to replicate the primary functions of traditional banks. These functions are: 1) attract borrowers; 2) underwrite loans to identify and price risks; and 3) provide traditional loan servicing and collections. P2P platforms have become increasingly capable of cost-effectively managing these functions. Generally, loans to consumers are small in size, widely diversified, and total portfolio risk is reasonably measurable with historic loss data available by computer model almost instantly.
Borrowers. Banks were traditionally limited to lending to their depository customer base. With the growth of credit cards, banks have been able to broaden their customer base by advertising credit cards to depository and non-depository customers, typically utilizing direct mail offers but increasingly utilizing a wide range of electronic (email) offers. P2P platforms are able to attract borrowers utilizing social media, electronic media, as well as traditional direct mail campaigns. The rapid growth of P2P platforms as shown by the data in Figure 3 showing the growth in Lending Club's monthly loan originations5 indicates that these borrower acquisition techniques work well for P2P platforms and are driving down the cost of acquiring new borrowers. P2P platforms are currently limited to making offers in certain states. Approximately 31 states currently permit P2P lending.
Figure 3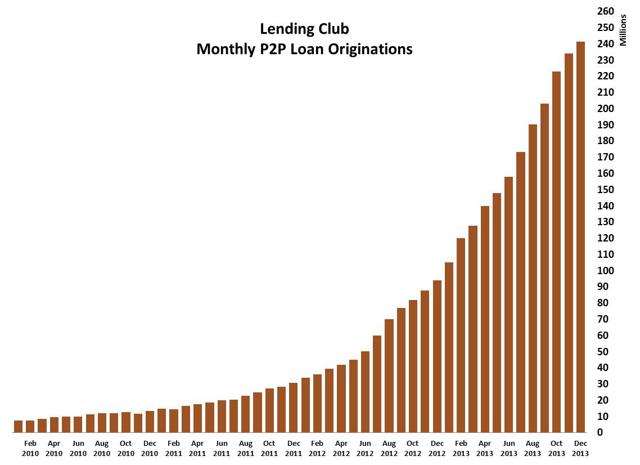 Source: Lending Club published data and Nickel Steamroller website
Underwriting. One of the major reasons banks promote credit cards is the cost of underwriting small term loans. Most banks are limited to their traditional underwriting process which is not cost effective for small (under $35,000) term loans. Credit card underwriting is significantly more profitable for banks. P2P platforms have utilized advances in electronic data gathering (big data) to significantly reduce the cost of underwriting small term loans.
Today, platforms are able to access and validate borrower data utilizing electronic access to databases such as the IRS, third-party payroll providers, and credit rating agencies and verification techniques initially developed by companies such as PayPal. Combined with traditional physical data verification, these techniques have made it cost effective for P2P platforms to underwrite large numbers of prospective borrowers and to successfully rate their credit.
This capability is validated by the delinquency experience of platforms as regards their credit rating. By way of example, Lending Club, the largest and most successful P2P platform to date, reports the following default history6 by credit grade as shown in Figure 4.
Figure 4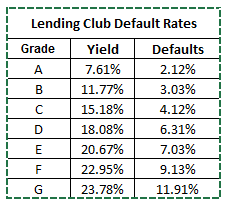 Source: Lending Club published data
Loan Servicing and Collections. The lending platforms have also used advanced banking techniques to simplify and accelerate loan payment processing and ongoing collection activities. All loans are set up to be repaid directly by debiting the borrower's bank account via ACH (automated check handling) payments. This takes time and human interaction out of the payment process. This allows the lending platform and the investor to know immediately if an account has insufficient funds. This means that the collections process can begin within 24 hours of a late payment. Directly accessing cash flow and bank accounts for payments is a key success factor of the Internet-based lending business. Assessing and monitoring the lending platform's collections processes and procedures is an important part of any investor's ongoing due diligence.
Collections. Both Platforms have done increasingly better jobs of managing the collection process which minimizes defaults. Lending Club manages this process in-house while Prosper has elected to outsource collections. We believe that both methods are capable of yielding consistently good results. Delinquency and default rates need to be constantly monitored by investors to insure that each Platform is continuing to pursue collections with vigor.
Securitization /Fractionalization. As the industry pioneer, Prosper's original business model initially suffered from a decision by the SEC that "fractionalized loans", i.e. the sale of small pieces of individual loans in the form of "Borrower Dependent Notes," represents securities requiring registration of the Borrower Dependent Notes with the SEC. Lending Club was the first to sort out this issue and successfully file a shelf registration covering the sale of fractionalized loan interests in the form of Borrower Dependent Notes, in units as small as $25. Today, both Lending Club and Prosper sell Borrower Dependent Notes representing securitized fractional loan interests. Both P2P platforms have created automated processes that allow them to cost-effectively file their fractionalized loans interests with the SEC. Fractionalization allows investors to build well-diversified portfolios with as little as $20,000 invested into 800 $25 Borrower Dependent Notes representing unique borrowers with sufficient diversification by credit grade, risk and other psychographic variables to achieve a predictable credit-adjusted level of net returns7. In 2013, an early institutional investor successfully completed a sale of security interests in a pooled portfolio of P2P loans. As the market matures, we expect to see more securitizations similar to credit card trusts and eventually the first rated security. All of these steps will make it easier for institutional investors to establish appropriate risk parameters and provide additional growth capital to this industry.
Portfolio Management
Today, P2P platforms offer a sufficiently large monthly flow of new Borrower Dependent Notes to build and manage an institutional portfolio. To start, there is a platform-related index fund against which investors can measure performance. And in fact, institutional investors can "buy the index" by investing in one of these two funds currently managed by Lending Club's wholly-owned subsidiary, LC Advisers. LC Advisers manages a fund that participates in a very large percentage of all fractionalized loans originated on its platform. This Broad-based Consumer Fund (BBCF) provides a broad-based index (less management fees charged) for long-term performance of the asset class. LC Advisers also has a fund which only invests in its highest grade loans (A-B credit grade) called the Conservative Fund (CF). This provides an alternative index for this subset of Super-Prime consumer credits. While these funds provide a fast and simple entry point for many investors, pension funds and others with fiduciary responsibilities may be troubled by the potential conflict of interest in having a loan originator managing the portfolio asset selection. A growing number of investment advisors specialize in managing money for institutional and HNW investors interested in the P2P lending asset class.
Loan Selection. For investors seeking to create their own portfolio, both Lending Club and Prosper make a large set of data variables available to potential investors. A more limited data set is available for loans viewed and purchased through their web portals while each lending platform provides application programming interfaces (APIs) which allow more sophisticated investors access to a more comprehensive set of data variables from which to select and bid on individual loans. The ability to analyze these variables against the historical data set of loans provides investors with the ability to create alpha through loan selection based on specific data variables. This ability to create alpha is offset by the reduction in available loans which meet these criteria. We describe this conflict as P = Dmax, dmin where P equals portfolio structure and D equals diversification and d equals the default rate. The optimum strategy maximizes the largest available loan subset while seeking the optimum reduction in prospective default rate. Simply, this means choosing credit criteria which meaningfully reduce expected defaults versus their credit rating-appropriate index without filtering out too high a percentage of the available loan universe. Institutional investors need to carefully analyze their desire to put money to work at the average (index) rate of return versus the ability to put less capital to work by utilizing increasingly complicated formulas to select individual loans. This function can be scaled based on the initial amount and timing of capital expected to be invested in a portfolio.
Loan Purchasing. As this asset class has matured and larger institutional investors have entered the market, the speed at which loans offered on P2P platforms are funded has increased dramatically. Over the past year, the length of time before a loan is fully subscribed for has gone from 13 days to a matter of minutes and increasingly less than one minute for the loans with the most attractive characteristics. Hedge funds and other institutional investors have invested in computer systems which analyze available loans as they are published and make buy decisions automatically. Several independent loan purchase systems are also available and Lending Club offers a loan purchasing tool to investors on their platform.
Duration/Cash Flow. One of the unique characteristics of P2P loans is the amount of cash flow generated. Since each underlying loan is a three or five year amortizing term loans, effectively a car loan without a car, the loans generate contractual cash flow in excess of 3% - 4% of the remaining principal balance each month. In addition, it is common to have a certain percentage of loans pre-pay increasing monthly cash flow to 5% or greater. Managing daily cash flow through reinvestment is an important component of achieving projected returns. The projected duration for a diversified portfolio of three and five year term loans is often less than 20 months.
Conclusion
Loaning money to strangers is typically a risky venture, but the structural size and scope of P2P consumer lending seeks to mitigate this risk by taking advantage of the "Law of Large Numbers." Instead of making a loan to one single borrower, an investor is able to purchase a diversified portfolio of Borrower Dependent Notes representing unique consumer loans with the intent of keeping defaults within a statistically controlled range. An investor will therefore fund only a fractional part of many different loans and only commit a small amount of capital committed to any single borrower.
Investing in P2P originated loans is becoming an institutionally accepted asset class which seeks to deliver attractive yields with an extremely short duration in a yield starved investment environment with fairly predictable returns net of expected defaults. While these are fixed rate loans that do not benefit from a rise in future short-term interest rates, the high current yield means that rates would have to rise substantially to make these loans unattractive. Because of their short duration and high cash flow, the ability to reinvest cash flow as rates rise or to use cash flow to purchase other short-term investments in a rising rate environment can mitigate much of the potential interest rate risk. While default rates will fluctuate with the rise and fall of unemployment and general economic activity, consumer term loans have proven over a very long period to generate positive returns as default rates have fluctuated in a fairly narrow and acceptable range. We expect these assets to attract further institutional attention as the overall level of available loans continues to grow.
Howard Freedland, CFA
31 January 2014
REFERENCES
2 Yield data from Federal Reserve Board Statistical Release Consumer Credit - G.19, Historical Data, January 8, 2014 with data thru November 2013; and delinquency data from Board of Governors of the Federal Reserve System, Economic Research & Data, Statistical Releases and Historical Data, Charge-Off and Delinquency Rates on Loans and Leases at Commercial Banks updated with data thru October 27, 2013.
3 Federal Reserve Board Statistical Release Consumer Credit - G.19, Historical Data, January 8, 2014 with data thru November 2013
4 Yield data from Federal Reserve Board Statistical Release Consumer Credit - G.19, Historical Data, January 8, 2014 with data thru November 2013; and delinquency data from Board of Governors of the Federal Reserve System, Economic Research & Data, Statistical Releases and Historical Data, Charge-Off and Delinquency Rates on Loans and Leases at Commercial Banks updated with data thru October 27, 2013.
5 Lending Club published data and Nickel Steamroller website
6 Lending Club website as of December 31, 2013
7 Recent industry research suggests that adequate diversification can be achieved with as few as 146 individual Borrower Dependent Notes. See The Complete Guide to Diversification in Peer to Peer Lending written by Simon Cunningham in P2P Lending Strategy, an online article dated January 24, 2014
Disclosure: I have no positions in any stocks mentioned, and no plans to initiate any positions within the next 72 hours. I wrote this article myself, and it expresses my own opinions. I am not receiving compensation for it. I have no business relationship with any company whose stock is mentioned in this article.
Additional disclosure: The information contained in this report was obtained from sources deemed reliable. Such information is not guaranteed as to its accuracy, timeliness or completeness by Emerald. Any opinions contained in this report represent the judgment of the authors as of the publication date. The information contained in this report and the opinions expressed herein are subject to change without notice. Past performance is no guarantee of future results. Neither the information in this report nor any opinion expressed herein constitutes an offer nor recommendation to buy or sell, any security or financial instrument. Accounts managed by Emerald's affiliated advisory firms may take positions from time to time in securities discussed in its reports.