Background
Founded April 29, 1949 in Minneapolis, Minnesota, Medtronic (NYSE:MDT) today is the global leader in medical technology. Doing business in over 120 countries, Medtronic is the number one producer of implantable biomedical devices. Often offering solutions where medication fails, an aging world population more than ever looks to Medtronic for a healthier and happier quality of life.
Enviable Record of Growth
You would be hard-pressed to find a public company with a more consistent and long record of double-digit growth than Medtronic. Utilizing the EDMP, Inc. F.A.S.T. Graphs ™, Figure 1 below plots Medtronic's earnings growth since 1991. (Note that each year is plotted, but data is only provided for every other year due to space constraints.) As Figure 1 shows, not only has Medtronic's earnings growth been consistent, but at 17.7% per annum, it's also grown very fast.
Figure 1 MDT 20yr EPS Growth (Click to enlarge)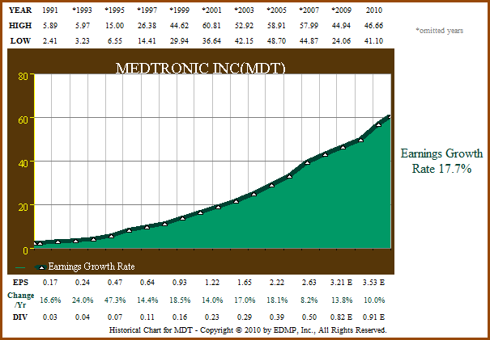 With Figure 2 below we add two very important data points that tell a very interesting story. First we add monthly closing stock prices (black line) and correlate them to earnings. For the period 1991 through 1994, as logic would dictate, earnings and price closely tracked each other (yellow shaded area). Then as the infamous "irrational exuberant" period became more and more manifest, price became increasingly overvalued (red shaded area) from 1994 through 2000. However, after an initial drop in the spring of 2000, Medtronic's stock price went mostly sideways until early 2008 even as earnings growth continued (purple shaded area). Although it took the better part of seven years, the reversion to the mean inevitably became reality.
One can only speculate as to why it took so long for Medtronic's overvalued price to finally move to value. The consistent advance of earnings certainly was a factor. The dividends paid out of those earnings are the second data pointed added in Figure 2. The light blue shaded area on top of earnings, represent the dividends paid out of earnings.
Figure 2 MDT 20yr EPS Growth Correlated to Price (Click to enlarge)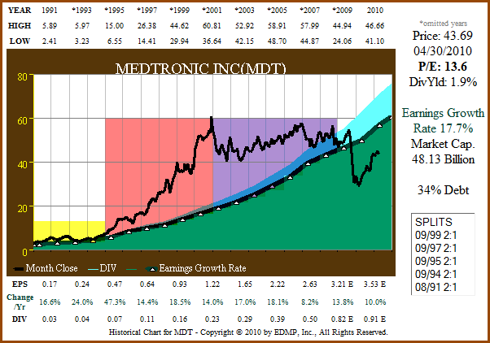 Figure 3 calculates shareholder returns associated with Figure 2 to include dividends. Capital appreciation of 15.5% per annum correlates closely to earnings growth of 17.7% adjusted by low ending period valuation.
From the "Cash Dividend" column we can see two important facts: First, Medtronic raised its dividend every year since 1991. Second, that dividend increase has accelerated since 2008. Prior to 2008, Medtronic's historical payout ratio was around 18-19%. Take note of the 50% increase in dividends between 2007 and 2008 (yellow shaded area in Figure 3). More recently, the company has increased its payout ratio to approximately 22-25%. This is potentially attributed to a new commitment from management that will be discussed more fully later in this report.
Figure 3 MDT 20yr Dividend and Price Performance (Click to enlarge)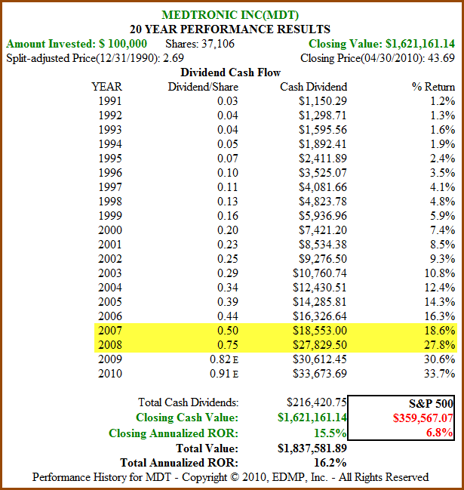 Thesis for Growth
Medtronic operates seven key high potential growth business divisions that are demographically opportunistic:
Top Three Medtronic Divisions:
Cardiac Rhythm Disease Management (CRDM) generates over 35% of revenues and is the oldest and largest of Medtronic's business.
Spinal and Biologics is the second largest Medtronic business at over 20% of revenues.
CardioVascular is Medtronic's third-largest business at over 15% of revenues.
The four remaining divisions: Neuromodulation, Surgical Technologies, Diabetes and Physio-Control all offer attractive growth potential to serve an aging worldwide demographic.
The aging worldwide population stands to benefit each of Medtronic's core businesses. Although over 60% of Medtronic's revenues are derived from the U.S., growth from international markets has been more robust recently.
Management is committed to R&D spending to remain in the 9.5-10% of revenues range. This has created a strong pipeline of future product launches and approvals. Strong organic growth continues to be augmented by strategic acquisitions. For example, on April 29, 2010 Medtronic signed an agreement to acquire ATS Medical, a leading developer of products and services focused on cardiac surgery to include heart valves and the growing cryoablation technology.
Healthcare Reform: A Manageable Headwind
Medtronic expects the excise tax on medical devices starting in 2013 will impact them by $150 to $200 million annually. Considering the company's $14-15 billion dollars in annual revenue this impact should prove manageable. However, Medtronic also see positives in the legislation that could benefit its businesses long-term. Also, we feel that the faster growing international markets, coupled with powerful demographic trends continue to posture Medtronic as a growth story regardless.
As Medtronic continues to grow, management's goal is to achieve 10-15% earnings per share growth while simultaneously returning 45 to 50% of its strong free cash flow to shareholders. This is the management commitment alluded to earlier in this document. In addition to repurchasing its common stock, Medtronic has raised its payout ratio from the mid to high teens to the mid 20%-plus range. Coupled with a current historically low valuation, Medtronic is in our opinion a compelling choice for a growing future dividend income stream.
Conclusion
We believe Medtronic is one of the highest quality large-cap growth companies headquartered in the United States. This highly rated healthcare equipment manufacturer generates high returns on both equity and capital. Excellent management practices have enabled Medtronic to increase its operating margin and its net profit margin right through the great recession. Its balance sheet is strong and the company's cash position provides it with great financial flexibility.
With a PE ratio under 14 and an entry dividend yield approaching 2%, we believe Medtronic is a compelling buy today. As can be seen through Figure 2 above, stock price for this stalwart has traditionally sat above its earnings justified level (green line with white triangles). Therefore, we believe that conservative investors seeking growth and income might consider building a position in Medtronic at current levels.
Disclosure: The opinions in this document are for informational and educational purposes only and should not be construed as a recommendation to buy or sell the stocks mentioned or to solicit transactions or clients. Past performance of the companies discussed may not continue and the companies may not achieve the earnings growth as predicted. The information in this document is believed to be accurate, but under no circumstances should a person act upon the information contained within. We do not recommend that anyone act upon any investment information without first consulting an investment advisor as to the suitability of such investments for his specific situation.

Disclosure: Long MDT at time of writing.