The S&P 500 is now up 78% from its March 2009 low. The Nasdaq is up 98%. On the NYSE, the steady stream of new 52 week lows of late 2008 and early 2009 has turned to a parade of new 52 week highs. Many investors, questioning the size and the speed of the move up, are concerned about putting new money to work.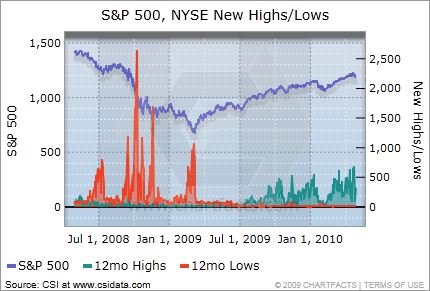 There are, however, some strong fundamentals in place to provide fuel for a continued upward trend in the markets. Most important among these is the strength in corporate profits. Corporate profits after tax, as reported by the Bureau of Economic Analysis, have grown between 5% and 17% sequentially in each of the last 4 quarters, through Dec 09.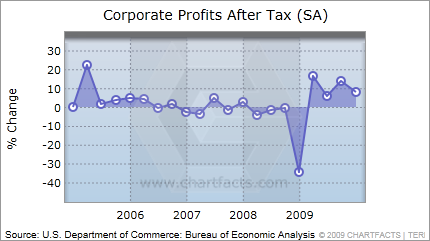 Corporate profits for the December 2009 quarter were within 8% of their all time high reading in September 3006. As seen in the chart below, relative to the Internet bubble in the early 2000s, market valuations never got dramatically out of whack with profits on the upside. In fact, a big part of the recent rally is due to the fact that market valuations did get out of whack on the downside.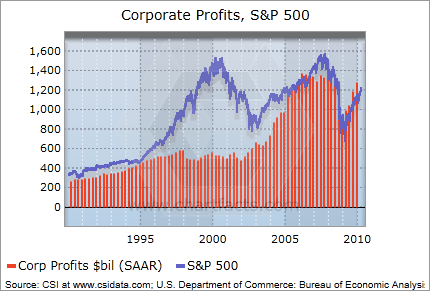 The environment is favorable for continued strength in profits. First quarter 2010 reports from individual companies have been coming in strong. The US consumer, the primary driver of the economy, is spending again. In fact, personal consumption expenditures hit a new all time high in February 2010.
Bank lending is beginning to thaw as well. Over the last month, weekly commercial and industrial lending from banks has stopped its precipitous year-and-a-half long fall and may actually be showing early signs of growing again. With rates at 40 year lows, that is great news for corporations.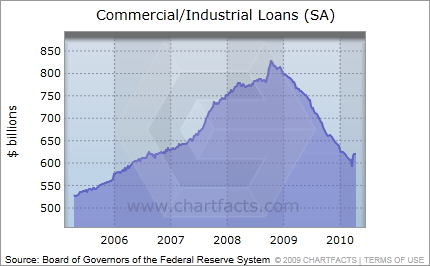 Corporations have clearly begun to feel the change. Dividend cuts, often a sign of a pessimistic outlook, have all but stopped. The next few quarters could begin to see some meaningful increases.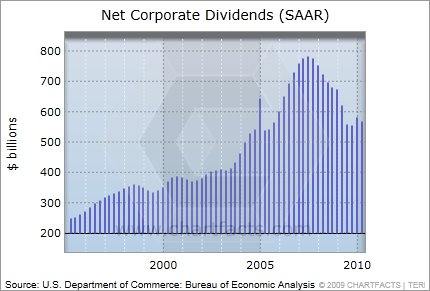 Disclosure: No positions