SanDisk Corp. (SNDK) comes off as a not too prominent a name when we discuss Fortune 500 companies or those that have outperformed the S&P 500 index by a wide margin. The company averages $6.2 billion in annual sales from storage drives and is a good choice to include in one's portfolio due to the promising total return it offers as seen from its operational history and strategic choices. The stock trades at $72 and has appreciated more than 40% year to date.
The Quarter

Click to enlarge
Source: Earnings Release
Before we discuss how solid state drives will lead the future let us have a look at what the company did in its last quarter. In the recent quarter that ended last month, SanDisk's revenue jumped 12% year-over-year to $1.73 billion owing to higher gigabytes sold (13%) in comparison to price decline (2%). The company has been able to snatch a greater market share in the retail arena that contributed toward its 18% year-over-year increase in retail revenue due to higher mobile cards (USB and SSD sales). Rapid innovation and delivery of products with faster transfer rates has enabled the retail segment maintain its 38% proportion of the company's total revenue.
Commercial revenue has grown 8% year-over-year making up nearly a billion of the company's revenue. The year-over-year commercial growth was driven by a strong increase in Solid State Drive sales to both client and enterprises which was partially offset by a decline in mobile revenue. SSD accounts for the major sale component of the company and on an annual basis, has experienced a 170% increase since 2012.
With regards to costs, it is wise to look at them from a sequential basis. This is because the technology industry is quickly evolving and once prices decline they tend to stay there. The company's gross margin increased 80 bps to 50.9% this quarter due to higher utilization of the company's X3 model, better currency translation and lower cost per GB (6%).
Operating expenses were bombarded with increments such as higher R&D, $6 million seasonal expenses and bonuses paid that temporarily affected net income. At the end, diluted EPS increased 23% to $1.45 owing to higher revenue and partially benefiting from share repurchases that brought the denominator down.
All in all, SanDisk's higher revenue and profit were justified by its increasing market share, declining costs of production owing to newer models being introduced, and better currency translation.
The Future
SSDs will Continue Pushing Top Line Growth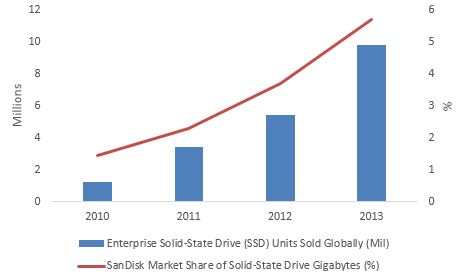 Source: Trefis
The SSD industry is in an aggressive expansion mode fueled by lower prices, their increased usage in thin laptops and Ultrabooks as well as in enterprise storage systems. With regards to enterprise solutions though cloud storage that is on the rise today may negatively impact the demand for internal storage in the future it will be the most important factor in the growth of enterprise SSD sales. As more user data moves to cloud storage, servers will be needed to support the higher IOPS and thus will require more efficient storage than currently installed HDDs.
SSDs are a substitute for the common hard drives that are presently used and are gaining momentum because they are portable and provide faster transfer rates. According to a market research firm, shipments of SSD rose 82% last year. On the other hand, the shipments of mechanical hard drives fell 5% with optical drive shipments shares falling by more than 12%.
As more companies move toward Big Data and adopt solutions to extract meaningful value from it they will be in need of storage solutions that are capable of being fast enough to handle real time operations. Since disk based storage (HDD) possesses hardware limitations on speed chiefly due to physical disks rotating inside them SSDs will prove to be a more feasible option.
SSDs are Too Costly Now but May Be More Affordable in the Future
SSDs are costly replacements for disk storage systems of enterprises at the moment but they are still presently being used to make arrays that form the Tier 0 (or cache) of enterprises storage systems. As more disk storage system vendors use flash based arrays for cache the demand for enterprise SSDs will increase in the future.
This year it is predicted that the SSD market will grow by 50%. Within three years SSD shipments will top 190 million units. We can count on this to bring top line growth for SanDisk as it puts SSD as a top priority in its product portfolio and has invested heavily in its production.
Beating the crowd
In 2013, SanDisk spent $1.6 billion in share repurchases and paid nearly $100 million as dividends. In total, the company's 2013 return of cash to investors was 98% of free cash flow. This is expected of a company that is able to generate revenue growth of 12.3% as its three-year average with a debt to equity of 0.1 surpassing the industry's revenue growth and D/E of 9% and 0.3, respectively.
It would be fair to admit that SanDisk is exposed to risks that are inherent in the industry in which it operates. However, a glimpse of the strategy by the company such as its partnership with Toshiba for the construction of the phase two shell of the Fab 5 joint venture wafer fabrication facility that is expected to be completed by the middle of this year showcases how SanDisk plans to give the competition a hard time.
Fab 5 possesses earthquake absorbing structures and is being designed to minimize environmental impacts that will prevent sensitive data loss and could become a part of a solid product for the company in the future. Innovations such as these and strong SSD demand make me sure of the future of the company. Therefore, I believe SanDisk is undervalued and presents itself as a good opportunity for investors.
Disclosure: I have no positions in any stocks mentioned, and no plans to initiate any positions within the next 72 hours. I wrote this article myself, and it expresses my own opinions. I am not receiving compensation for it (other than from Seeking Alpha). I have no business relationship with any company whose stock is mentioned in this article.