Linn Energy did not experience a very good 2013 due to the SEC inquiry which greatly impacted the company's share price. The acquisition of Berry Petroleum is a positive, as it gives a boost to the company's production and reserves. The demand for natural gas and oil is increasing due to continually increasing energy requirements, and this is creating favorable conditions for Linn Energy.
Introduction
Linn Energy (LINE), a US based company incorporated in 2005, is engaged in the acquisition and development of oil and natural gas properties. The company came into its existing structure after the merger with Berry Petroleum Company, in which LinnCo acquired all of Berry's interest. The company's properties are located in the Mid-Continent, Hugoton Basin, Green River Basin, Permian Basin, Michigan, Illinois, Williston/Powder River Basin, California and east Texas. Linn Energy had been performing at par with the industry, but experienced a huge decline in share price at the start of July due to the Security and Exchange Commission's [SEC] inquiry into accounting practices concerning the hedging program and the expected merger with Berry Petroleum. The company is still trying to recover its losses after the incident and was able to close the fiscal year 2013 with around a 16% decline in share price.

Fundamentals
Linn Energy reported a loss of $30 million for the third quarter of 2013. This was a 93% decrease as compared to the same quarter last year and still placed the company in a $93 million profit for the nine months ending 30 September 2013. However, the company had reported a profit of $345 million for the second quarter of 2013, which shows that its performance was not consistent and it was unable to maintain its profitability position.
| | | | |
| --- | --- | --- | --- |
| | Company | Industry | Sector |
| Quick Ratio (MRQ) | - | 1.12 | 1.40 |
| Current Ratio (MRQ) | 0.78 | 1.20 | 1.64 |
| LT Debt to Equity (MRQ) | 161.20 | 49.39 | 37.2 |
Linn Energy's financials do not paint a good picture, as the quick ratio is very small due to very low cash reserves. The company reported $27.5 million in cash and cash equivalents, which is an increase of $26.3 million quarter over quarter, but is less than the reported loss for third quarter. This creates a grave situation for Linn Energy, as it is highly dependent on debt which needs to be paid off with interest either from cash reserves or through other financing sources. On the other hand, the debt has also increased by 4% (from second to third quarter 2013) putting more burden on the company and its shareholders. The company also paid a dividend of almost $171 million, reporting a dividend yield of 8.77% compared to an industry average of 1.97% which indicates that it will have to decrease its dividends until its liquidity position is strengthened; although the present dividend level can be sustained by the company as it reported a $379 million cash flow from operations. Linn Energy has an Operating Cash Flow [OCF] yield of 14.8%, which shows that it can easily pay a high level of dividend yield while still having further room to increase the dividends.
Berry Petroleum Merger
Linn Energy has acquired Berry's entire outstanding shares through a stock for stock merger, making it a wholly owned subsidiary. Linn had been trying to acquire Berry for more than a year during which time an inquiry by the SEC regarding accounting practices was ongoing. Although the company had to change some disclosures and financial re-fillings, after the SEC inquiry was completed it had no major impact on its financials. However, the inquiry affected Linn's image in the market which led to a huge decline in share price during July 2013, due to which the company had to improve its merger offer; from 1.25 shares of LinnCo for each Berry share to 1.68 share of LinnCo per Berry share, in a $4.9 billion transaction including debt. After this transaction, Linn Energy has a pro forma production of more than 1 Bcfe per day and proved reserves of approximately 6.6 Tcfe (54% liquids). The merger has enabled Linn Energy to increase its production level and reserves. This may ease some of the pressure on the company's production and allow it to focus more on its cash flows and cash reserves.
Natural Gas Prices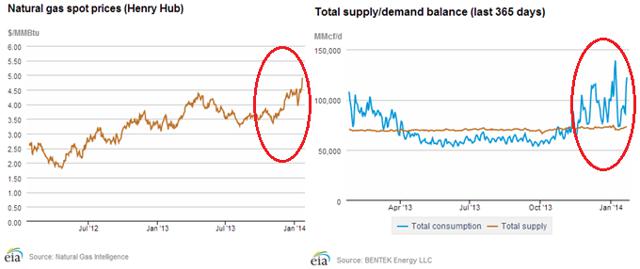 Natural gas accounted for 55.65% of the company's average daily production in the third quarter of 2013, which indicates that it is more dependent on the production and sale of this resource. That being said, the company's reserves and production are set to increase, which can help it earn higher revenues and turn around losses because December, January and February are the coldest months of the year (apart from this winter's extreme cold). This can increase the investor confidence as the prices might stay up during February as well. The sudden increase in the demand of natural gas which has put upward pressure on prices can be seen from the above graph.
Valuation
| | |
| --- | --- |
| | Amounts in ($ Billions) |
| Market Capital | 7.74 |
| Long term Debt | 6.5 |
| Cash and Cash equivalents | (-) |
| Enterprise Value | 14.24 |
We have not included cash and cash equivalents in our calculation of enterprise value due to its very low amount compared to the market cap and LT debt; this brings us to an EV of $14.24 billion. The EBITDA for the third quarter is $297.6 million from which we can calculate an EV/EBITDA of $47.8 per share, which indicates that the share is being sold at a major discount.
Conclusion
Natural gas and NGL prices are rising due to seasonal high demand plus an unexpectedly extreme cold winter which has led to a very high demand for domestic heating. Furthermore, industrial use of natural gas has also risen in recent months due to its cost efficiency compared with oil and coal and its abundance after the rapid growth in shale gas production. That being said, Linn Energy's natural gas production of approx. 56% of the total production means that with high natural gas prices, the company can earn higher revenues compared with other quarters and lend some stability to its financials. The merger with Berry Petroleum will increase production as well as the reserve levels, but it is too soon to say whether Linn will be able to benefit from this increment because the company had been under investigation during mid 2013 due to its accounting practices. According to our calculation, the share is currently undervalued and has room for growth.
Disclosure: I have no positions in any stocks mentioned, and no plans to initiate any positions within the next 72 hours. I wrote this article myself, and it expresses my own opinions. I am not receiving compensation for it (other than from Seeking Alpha). I have no business relationship with any company whose stock is mentioned in this article.
Additional disclosure: Equity Flux is a team of analysts. This article was written by our Basic Material analyst. We did not receive compensation for this article (other than from Seeking Alpha), and we have no business relationship with any company whose stock is mentioned in this article.