Panera Bread Co. (NASDAQ:PNRA) is set to report FQ4 2013 earnings after the market closes on Tuesday, February 18th. Panera Bread is a chain of fast casual restaurants which provides bakery products and healthier meal options compared to traditional fast food restaurants. The fast casual restaurant industry has been expanding rapidly in recent years. Most notably Chipotle Mexican Grill Inc. (NYSE:CMG) reported a blowout quarterly on January 30th and Buffalo Wild Wings Inc. (NASDAQ:BWLD) also recently announced much better than expected earnings. Typically when two peer companies both report great quarters, one could interpret these signals as indicators of one or more tailwinds driving growth throughout the industry. However, things are different for Panera.
One of the biggest challenges facing Panera Bread is turning over high volumes of customers during peak hours. While Panera is a fast casual restaurant, orders take significantly longer to prepare than they do at competitors such as Chipotle. Long lines build up during meal times and some business is lost as customers walk out of the store rather than waiting in the long lines that accumulate.
While Wall Street has set the bar high this quarter, investors are not convinced that Panera can match them. Here's how investors expect Panera Bread to report this Tuesday.
The information below is derived from data submitted to the Estimize.com platform by a set of Buy Side and Independent analyst contributors.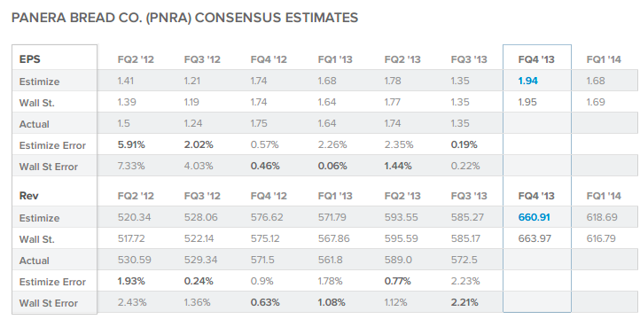 (Click Here to see All Estimates for Panera Bread)
The current Wall Street consensus expectation is for PNRA to report $1.95 EPS and $663.97M revenue while the current Estimize.com consensus from 14 Buy Side and Independent contributing analysts is $1.94 EPS and $660.91M revenue. This quarter the buy side as represented by the Estimize.com community is expecting PNRA to come up short of Wall Street's expectations on both EPS and revenue.
Throughout the previous six quarters the consensus from Estimize.com has been more accurate than Wall Street in forecasting PNRA's EPS and revenue 3 times each. By tapping into a wider range of contributors including hedge-fund analysts, asset managers, independent research shops, students and non professional investors Estimize has created a data set that is up to 69.5% more accurate than Wall Street, but more importantly it does a better job of representing the market's actual expectations.
The magnitude of the difference between the Wall Street and Estimize consensus numbers often identifies opportunities to take advantage of expectations that may not have been priced into the market. In this case we are seeing an average differential compared to previous quarters.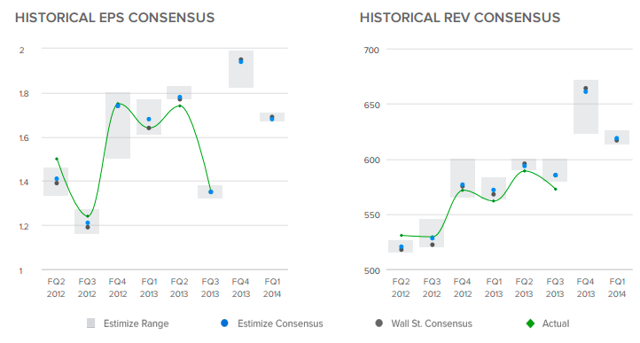 The distribution of estimates published by analysts on the Estimize.com platform range from $1.82 to $1.99 EPS and $622.10M to $671.26M in revenues. This quarter we're seeing a large distribution of estimates for PNRA.
The size of the distribution of estimates relative to previous quarters often signals whether or not the market is confident that it has priced in the expected earnings already. A wider distribution of estimates signaling less agreement in the market could mean greater volatility post earnings.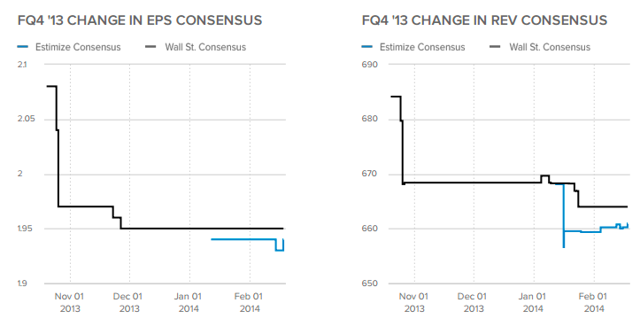 This quarter the Wall Street EPS consensus fell from $2.08 to $1.95 while the Estimize consensus both started and ended the period at $1.94. Over the same stretch of time Wall Street lowered its revenue expectation from $684.12M to $663.97M and the Estimize consensus also fell from $668.09M to $660.91M. Timeliness is correlated with accuracy and rising or falling expectations going into a report are often a strong indicator. In this case we saw very little change in analyst forecasts at the end of the period despite two peers, BWLD and CMG, both reporting better than expected quarters indicating that the fast casual restaurant industry is going through robust expansion. Investors are expecting Panera to grow this period but they do not think Panera can capitalize to the degree that Wall Street is predicting.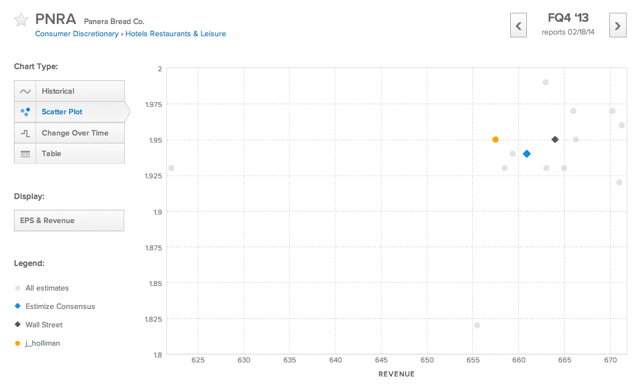 The analyst with the highest estimate confidence rating this quarter is j_holliman who projects $1.95 EPS and $657.5M in revenue. In the Winter 2014 season j_holliman is rated as the 21st best analyst and is ranked 7th overall among over 3,850 contributing analysts. Estimate confidence ratings are calculated through algorithms developed by deep quantitative research which looks at correlations between analyst track records and tendencies as they relate to future accuracy. In this case j_holliman is expecting Panera Bread to beat the Estimize consensus on EPS but come up short on revenue.
This quarter contributing analysts on the Estimize.com platform are expecting Panera Bread to fall short of Wall Street's expectations. Despite Chipotle and Buffalo Wild Wings demonstrating strength across the industry, contributing analysts still don't expect Panera Bread to keep the pace that Wall Street has set.
Disclosure: None.