Remember the days when gold moved $20, $30 or more on positive news? I thought that with debt contagion threatening the world's second largest reserve currency, we might see that volatility return.
It hasn't. So while pundit after pundit talks about gold's explosive future, two questions loom large:
1. Why hasn't gold hit new highs in reaction to the macroeconomic news of the past few months?
2. If the threat of sovereign default, record tonnage in gold ETFs, and renewed strength in crude oil could not drive gold to new highs, what will?
Technically, the yellow dog has carved out a nice cup and handle over the past 7-8 months. But as it nears resistance, gold seems to be losing steam.
The junior miners, another measure of speculative interest in precious metals, also look punky. Most are still in uptrends, but show waning momentum. For example, the ratio between the large cap gold miner ETF GDX and the junior gold miner ETF GDXJ has barely budged over the past 6 weeks.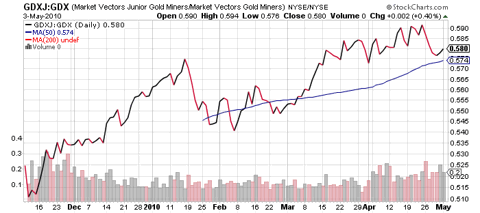 Though not a junior miner, I look to Yamana Gold (NYSE:AUY) as a bellwether. Unimpressive.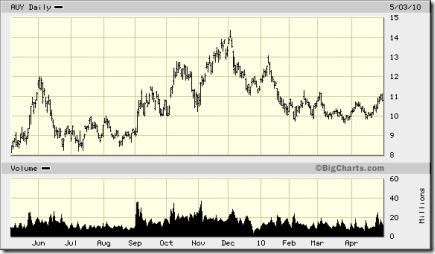 The juniors, overall, are not broken. They are mostly closer to 52-week highs than 52-week lows, and the majority have gained over the past six weeks. However, they lack the violent, short-crushing breakouts upon which lasting moves up are built.
Stocks like Rubicon Minerals (Amex:RBY) and Northfield Minerals Corp. (Amex:NXG) appear ready to falter. A few that have broken out, like Gold Resource Corp. (NYSEMKT:GORO) and Claude Resources (Amex:CGR), were unable to sustain the higher levels.
There are exceptions, of course. U.S. Gold (Amex:UXG) had a strong breakout, and might have legs.
New Gold (Amex:NGD) also looks decent. If the rest of the junior miners looked like UXG or NGD, I might be a little more excited about gold's short-term prospects.
Until then, I'll probably stay on the sidelines.
DISCLOSURE: No position, long or short, in gold or any legitimate gold mining stock. Small short positions in a few crappy pump-and-dumps that claim to be involved in mining, like Ranger Gold, Source Gold, Brazil Gold, etc.