Executive summary:
Linn Energy shares are up big from its 2013 lows due to the completion of the Berry merger and improved fundamentals.
The company will likely post a solid Q4 2013.
Higher NGLs prices will have an outsized positive impact for the company.
_________________________________
I will freely admit that my opinion on Linn Energy (LINE) has often wavered between bullish and bearish. Some of it has to do with Linn Energy's operational issues, as was the case during Q2 and Q3 of 2013. Other times, it has been the stock's volatile trading, though much of the reason for this was due to short-seller pressure. However, Linn Energy seems to have finally regained the trust of investors as seen by its rising stock price, up over 30% in the past 6 months.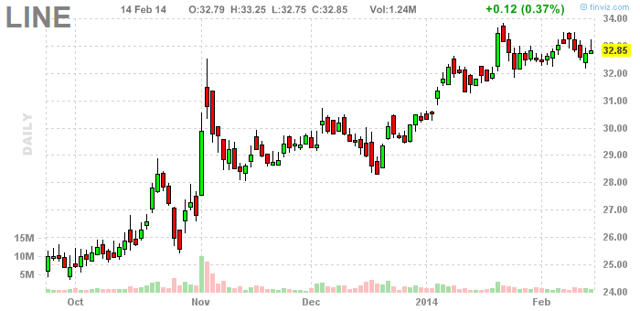 Linn Energy is once again considered a "safe-haven" stock
Want to know the telltale sign of a "safety" stock? It is one that sees its share price increase even when the broader market declines sharply. This has been on display in January and early February, with Linn Energy soaring nearly 7% YTD, while the broader market, represented by the S&P 500, is actually down slightly.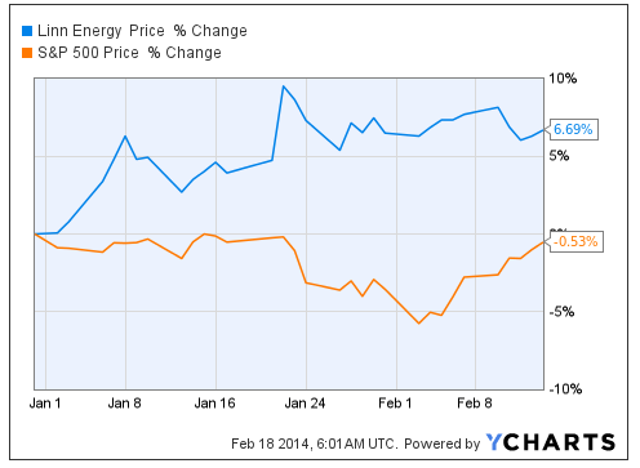 In addition, Linn Energy may be regaining the premium it used to trade for. As noted by fellow SA contributor Casey Horeth, Linn Energy valuation based on its price to DCF ("P/DCF") multiple is now approaching levels not seen since early 2013. In addition, Linn Energy multiple is actually now above many of its peers. This likely implies that market is factoring in some level of DCF growth for the company.
Analysts are getting bullish the stock
Furthermore, Linn Energy and related companies have been the recipient of several upgrades and price target hikes from various firms. A few weeks ago, Robert W. Baird upgraded shares of LinnCo (LNCO), Linn Energy's dividend paying sister stock, to outperform from neutral with a $37 price target. The firm argued that shares of LinnCo distributed to Berry (BRY) shareholders have likely now found steady hands and that LinnCo may finally start trading at a premium to Linn Energy. This follows another upgrade from Howard Weil, with that firm arguing that Linn Energy will benefit from better capital efficiencies due to its integration of Berry's assets. Both firms also argued that Linn Energy will now be likely to monetize its non-producing assets in the Permian, especially the horizontal Wolfcamp acreage, which may lead to increased DCF this year.
Linn Energy's hidden upside catalyst: Natural gas liquids
In case you have not noticed, natural gas prices are up big this year, with prices well over $5.00 per MCF. Yes, natural gas is a big portion of Linn Energy's production. However, the company has hedged most of its expected oil and natural gas production in 2014, limiting its upside potential. Do note that any incremental natural gas production will boost margins significantly, with new production likely seeing netbacks more than double.
While nearly everybody is focused on the surging price of natural gas, Linn Energy has another energy product on its mind, namely natural gas liquids, or NGLs. NGLs have been almost impossible for the company to hedge, thanks to an illiquid futures market, an uncompetitive pricing environment, and ethane rejection. The end result is that Linn Energy will see nearly 100% of the upside (and downside) of changes in NGLs prices.
However, NGLs prices have risen alongside natural gas, with some estimates predicting prices of over $45 per BBL. To give you a comparison, Linn Energy's realized average price per BBL of NGLs in Q3 2013 was only $31.35 per BBL.
Assuming flat production of NGLs compared to Q3 2013, Linn Energy could generate as much as $35M in extra revenues from NGLs sales in Q1 2014. Do note that this estimate excludes production from Berry.
Conclusion
It is very rational to see Linn Energy's share price increasing. The stock seems to have regained its footing, though it is still off its 2013 highs. Linn Energy will likely report its Q4 results in about 10 days. I expect the company to post its best quarter of 2013, with DCF increasing and its coverage ratio well above 1.00x.
However, given that we are already halfway through Q1 2014, we can already see that the company will benefit from increases seen in both natural gas and NGLs prices. If these prices hold for any extended period of time, Linn Energy will see its profits soar.
Disclaimer: The opinions in this article are for informational purposes only and should not be construed as a recommendation to buy or sell the stocks mentioned. Please do your own due diligence before making any investment decision.
Disclosure: I have no positions in any stocks mentioned, and no plans to initiate any positions within the next 72 hours. I wrote this article myself, and it expresses my own opinions. I am not receiving compensation for it (other than from Seeking Alpha). I have no business relationship with any company whose stock is mentioned in this article.