Summary
The market has roared back after it looked like it was dead in the water just two weeks ago. The combination of low prices, decent earnings, positive overseas developments, and a general bull market helped the market bounce off lows and push higher. The next move for the market, though, will be quite intriguing. We are nearing previous resistance on most key indices, and the market has not had tremendously bullish data or Fed interaction. We get a number of key data points, earnings, and Fed speeches/minutes that should help the market decide what it does at this key inflection point.
Chart Overview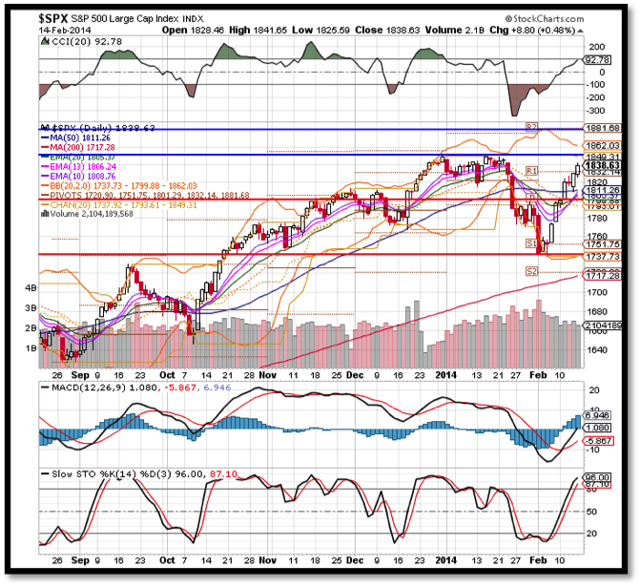 Resistance lines to watch:
1st - 1850 2nd - 1880
Support lines to watch:
1st - 1800 2nd - 1730
Current Sentiment:
Rangebound at Inflection Point
Analysis:
The S&P (NYSEARCA:SPY) retook 1800 and is nearing key resistance at 1850. A test of that line this week will be key to see if we are chugging higher or staying range bound. 1800 is now support with another key line now until 1730.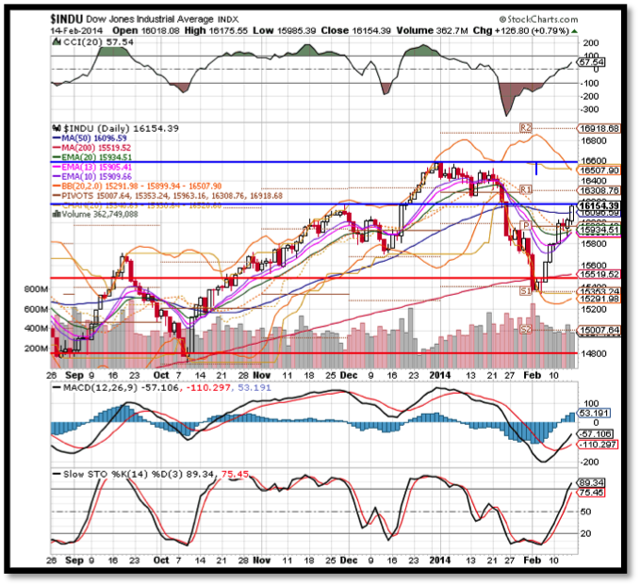 Resistance lines to watch:
1st - 16150 2nd - 16500
Support lines to watch:
1st - 15470 2nd - 14800
Current Sentiment:
Bottoming of Correction
Analysis:
The Dow Jones (NYSEARCA:DIA) retook its 200-day MA at 15470, and it has formed some support at the 15400 area. From there, the 148-line is the next major support line. 16150 is the key resistance area right now before another key area at 16500. The Dow is not as strong as the S&P.
Economic Data
| | | | |
| --- | --- | --- | --- |
| Date | Data Report | Market Expectations | Previous Report |
| February 18 | Empire Manufacturing - February | 7.5 | 12.5 |
| February 18 | NAHB Housing Market Index - February | 56 | 56 |
| February 19 | Housing Starts - January | 964K | 999K |
| February 19 | Building Permits - January | 980K | 986K |
| February 19 | PPI - January | 0.2% | 0.4% |
| February 20 | Jobless Claims - 02/15 | 335K | 335K |
| February 20 | CPI - January | 0.1% | 0.3% |
| February 20 | Philly Fed - February | 7.4 | 9.4 |
| February 20 | Leading Indicators - January | 0.4% | 0.1% |
| February 21 | Existing Home Sales - January | 4.70M | 4.87M |
While there's no home run report this week, we do get a significant number of reports throughout the week that will be important to watch. Housing is key, and the market will see how the low employment numbers throughout January as well as bad weather affected the start to 2014 housing. Tuesday brings us the NAHB Housing Market Index followed by Housing Starts/Building Permits on Wednesday and Existing Home Sales on Friday. Additionally, we get inflation data with CPI and PPI on Wednesday and Thursday. The Philly Fed and Empire Manufacturing on Thursday and Tuesday, respectively, are key to the market after a weak ISM Index and Industrial Production for January. Overall, the market wants to start to see improvement in February numbers and better in January, so it's important to see how these release.
Foreign Markets
Outside of the USA, Europe and Asia were reasons for the market to get back on its feet after China data improved to start 2014 especially with Trade Balance and Exports popping in China. Further, we got solid GDP numbers for Q4 for the Euro-Zone that beat expectations to end the week. For Tuesday-Friday, overseas markets will give us some key Japanese industrial data, GDP, and BOJ Monetary Policy Statement to start the week. Additionally, we get the key German ZEW Survey for February that is expected to drop form January. On Wednesday, we get lots of Great Britain employment information, followed by the Chinese HSBC Flash Manufacturing PMI on Tuesday. That number s expected to drop from January. We also get manufacturing PMIs from Germany, France, Italy, and the EuroZone for February on Thursday. It's important that these countries continue to show a strong PMI growth to show the bottoming of these economies is occurring. It's another key week for these foreign markets that have played a big role in 2014 so far and are expected to continue to influence USA market action.
Earnings
| | |
| --- | --- |
| Date | Key Company |
| February 18 | Coca-Cola (NYSE:KO) |
| February 18 | Duke Energy (NYSE:DUK) |
| February 19 | Tesla (NASDAQ:TSLA) |
| February 20 | Walmart (NYSE:WMT) |
| February 20 | Priceline.com (NASDAQ:PCLN) |
| February 20 | Hewlett-Packard (NYSE:HPQ) |
| February 20 | Express-Scripts (NASDAQ:ESRX) |
| February 20 | DIRECTV (DTV) |
| February 21 | Dish Network (NASDAQ:DISH) |
| February 14 | Liberty Global (NASDAQ:LBTYA) |
It is the second major group of earnings week with companies that have FY that end in January rather than December. This earnings group will be very crucial to the market, as many will include January into their report, which has so far looked very rough. Some of the highlights include Hewlett-Packard , Tesla Motors , Walmart , and Coca-Cola . We will be focusing in on HPQ today, as it's a company we have coverage on as well as a Buy-rating for 2014. TSLA is an important report to watch as the stock has made it to $200 for the first time and is riding a lot of momentum. Orders filled, developments on the Model X, and the backlog will be key to watch there. For WMT and KO, the economic bellwethers will give insight into consumer spending, the health of the economy, as well as how emerging markets are doing.
The focus, though, for us this week is on HPQ. Tesla is not representative of the economy, and we have seen reports from many bellwethers that are so-so, which is what we kind of expect for WMT and KO. The wild card is HPQ. In the midst of a major company turnaround, we have recently written about liking the company and believing that they have some very positive potential this year. This earnings report will be key to watch. Here were comments about why we like the stock in our latest update:
Meg Whitman has done what was needed. She started to peel back the company's dependence on printing, personal computers, and storage. She invested heavily in the company's development of enterprise business with converged cloud offerings and new application and infrastructure software. Those developments have not paid off in overall organic revenue growth to this point, but Meg Whitman put it best in their Securities Analyst meeting:

So, if you pull the lens all the way back, this group of products and services and solutions is how I envision the HP transitions to growth. And while I believe, in the long-term, we are going to see a GDP like growth rate for HP, the reality is that, today, we have some declining businesses like traditional storage, like our business critical systems, home printing, our consumer PC business, and much of our licensed revenue from our software business. So, we have to manage that transition from declining businesses to these growing businesses that we are very excited about.

The company's shift to Enterprise is looking good, though. The company has had two developments that we are really bullish about. The first is the company's strategic relationship with Salesforce (NYSE:CRM). The company is working to create a converged infrastructure that creates a holistic approach that combines hardware, software, and services to appeal to clients. It builds on the server business that HP uses along with the mew products that promote application/infrastructure IT. In the relationship with CRM, the company will use HP's infrastructure hardware to enhance its data centers, offering a dedicated, complete service. Additionally, the company added DBI software to improve HP's own CRM services.
So, moving into this week's earnings report, what are the keys to watch for:
- Converged infrastructure development - how are new products that fit with the push into the cloud and applications performing
- The key areas to watch for numbers are in storage, software, enterprise services - those are the future of the business
- How is the company managing the less ideal parts of the business - PC and printing
- 2014 outlook and any potential new developments
As we noted in our last report, HPQ is going to have to dance ever so delicately this year to execute strongly on their new businesses while not letting weakness in existing, less ideal businesses cloud the strength of growing businesses. The company's work this year will be about their ability to show strength in their growing businesses, but if they have detrimental figures in existing businesses it will not let these new businesses shine as much as they need to create more upside.
As we can see from this great chart from Brian Gilmartin, the business is still very dependent on PC and printers:
| | | | | | | | | | | |
| --- | --- | --- | --- | --- | --- | --- | --- | --- | --- | --- |
| HPQ by segment |   |   |   |   |   |   |   |   |   |   |
| Revenues |   |   |   |   |   |   |   |   |   |   |
| * Personal Systems |   | 29% | 28% | 27% | 29% | 29% | 29% | 31% | 30% | 31% |
| * Printing |   | 21% | 21% | 22% | 21% | 20% | 20% | 20% | 21% | 20% |
| Total Printing and PSG |   | 50% | 50% | 50% | 50% | 49% | 49% | 51% | 50% | 51% |
| * Services |   | 20% | 21% | 22% | 21% | 29% | 30% | 21% | 21% | 29% |
| * Enterprise Servers |   | 26% | 25% | 25% | 25% | 17% | 17% | 25% | 24% | 17% |
| * Software |   | 4% | 4% | 3% | 3% | 4% | 3% | 3% | 3% | 3% |
| * HP Financial Services |   | 3% | 3% | 3% | 3% | 3% | 3% | 3% | 3% | 3% |
| * Corporate Investments |   | 0% | 0% | 0% | 0% | 0% | 0% | 0% | 0% | 0% |
| Total Segments |   | 103% | 103% | 103% | 102% | 103% | 103% | 103% | 102% | 103% |
| * Intersegment rev's |   | -3% | -3% | -3% | -2% | -3% | -3% | -3% | -2% | -3% |
| Total HP Consolidated net rev |   | 100% | 100% | 100% | 100% | 100% | 100% | 100% | 100% | 100% |
| Operating Income |   |   |   |   |   |   |   |   |   |   |
| * Personal Systems |   | 8% | 9% | 9% | 9% | 9% | 13% | 17% | 16% | 21% |
| * Printing |   | 35% | 35% | 36% | 38% | 32% | 31% | 26% | 26% | 29% |
| Total Printing and PSG |   | 43% | 44% | 45% | 47% | 41% | 44% | 43% | 42% | 49% |
| * Services |   | 8% | 7% | 6% | 3% | 37% | 31% | 8% | 5% | 44% |
| * Enterprise Servers |   | 36% | 40% | 41% | 43% | 13% | 18% | 43% | 46% | 26% |
| * Software |   | 11% | 8% | 7% | 6% | 9% | 6% | 6% | 6% | 10% |
| * HP Financial Services |   | 3% | 4% | 4% | 4% | 3% | 3% | 3% | 3% | 4% |
| * Corporate Investments |   | -2% | -2% | -2% | -3% | -2% | -2% | -2% | -2% | -33% |
|   |   | 100% | 100% | 100% | 100% | 100% | 100% | 100% | 100% | 100% |
What we need to see is that the company continues to see growth in total revenue from services, enterprise, and software. The general mix is more important right now than potentially the execution for the stock as investors are buying for the future and not the current state of performance.
In the last quarter, PC revenue was down 2% with commercial up 4%, but the consumer down 10%. That number needs to not dip more than 5% for this to be a successful report. Recent estimates from IDC as well as earnings from Intel (NASDAQ:INTC) showed a rebound in company demand for PCs that could bode well for HPQ in this report. Printing, the second-part of the old guard, saw a 1% drop last quarter with total units up 6% but supplies down 4%. This number, again, just needs to stay okay and not hurt them too much. The big winners last quarter were Industry Standard Servers at 10% growth and Business Critical Systems at 17%. These two are the future type of converged clouds products that HPQ can with so watch for these numbers. Additionally, software revenue dropped 9% last quarter, and this is a place HPQ needs to be better as software will be a key part of converged cloud.
Finally, we are curious to see how 2014 outlook is faring for the company. CEO Whitman is at the center of the company's turnaround, and what she says is very important as well. The company has increased on speculation in many ways throughout 2013, and investors are going to want to see results. Watch for her thoughts about how 2014 will be. If she hasn't lifted her comments from the "we are still waiting for our investments to start to pay off," it might not be enough to excite investors.
Overall, we still like where HPQ is in terms of rebound. Shedding costs, transforming their business, and gearing up for the new tech world was a must. The company has done that, and it will soon be time for them to start winning at their new model.
Deeper Look
For our deeper look for the week, we want to visit PepsiCo (NYSE:PEP). In our last report on PEP, we upped our model to Buy-rating with a $110 price target. We are reiterating our $110 price tag but slightly dropping our price target to $105 after the latest round of earnings came in a bit weaker than we expected. As we noted in our previous report, PEP is a company that we like as a play on emerging markets as well as a diversification away from soda with their snack business also included in their portfolio. We believe that gives them a competitive advantage over Coca-Cola .
Main Catalyst
For PEP, the future lies in markets outside of the USA and Europe. The company has established, mature businesses that will move at roughly GDP based on the current makeup of the business. For investors, what matters is what is happening overseas as well as the company's ability to improve margins. We will be focusing in on margins as well as overseas in this article. We spent most of our previous article focusing on what the company is doing in China and India that we want to highlight another reason we are bullish on PEP.
The operating margin in 2013 was 14.8%. We believe that this number is going to improve around 30 to 50 basis points every year in the next several years. There are several reasons why the operating margin is going to improve - productivity, distribution, and package design/control.
The first reason to expect improvement of margins is through productivity. PepsiCo has done a lot over the past few years to restructure its manufacturing and manage its use of material. As a result, the margin has been improved due to improved efficiency of material usage and reduced amount of waste. Further, the company has worked on cutting jobs to better improve margins.
Here are comments from Bloomberg on this:

PepsiCo's (PEP) productivity plan, first announced in 2012, will be extended another five years, from 2015 through 2019, the soft drinks and snacks company announced on Thursday. The plan will result in cost savings of $1 billion a year, PepsiCo says, with about 40 percent coming from labor cuts, Chief Financial Officer Hugh Johnston told Bloomberg TV. "Such initiatives have people implications globally at all levels," PepsiCo Chief Executive Indra Nooyi said on an earnings call on Thursday. Under the plan, PepsiCo will increase investment in manufacturing automation, close some manufacturing facilities, reengineer its distribution network in developed markets to be more efficient, share more back-office services, and simplify organization.
PepsiCo has tried a lot to replace its labor with automatic system for packaging but with mixed results so far. Making more investments here will help the company to improve on their margins. Automation helps the company to reduce its operating cost and improve the margin. Automation replaces jobs, and that is going to be important for the company. While loss of jobs is never a reason to like a company, we can see that the company has added a ton of new jobs without much paying off so far, and the snap back to the mean is really what is occurring.
The third way for PepsiCo to improve its margin is through the package management. The company used to focus heavily on 2 liters and 12 packs Pepsi. Compared to three or four years ago, the array of packages and the margin that Pepsi is able to extract from it has increased substantially. The company has been working on new packaging sizes and varieties that help with margins. The company has adopted smaller cans, a smaller 1.5 liter bottle, and 20-unit packs. Smaller packs are expected to improve margins because they use fewer materials, but the company can maintain a higher per ounce price point. That has started to pay off since it began in 2013, and it will continue to pay off as the company's investment works off over more years.
Yet, this company is going nowhere without the help of emerging markets. As one of the analysts said: "A significant part of [Pepsi's] growth going forward will come from emerging markets." The revenue from emerging markets currently accounts about one third of the whole company's revenue, and this number is going to keep increasing in the future. From 2010 to 2011, PepsiCo's AMEA division (Asia, Middle East and Africa) had an organic growth rate of 16%, which became the fastest growing division. In 2012, the AMEA's organic growth rate was at 10%, which far outpaced the overall organic growth rate of 5%. In terms of sales volume growth, the company had 7% growth in 2012 and kept growing at 3% in 2013.
In the latest results, the company had 7% growth in the Americas in organic growth, which was tremendous to see. In EMEA, results were strong again as the company pointed out in the latest conference call, "as a group, our D&E markets posted 10% organic revenue growth for the year, with double-digit growth in China in both snacks and beverages, double-digit growth in Pakistan, high single-digit growth in Saudi Arabia, Brazil, Mexico, and Turkey, just to name a few."
The company beat EPS expectations with better profitability and performed well, but it dropped because the company did not spin off the Americas division. To us, that is a buying point on the drop as it's a market mechanism rather than actual company mechanism.
It remains that China and India are the two most important markets for PEP. In the Chinese market, the most important thing to look at PepsiCo's presence is that the company can provide snack food to the nation. As for the beverage market, PepsiCo faces a lot of intense competition from the local beverage provider. It is expected that the company can keep selling its snack foods at a double-digit growth rate in the next several years. The fast growing Chinese snack food market supports this.
One reason is that the middle-class is rising and powering the nation's economy. Around 53.5% of the market share is held from the middle class. Another reason is China's urbanization process. China has a 1.35 billion population. There are around 600 million people living in the urban area. The number is expected to increase to 800 million by 2020. The rising middle-income class and urbanization process will help PepsiCo to build a very strong base of customer loyalty. It is likely to see that the sales of PepsiCo's snack food in China will keep growing over a long time.
In the Indian market, as the Indian's average income is increasing due to the rise of middle class, we can see a big future potential customer base. PepsiCo invested around $5.5 billion through 2020 to increase their productivity and they plan to expand their market into more rural areas in India.
Overall, we believe these opportunities as well as strong margin growth potential give the company a lot of excitement moving forward.
Fed Outlook
The market is also going to be seeing a significant amount of attention paid to the Federal Reserve with a number of speeches and Fed Minutes to be released this week. On Wednesday, we get speeches from Lockhart and Bullard as well as FOMC Minutes for the January meeting. The minutes are likely not going to be too out of the ordinary because of recent speeches from Yellen. On Thursday, we get another speech from the Fed Williams. Its not a super busy week, but we believe the market has a lot of need to hear something from the Fed - be it taper is still on or they are considering something else. Given a lot of weak data that has been consistent, we are curious to see how that develops for the Reserve this week.
Conclusion
All in all, it is going to be an exciting week with a lot of earnings, data, Fed speeches, and foreign data. Those numbers, while none are home runs, are going to play a big role in how the market reacts this week. We expect the market to work through this key inflection point and either breakout to show how strong this bull run. Support is close below, so we don't expect a major breakdown. A failure to breakout, though, could signal a rangey market for quite some time as the late February/early March calendar quiets down quite a bit.
Disclosure: I have no positions in any stocks mentioned, and no plans to initiate any positions within the next 72 hours.
Business relationship disclosure: Business relationship disclosure: I have no business relationship with any company whose stock is mentioned in this article. The Oxen Group is a team of analysts. This article was written by David Ristau, one of our writers. We did not receive compensation for this article (other than from Seeking Alpha), and we have no business relationship with any company whose stock is mentioned in this article.