I've been talking about the importance of the ecosystem for many years and I feel like 2014 will be critical from that perspective.
Why the ecosystem?
My main argument here is that while there are hundreds of emerging tech startups, they all face a major challenge; how to thrive in the existing ecosystems. Companies like Dropbox that I personally use and love are facing tough competition from the likes of Apple's (NASDAQ:AAPL) iCloud, Amazon's (NASDAQ:AMZN) Cloud services, Microsoft's (NASDAQ:MSFT) Skydrive, and Google (NASDAQ:GOOG) Drive.
When I look at news and see Apple hiring physiologists and sleep experts, Google building glasses and auto-driving cars, and buying a thermostat company, and Amazon buying a gaming studio, I think it becomes very clear that these companies feel like they can now start to leverage their existing ecosystems.
The Theory
The whole idea, of course, is that if you're able to get users within your ecosystem, you will be in a great position to sell other services & hardware and ensure relevance. While some players (Apple) try to make a lot of money upfront by selling devices at big margins, others, such as Amazon, are willing to sell access to their ecosystem (through Prime or Kindle devices for example) for no profit.
The Big Players
Apple
Google
Amazon
Microsoft
Setting Up The Ecosystem
In a world that is increasingly mobile, being a strong player on those devices is key and from that perspective, Apple (through the iPhone, iOS) and Google (through Android, search, and all of their apps - Chrome, Maps, Gmail, etc.) are the two leaders, but Amazon and Microsoft certainly can't be discounted. Three key factors in determining the success of an ecosystem are:
-#Users
-Lock-in effect (how likely are users to switch to a competing ecosystem?)
-Customer value
I will get back to these a bit later on.
Expanding
Increasing the reach of the network can be done in a number of ways but as a general rule it's about being:
- the most attractive ecosystem to consumers
- broadly available
- at the cutting edge of new trends
- open: this one could be debated, but I personally mean giving incentives to third parties (developers, sellers, etc.) to use the ecosystem to add value to the ecosystem users.
Another critical trend to keep up with competition is to increase the extent of the ecosystem. It used to be about including the PC, but that has extended to mobile devices and is starting to move towards home entertainment systems, smart appliances, and even cars. In an ideal world (from both the ecosystem and user perspective), the transition would be extremely easy from one application to another.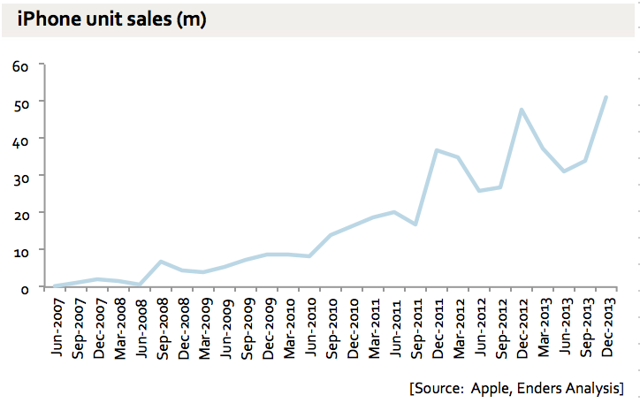 Credit: Ben-Evans.com
Now Is The Time
I'd argue that while ecosystems will continue to expand their user base and applications, they are now mature enough to generate significant revenues and that an increasing part of these companies top and bottom line will originate from the ecosystems, so looking at the state of these ecosystems is crucial.
One big reason is that when new products such as the rumored iWatch and new Apple TV sets are released, Apple is able to launch with tens of millions of almost guaranteed sales giving it leverage with suppliers, retailers but also content providers which is key in securing the high margins that Apple has accustomed us to.
Which Is The Top Ecosystem?
It would be easy to make the case for Google here. Why? Not only is Google behind the most popular OS (Android), but it is also a significant part of the iPhone experience for most users through search and its other apps. You could also argue that Google and Microsoft are the 2 dominant players in the desktop sphere.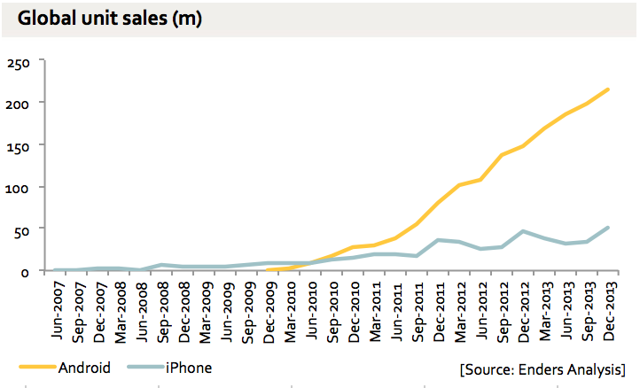 Credit: Ben-Evans.com
Another important aspect is that Google is years, if not decades, ahead of Apple in several areas such as maps, artificial intelligence, etc. The two knocks on Google would be that it does not have full control of most Android users because it does not make the phones themselves, and players such as Samsung are working hard on taking control of the entire experience. Google is even looking at closing its ecosystem to some degree. The other knock is that an Android phone does not mean much. Yes, the Samsung Galaxy phones are in the same category as the iPhone, but if you look at the very large Android base that does not surf the internet or use apps, I think it's fair to question the value that those users bring to Google in the short to medium term.
I think these charts from BusinessInsider make a very compelling case that Apple holds (by far) the most valuable ecosystem, making more iOS apps developers more than 5 times the revenues they can expect from their Android apps.: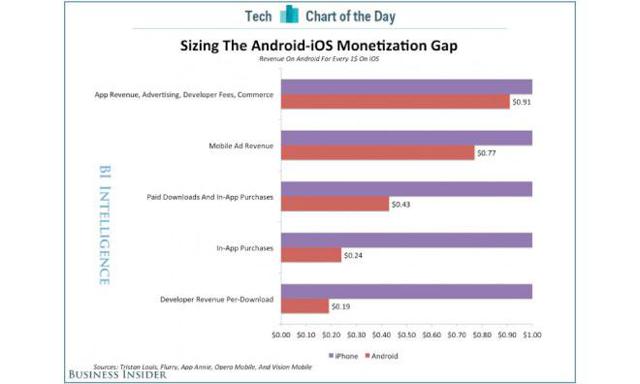 I personally consider Apple to be the top ecosystem. Yes, if you look at the number of users, Apple is far behind Google and losing ground every single day. As Tim Cook puts it though, it's about the #users in the "true smartphones" that counts. Those cheaper phones are simply something that Apple is not going to target. That is unlikely to change for many reasons. I'd argue that the average Apple user is worth many times what an Android user is worth. They are willing to buy higher priced devices, spend more money on content, apps, etc.
While the O/S is generally open to developers, it is closed from a user perspective and it's generally very difficult/unpleasant for users to move away from Apple once they're fully integrated, making Apple users incredibly loyal. That gives Apple a better opportunity to fix its issues over time, like it's doing with its maps, which were a disaster on launch, but are quickly improving (though I wouldn't necessarily say catching up with Google since those ones are also quickly improving).
We often hear about Apple making its money through devices and that is true to some extent. However, iTunes transaction volumes (billings) were about $17 billion last year, or about 30% of Google's total revenues. It's nothing to sneeze at and is growing very quickly as well.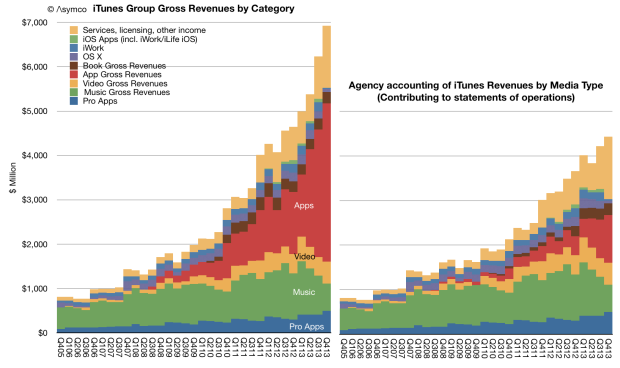 Credit: asymco
These sales are exploding and I'd argue that this alone makes Apple's current valuation (forward P/E of 10 or so) look incredibly cheap.
I do have to say that comparing Apple and Google's ecosystem with Amazon is tricky, but I think it's obvious that Microsoft's new CEO has a long road ahead if it wants to successfully compete with Apple/Google, even if you consider the importance of Windows and XBox's solid market share in the gaming space.
What Is The Value Of This Ecosystem?
It's a challenge to quantify the value of this ecosystem because there are many unknown factors but I would argue that this gives Apple an assurance of strong digital sales growth for years to come but also a significant edge in the launch of its future products. The three main components of this value are:
-Lock-In Effect: Apple users are less likely than others to switch to another ecosystem which has been one of the reasons behind the constant growth in iPhone sales
-Marketplace Growth: Customers spending more than elsewhere encourages developers to focus on its ecosystem which ends up meaning better apps and more incentives for customers to stay/join.
-New Products: When Apple launches new products, there is an incentive for existing customers to try it. They will already know the interface and Apple has always been known for making a seamless transition from one product to another.
At its current size, no one expects Apple to grow by 30-40% per year but I would argue that the company will leverage its ecosystem enough to generate a 15-20% growth for the next 4-5 years at a minimum which makes it greatly undervalued in my opinion.
Players Successfully Living Off Of These Ecosystems
I generally prefer investing in names that do own their own ecosystem, but some players have become big enough to be well positioned in most or all ecosystems. I'd argue that these companies are in such a position:
Facebook
Twitter (NYSE:TWTR)
Netflix (NASDAQ:NFLX)
Players Stuck In The Middle
A significant number of companies are stuck in the middle having no "ecosystem" to speak of and having been unable to position themselves in the existing ones. Think of a company like Yahoo (NASDAQ:YHOO) that has done much better since Marissa Mayer took over in focusing on mobile. Despite some impressive launches such as its weather app, a redesigned Flickr app, and others, Yahoo failed to place one of its apps in the iOS top 100 by the end of 2013. AOL (NYSE:AOL) is another company that has done well with certain moves (Huffington Post for example) but lags severely in terms of these new ecosystems.
Would You Agree That Apple Has The Top Ecosystem?
Disclosure: I am long AAPL, FB. I wrote this article myself, and it expresses my own opinions. I am not receiving compensation for it (other than from Seeking Alpha). I have no business relationship with any company whose stock is mentioned in this article.