My article last week detailed why I felt the rally in gold (NYSEARCA:GLD) is being fueled by short-covering and that the moves we are seeing now are only just beginning. Last week, nearly right on schedule, silver (NYSEARCA:SLV) finally joined the party. I make no apologies for being unqualified bullish on gold for fundamental reasons. But, it is no secret that, technically, gold has been under intense pressure since last April and despite the recent price rise is still in a vulnerable position. With each day that passes in February, however, technical concerns lessen as gold and silver continue to rise lowering the probability of a technical breakdown before the end of the month.
Silver's close above $20.61 last week was a massively bullish event. The weekly chart shows quite clearly how it broke out of a three-month trading range between $18.81 and $20.61.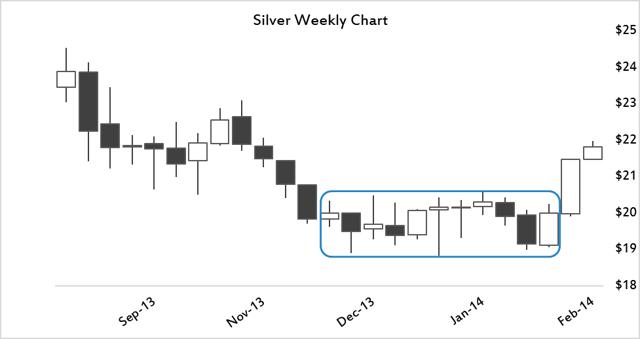 The longer silver languished in this range behind gold the less confidence there would be in the market's perception of a change in sentiment. Silver and gold trade with close to a 97% directional correlation on a day to day basis. Watching one will usually tell you what is happening in the other. The lack of a weekly closing breakout in silver last week could have killed the rally in gold without it reaching $1300.
That it did, however, means that the game has changed. Momentum players will begin looking to play the long side of the market and pressure shorts into covering. While gold looks to have run up to its first resistance band at around $1329, silver may have room to go if it can best the November high of $22.07 on a weekly closing basis. After that the late October peak at $23.09 would be the next target.
What's Changed?
This change from technically bearish to bullish behavior from both silver and gold is welcome but the question is what has changed to make that occur? Last week I noted that strength in the Japanese yen (NYSEARCA:FXY) has caused ripples throughout the foreign exchange markets but I think there's more to it than that. Carry trade unwinds would be preferentially beneficial for gold as gold trades primarily as a currency, but silver trades with a stronger commodity character than gold does. Therefore, silver's breakout may be saying something else.
Taking a quick look around the major commodity markets - the ones that are strong indicators of economic activity namely oil (NYSEARCA:USO), natural gas (NYSEARCA:UNG), copper and iron ore - we see that prices are moving higher. In the face of deteriorating economic data in the U.S. even copper prices have found a bid after a sell off to start the year. With ample supply and a sluggish world economy one would think that copper prices would continue to drift lower.
Commodity ETF Yields in 2014

7 day

14 day

30 day

YTD

USO - WTI Crude

0.8%

3.2%

8.7%

4.9%

BNO - Brent Crude

-0.4%

2.6%

3.6%

1.2%

UNG - Nat. Gas

5.8%

3.3%

17.7%

19.4%

Copper

1.1%

2.7%

-1.6%

-3.5%

SLV

9.1%

13.9%

7.9%

11.7%

GLD

4.9%

6.8%

6.9%

10.2%
Rising oil and natural gas prices, especially in the U.S. can be explained by the brutal winter storms plaguing the eastern half of the country since the beginning of the year. But even Brent Crude (NYSEARCA:BNO) has risen back above $109 per barrel after a 4 week consolidation between $105 and $108.
Tip of a New Trend?
While I do not think a trend change in these commodities has taken place on the whole, their recent strength is something for investors to take note of. Because if there is a trend change occurring within the U.S. dollar (NYSEARCA:UUP) then these prices could all be rising not because of stronger global demand but rather because of a currency-induced inflation.
And this is why the strength of the yen is important, as I covered last week. If the yen is the fulcrum on which a number of strategic markets are balanced then a trend change there will create spillover effects throughout all markets. Gold and silver, being dramatically depressed in price would be the initial recipients of capital leaking out of the short yen/long US dollar trade. After that, however, money would begin to flow into other moribund assets.
With the USDX flirting again with the technically important 80 level, if that gives out in the coming days or weeks I would not be surprised to see copper and Brent crude follow along with gold and silver as a kind of cost-push inflation begins to take hold as the dollar devalues in foreign exchange.
Normally copper is the leading indicator of rising commodity prices, but that is from a demand-pull argument. As economic activity rises, copper production gets bid up as a precursor to earnings growth. But, in a currency-induced inflation copper would not lead for the same reason. Currency devaluations happen when economic activity is flat relative to money supply growth.
The Un-Taper?
The taper, oddly enough, is freeing up marginal dollars to circulate because a greater supply of bonds are available for use as short-term interbank collateral. These are not dollars whose first order of business is to find their way into the copper futures pits, but rather the gold, silver and euro pits.
Lastly, looking at the volatility in natural gas everyday tells me that there is more going on than just speculation on the weather. A monthly chart of natural gas futures clearly shows a long-term breakout from a multi-year bottoming pattern.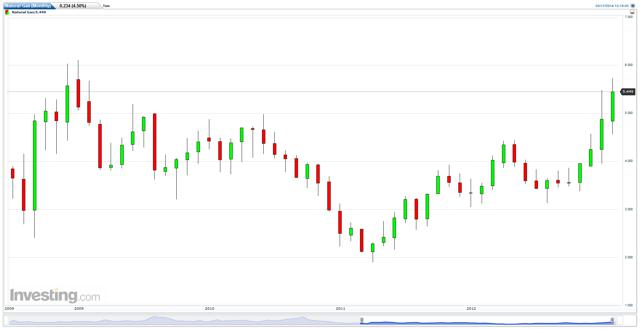 The bottom line is that something is happening within commodity prices and the gold and silver rally may be the vanguard of a much larger shift in global capital flows. During the gold bear market it was said that we can't have a bull market in gold without the mining stocks and commodity prices moving higher. We have both now. Even in the lagging markets like copper and Brent crude both are exhibiting coiling patterns as if they are waiting for the signal as to which direction to move.
Last week's silver breakout may just be that signal.
Disclosure: I own gold, silver, a few ducks and a small dairy farm. I have no positions in any stocks mentioned, and no plans to initiate any positions within the next 72 hours. I wrote this article myself, and it expresses my own opinions. I am not receiving compensation for it (other than from Seeking Alpha). I have no business relationship with any company whose stock is mentioned in this article.