I have spoken in previous articles of an investment approach used to generate returns of over 40% per annum in the Australian stock market since 2008. Today, I use a similar approach to screen the markets, and find another profitable opportunity in the shape of The Boeing Co. (NYSE:BA).
Boeing operates in a duopoly with competitor Airbus Group (OTCPK:EADSF). The company generates around 2/3 of revenue from commercial aircraft, with the rest coming from defense, space and security.
Running the model
I am no accountant, so the investment strategies I use are not based on calculating free cash flows or looking for balance sheet irregularities. I prefer to look at models that have been back-tested for at least 10 years, systems which are able to identify winning investments based on the satisfaction of a number of criteria.
Today, I run the model over the entire universe of US stocks and come up with approximately 5 companies that fit my criteria for low valuation, high growth, high sales and reasonable dividend.
I use a mixture of financial ratios such as PE, price-to-sales, current ratio, EPS growth and price momentum to scan for stocks, as I find these are the best predictors of future performance.
I find that Apple (NASDAQ:AAPL), Intel (NASDAQ:INTC), Siemens (SI) and Accenture Plc (NYSE:ACN) all offer possible investment opportunities, but the one I discuss here is Boeing.
1. Financial ratios indicate value
Stock screens are handy for finding those stocks that possess the qualities you are looking for. Boeing satisfies on a number of counts.
First, PE is under 25 and over 5, which tells me that the company is not over-hyped, nor is it residing in a stale industry.
Price-to-sales is 1.12, which again, sits within my 0-3 margin.
Current ratio is 1.30, above my 1% threshold, and reflective of the $15.26 billion in cash BA has on the balance sheet.
2. A higher dividend this year
In fact, the cash position at BA means that a higher dividend payout is likely for shareholders in 2014. CFO, Gregg Smith committed himself last month, saying he expects this year's payout to be "north" of the previous 80% of balance deployed in 2013 as a result of the increase in cash.
Meanwhile, the current 2.22% dividend yield is reasonable enough to satisfy the system criteria.
3. Adequate growth and margin
Boeing currently operates with a 5-year EPS growth rate of 10.33%, which sits just above my 10% criteria. Net profit margin, at 5.29%, is also higher than the required 5%.
Finally, the stock is well up over the past year, having gained over 70%. This criteria is important since I do not want to select a stock that is not moving upwards, no matter how cheap it is. I want to select stocks that are cheap and market-responsive.
4. Proven performer
It is clear that Boeing is one of 2 big players in the airline industry, and the duopoly BA enjoys allows it to benefit from one of the twentieth century's most radical industries.
It's also fair to say that Boeing has been one of the Dow's best long-term stock holdings over time. The stock suffered in the 1970s thanks to surging inflation and oil prices, but since 1960, Boeing has gained nearly 13,000%, with several stock splits accounted for along the way. It has now been 17 years since the last stock split, which is a long time in BA's book.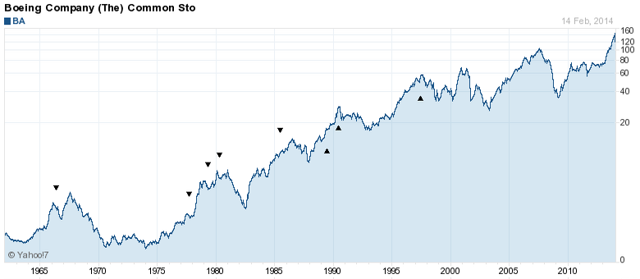 (Source: Yahoo Finance)
5. Good progress with 787s
Jim McNerney, CEO of BA, is resolutely bullish on his company's chances this year.
Despite concerns over production of some aircraft, McNerney is adamant that BA is making ''good" progress with its 787s. He also points to record low shortages for 737 aircraft, and insists that production will break 42 a month by the second quarter.
6. Macro risks limited
Oil price shocks, economic meltdowns and union turmoil have meant that the last 15 years have been relatively difficult for BA.
But despite those events, BA has been able to come through, thanks in large part to its dominant market position, and in 2013, the company had one of its best-ever years.
Although some harbingers cite the return of war cycles and other pessimistic scenarios, there is little evidence of any major macro risk on the horizon.
Sure, that is never an easy thing to justify, but if the economy continues to grow like it is expected to and the price of oil remains within reasonable boundaries, the airline industry will do well.
Indeed, CEO Jim McNerney, alluded as much in a recent conference call when he said, "we're entering a period of 10 years of stability".
The IATA see airline profits rising to $19.7 billion in 2014, up from $12.9 billion in 2013, so the macro environment seems favorable for airlines - at least for the next couple of years. Oil prices are somewhat stable, and interest rates are only slowly being raised by the Federal Reserve.
7. Peak cycle several years off
We already know that stock markets look to the future, so as useful as it is to be optimistic on 2014, it is important to have enthusiasm over proceeding years too. CEO McNerney thinks that the peak could be further out, until at least 2016. Production rate increases, unit cost progression and partnering for success initiatives mean the company has at least 2 solid growth years ahead.
Conclusion
Boeing has always been a steady performer. Continued economic recovery and people's desire to travel means the company should perform well over this phase of the market cycle and shareholders should benefit from an increased dividend payout in 2014.
Most importantly, Boeing meets the criteria that makes the stock a good value buy at current prices.
Disclosure: I have no positions in any stocks mentioned, and no plans to initiate any positions within the next 72 hours. I wrote this article myself, and it expresses my own opinions. I am not receiving compensation for it (other than from Seeking Alpha). I have no business relationship with any company whose stock is mentioned in this article.