Since the announcement of Shift Plan in June last year, Alcatel-Lucent's (ALU) share price has appreciated more that 120%. The company recently declared its fourth quarter result, which silenced Alcatel-Lucent's critics and reflected the company's recovery phase. So far the company has made good progress towards its fiscal year 2015 targets, which include a fixed cost reduction of $1.36 billion and asset sale for a same amount.
Return to profitability
After two years, Alcatel-Lucent finally achieved quarterly profits of $182.63 million in the fourth quarter of 2013. This quarterly result reflects the positive impact of the ongoing Shift Plan, which focuses on profitable segments like IP Networking and Ultra-Broadband Access, selling non-core assets to make the organization lean, and reducing the company's fixed cost base. The following are the important cost reduction and asset disposal targets and the status of the Shift Plan as of the fourth quarter 2013:

Source: Fourth Quarter Earning Slides
As mentioned above, Alcatel-Lucent achieved $495 million worth of fixed cost savings by 2013, and its cost reduction initiative involving workforce reduction has significantly contributed towards its Shift Plan target.
The company has been suffering from a high fixed cost base and low revenue per employee. By the end of fiscal year 2013, Alcatel-Lucent had reduced its workforce by 12,000 year over year, thus increasing its global revenue per headcount productivity by 18% year over year to $287,130.
Currently, the company lags behind its peers Ericsson (ERIC) and Nokia (NOK), which have revenue per headcount of $308,029 (fiscal year 2013) and $313,870 (fiscal year 2012) respectively. Alcatel-Lucent is yet to achieve two-thirds of its fixed rate cost reduction target. As the company continues with its cost reduction initiative in 2014, its employee productivity level will improve further thereby closing the gap with its peers. The company plans to outsource parts of support functions to continue improving its fixed cost base.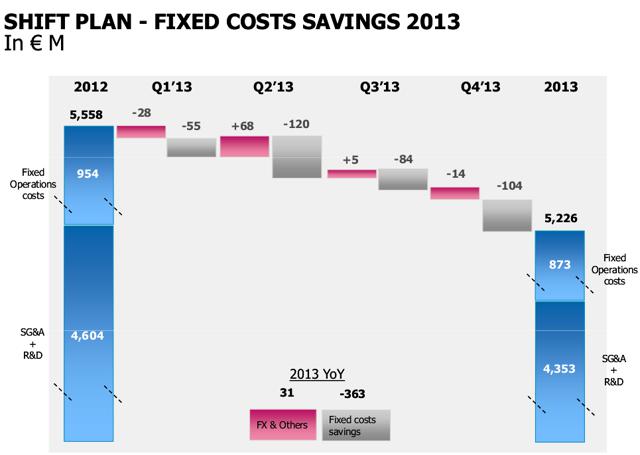 Source: Fourth Quarter Earning Slides
Reducing the cost by $495 million has positively affected Alcatel-Lucent's operating margin, which grew 5.7% year over year to 7.3% in the fourth quarter of 2013. If I do a peer comparison, then Alcatel-Lucent still lags behind Ericsson and Nokia, which have operating margins of 13.5% (fourth quarter of 2013) and 8.4% (third quarter of fiscal year 2013) respectively. However, Alcatel-Lucent has improved its operating margin significantly, and this operational metric will improve further with the continuation of Shift Plan. In addition, disposal of non-core assets to the tune of $1.36 billion by fiscal year 2015 will help further improve the company's operating margin.
After the asset sale announcement of its subsidiary LGS Innovations for $200 million in December last year, the company has received a bidding offer from China's Huaxin for Alcatel-Lucent's enterprise unit. This bidding covers 85% ownership of the enterprise unit, while Alcatel-Lucent will retain the remaining stake. The enterprise business contributed just 5% of total revenue in fiscal year 2012, while its current enterprise value (100% of the business) is pegged at $362 million, which is 4% of the company's total enterprise value. Selling the enterprise division won't make a significant difference to the company's overall topline and enterprise value. Additionally, the company has a low market share in the enterprise market, and this decision to sell the enterprise business can be considered an important step towards its asset disposal target of $1.36 billion.
Source: Fourth Quarter Earning Slides
Alcatel-Lucent ended 2013 on a high note by attaining profit in the last quarter. Now as the company continues towards its Shift Plan targets, investors can expect the company to add more value to its bottom line.
Focus towards key new markets
Last fiscal year, Alcatel-Lucent reported a mere 3% year over year revenue growth, but as it moves forward with its strategy to target new markets like small cells and LTE, this growth rate will increase during the current fiscal year. Last year, the company tied up with Qualcomm (QCOM) to develop small cell base stations, which improve wireless 3G, 4G, and WiFi networks across residential and commercial areas. Alcatel-Lucent has an extensive lead over its competitors in the small cell market, and at end of 2013, it had 65 contracts to deploy its small cells.
The small cell and femtocell market is expected to reach $5.98 billion in 2019 from $420 million in 2012. An increase in the deployment of 4G LTE networks will further add to the installation of LTE enabled small cells. Alcatel-Lucent, along with its partner Qualcomm, will deliver the first multi-standards product that is Wi-Fi enabled in the coming months, and this product will make Alcatel-Lucent's existing small cell product offering even stronger.
Apart from small cell, Alcatel-Lucent has already been benefiting from the increase in LTE deployment, with major contracts coming from Sprint (S), Telefonica (TEF), China Mobile (CHL), China Telecom (CHA), and Verizon (VZ) in 2013. In Wireless, the company reported 70% year over year growth in LTE revenue in 2013, while its IP platforms segment (core networking) also benefited from strong LTE and VoLTE adoption.
Both these markets will be important growth drivers of the company's topline in the future. Alcatel-Lucent spent more than 60% of their R&D spending in the wireless segment on LTE and small cell technologies, substantiating the importance of these markets. Small cell and LTE will play a key role in adding significant value to Alcatel-Lucent's topline in 2014.
Conclusion:
Alcatel-Lucent established strong momentum at the end of 2013 with strong fourth quarter results. The company has just achieved one-third of its asset disposal and cost savings targets, and more improvement in the bottom line will be visible in 2014. In addition, focus on growth markets like LTE and small cell will provide a boost to the topline. I believe Alcatel-Lucent has strong upside potential, thus I recommend buying this stock.
Disclosure: I have no positions in any stocks mentioned, and no plans to initiate any positions within the next 72 hours.
Business relationship disclosure: Fusion Research is a team of equity analysts. This article was written by Rohit Gupta, one of our research analysts. We did not receive compensation for this article (other than from Seeking Alpha), and we have no business relationship with any company whose stock is mentioned in this article