Last week, I discussed how an upcoming earnings report for Cisco Systems (NASDAQ:CSCO) could end up being the last hurrah for CEO John Chambers. If Cisco did not come in with a decent quarter, or issued terrible guidance again, I felt that the calls for Chambers to go would fire up again. If Chambers left, I felt that Cisco could see a positive reaction similar to the one in Microsoft (NASDAQ:MSFT) when Ballmer announced his retirement. On the flip side, a good report from Cisco meant the business wasn't as bad as the company made it seem the last time around. I thought a post-earnings pullback could provide a decent entry point, and that, so far, seems to be the case. Today, I'll break down the results, and explain why the status quo in Cisco has certainly changed for the better.
Second quarter results:
Last week, Cisco reported its fiscal second quarter results for the quarter ending in late January. Cisco's fiscal year ends in July. Overall, the results were decent. On the top line, Cisco came in revenues of $11.155 billion, beating analyst estimates for $11.03 billion. On the bottom line, Cisco reported non-GAAP earnings per share of $0.47, which beat by a penny.
While revenues were down 7.8% for the quarter, it was better than the 8-10% fall that Cisco had guided to. At $0.47 per share, Cisco came in at the high end of its $0.45 to $0.47 EPS range for Q2. It was nice to see the company beat analyst estimates for both the top and bottom lines. That shows that the business was not as weak as some may have originally thought. Yes, a 7.8% revenue decline is bad, but this quarter could have been worse.
A huge update on capital returns:
This two-part piece of information was perhaps the best news for investors. First, Cisco announced a two cent dividend raise to $0.19 per quarter, or $0.76 on an annual basis. Investors looking to get in on this payment have about a month and a half to do so. Based on Friday's close, Cisco's annual yield would have been 3.01% for the old dividend. With the raise, the annual yield is 3.37%. I'll have more on Cisco's dividend in comparison to others later.
Perhaps the biggest news was that Cisco bought back roughly $4 billion worth of stock during the quarter, repurchasing about 185 million shares. Cisco's market cap was just over $120 billion as of Friday's close, so this was a massive repurchase. Recently, we saw Apple (NASDAQ:AAPL) use a post-earnings fall to initiate a large buyback. Cisco used its drop after the prior earnings report to buy back a large number of shares.
In the previous quarter, there was a worry about a rising share count. Cisco's diluted share count, which is used to measure EPS, was at 5.43 billion. That was up nearly 100 million shares from the prior-year period. But in fiscal Q2, the diluted share count was down 30 million shares from the prior-year period. It's always nice for a buyback to get the share count down, and had Cisco not bought back a large amount of stock, this would not have happened. With a smaller buyback, Cisco may have reported earnings per share that were just in line.
Cisco management on the conference call mentioned that US-based cash and investments were just $3.3 billion out of the company's $47.1 billion total. Only US-based cash resources can be used for the dividend and the buyback. Thus, the company anticipates taking on some additional debt during fiscal Q3 to refinance maturing bonds and support US cash balances. Taking on low-rate debt seems like a good strategy, especially if you can get after-tax rates lower than the 3.37% current dividend yield. You can then retire those shares and pocket the cash flow savings.
Guidance was okay:
Perhaps just as important as the Q2 results was the company's Q3 guidance. If Cisco's guidance was terrible, then the business would be getting worse. In this case, the stock probably would have dropped, and $20 may have been lost. Cisco guided to a Q3 revenue decline of 6% to 8%, basically in line with expectations for a 7.1% decline. I had stated in my earnings preview that investors would celebrate guidance for a 5% revenue decline. That did not happen, unfortunately. While guidance was not as good as some may have hoped, it could have been a lot worse. Cisco also guided Q3 earnings per share in line, and reiterated its yearly forecast, which was two cents ahead of estimates at the time.
Analyst commentary:
There have been a couple of analyst notes since Cisco reported. Here are some quick summaries, with the links provided to each note:
Over at Needham, the analyst reiterated a Hold. The analyst stated that the quarter and guidance were okay. Based on Q2 beating estimates, the analyst raised his fiscal year EPS number by a penny.

An analyst at Goldman Sachs maintained a Buy rating and $25 price target. While gross margins came in light, the analyst noted the company's lower operating expenses helping to drive net income, and the larger buyback to boost EPS.

Over at Nomura, the analyst reiterated a Buy rating and $24.50 price target. The analyst believes that conditions should improve over the next few quarters and that increased capital returns should merit patience from investors.

At Jefferies, the analyst reiterated a Hold rating and $22 price target. The analyst cited weak margins and choppy IT spending as a reason to stay on the sidelines.
Right now, the average rating on Cisco is a 2.4, which implies a slight buy rating. The average price target is about $1 higher than Friday's closing price, while the median price target is about $2.20 higher than Friday's close. Analysts don't see a ton of upside in Cisco shares, but the average and median price targets for many other top-tier techs don't show a tremendous amount of upside either.
How this changes the equation:
One of the reasons I thought a good report (or a really bad one) was needed for Cisco is that things needed to change. When looking at Cisco compared with other large cap tech peers, Cisco did not look like a great investment. Cisco trailed names like Apple, Microsoft, and Google (NASDAQ:GOOG) in terms of growth. Even a name like Intel (NASDAQ:INTC), a company that might see a third straight year of declining revenues and earnings, looked better than Cisco. Cisco also didn't have a leading dividend yield or a massive buyback prior to this quarterly report.
However, the latest report from Cisco has changed the equation a bit. In the following table, I've compared growth, valuation, and dividend yields for the five names discussed in this article. The "then" half represents numbers at my last article, while the "now" column represents where things stood as of Monday.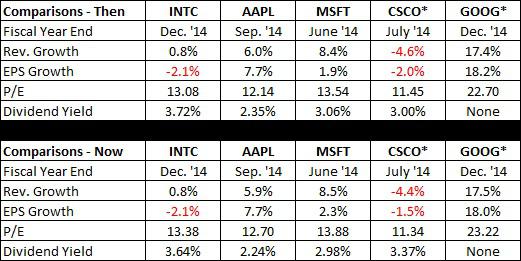 *EPS growth and P/E values are non-GAAP.
Thanks to the small beats, Cisco's revenue and earnings growth forecasts have started to rise slightly. It doesn't look like much, but Cisco is creeping closer to Intel. Additionally, Cisco is the only name whose valuation went down since my last update. At the same time, Cisco's dividend yield has risen by almost 40 basis points, while the three other dividend payers have seen their yields go down. Also, Cisco in fiscal Q2 bought almost twice the amount of stock that Intel bought back in all of 2013. Cisco actually has a market cap less than that of Intel, so think about the buyback in that respect.
Cisco's valuation is probably similar to that of Apple when you convert to GAAP, depending on the conversion factor you use. Obviously, at this point, I would prefer Apple to Cisco. I probably would also give Microsoft an edge over Cisco as well. The one I'm undecided on is Intel. While Intel's growth forecast appears better now, I think there is the chance that Intel's forecast goes lower, while Cisco's goes higher. Cisco has the better buyback now, so that helps to offset the added yield you get from Intel.
A positive technical event:
I mentioned in my last article that Cisco shares were sandwiched between the 50-day and 200-day moving averages. Cisco shares ended down just 11 cents on the week. The chart below shows Cisco against these moving averages after the last week of trading.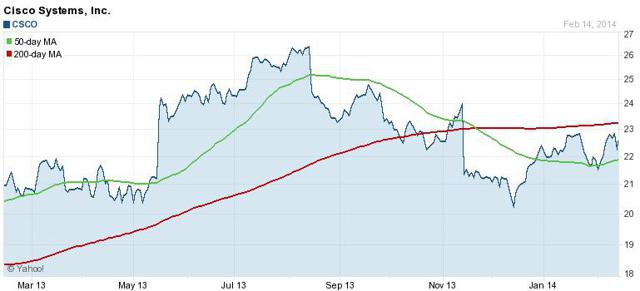 (Source: Yahoo! Finance)
When Cisco initially fell on the earnings report, the 50-day moving average was hit, and shares dipped below it. However, shares quickly recovered, so the 50-day became a nice support level. With the 50-day moving average starting to rise, it should help bring some added support to shares. If Cisco can get the 50-day to break above the 200-day, that would be the golden cross. That's positive, although it might not happen for a while. Apple shares got close to their 200-day moving average, which would have been challenged had Apple not come in with the massive buyback. Apple shares have rallied almost 10% from their recent lows. Cisco shareholders hope that a bounce is on the cards too.
Final thoughts:
While Cisco did not report a tremendous quarter or give spectacular guidance, things could have been much worse. The company increased its dividend nicely, and like Apple, used the fall in its stock to buy back a large amount of shares. Cisco looks like a better investment this week than it did last week, especially thanks to a 37 basis point rise in the annual dividend yield. Investors might want to look at Cisco on the next pullback, like the post-earnings one that got the dividend yield over 3.50%.
Disclosure: I have no positions in any stocks mentioned, and no plans to initiate any positions within the next 72 hours. I wrote this article myself, and it expresses my own opinions. I am not receiving compensation for it (other than from Seeking Alpha). I have no business relationship with any company whose stock is mentioned in this article.
Additional disclosure: Investors are always reminded that before making any investment, you should do your own proper due diligence on any name directly or indirectly mentioned in this article. Investors should also consider seeking advice from a broker or financial adviser before making any investment decisions. Any material in this article should be considered general information, and not relied on as a formal investment recommendation.