AT&T (NYSE:T) is a global leader in telecommunications and it also happens to be a popular dividend stock, due to a generous yield. In early November, this stock was trading for around $36 per share, but a recent pullback has created a better entry point with the shares now trading just around $33. AT&T is facing competition from smaller upstarts and from industry giants like Verizon (NYSE:VZ) which could keep a lid on profit growth. This might be the most significant downside risk, because the company has a solid balance sheet and a strong management team. Here are the pros and cons for investors to consider before investing in this stock:
The biggest concern I have for this company and the stock is what appears to be an escalating price war in the mobile phone industry. This could seriously impact profit margins for AT&T and Verizon. AT&T recently announced it would lower the price of its family data plans which could make consumers happy at the potential expense of companies like Verizon. However, the biggest threat might come from relatively tiny upstarts that many consumers might have never heard of before. A company called "FreedomPop" just started offering 100% free mobile phone service and other plans such as unlimited voice and text plans for just $4.58 per month. A recent CNBC article gives more details on this competitive threat and it states:
What's more, FreedomPop is now offering the service on higher-end phones. "We're declaring war on an industry that's taken advantage of consumers for too long," FreedomPop CEO Stephen Stokols says. The company's service takes advantage of the fact that most mobile calls today travel over the Internet for at least part of their journey between callers. Breaking voice calls into packets of data and sending them alongside other digital traffic over the big carriers' Internet-switch networks has dramatically lowered the operator's costs.
I expect this mobile phone price war to impact AT&T and Verizon for the foreseeable future. As such, profit margins could decline and this could limit future dividend increases. In fact, the "golden age" these two stocks have enjoyed for the past few years could be coming to an end as technology changes this industry. Investors should be prepared for much tougher sledding and volatility with these looming competitive threats. That being said, let's take a look at some of the positives below: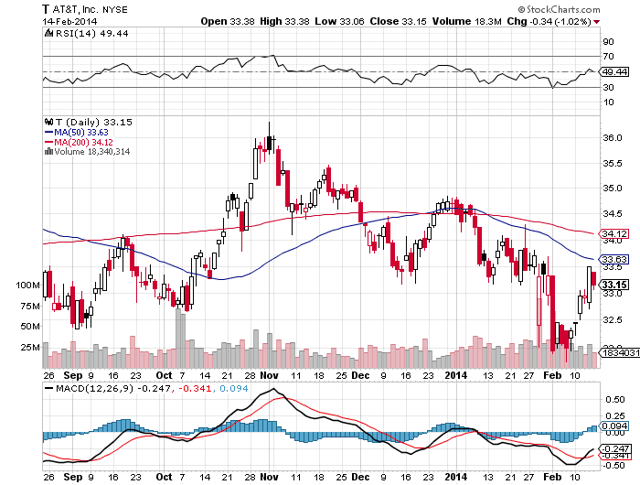 As the chart above shows, AT&T shares were trading around $34.75 at the start of 2014, but recently traded for about $33 in recent days. AT&T shares now yield about 5.6% and this company has a history of raising the dividend. For example, in 2002, the quarterly dividend was 27 cents per share, but thanks to regular increases, it now pays 46 cents per share on a quarterly basis. In fact, the most recent increase from 45 cents to 46 cents just became effective for the payment that was set to be paid on February 3, 2014. This dividend growth represents an increase of about 65% over the past 11 years. Since AT&T has a strong balance sheet, revenue growth, and a share buyback plan, the dividend could be poised for additional increases in the future, if it manages the competitive threats.
AT&T's share buyback program is significant and active (unlike some companies that issue authorizations to buy stock, but do little to no actual buying). In 2013, AT&T authorized the repurchase of up to 300 million additional shares, (with no expiration date) and this represents approximately 5.5% of AT&T common shares outstanding. This follows up two other 300 million share repurchase authorizations approved by the board of directors in December 2010 and July 2012, although the company completed repurchases under the December 2010 share authorization last year. Overall, this company has repurchased 539 million of its shares, which is approximately 9% of the shares outstanding since 2012. These buybacks reduce the number of shares outstanding, which can boost earnings and increase potential for future dividend hikes. Analysts at Telsey Advisory Group have set a $36 price target for this stock.
In summary, investors should probably reduce expectations for this stock due to increased competition and potential profit margin pressure. The yield of 5.6% is tempting and will probably help to support the share price even if profits are impacted (as long as it is not too severe). However, this industry appears to be undergoing significant changes and stocks like Verizon and AT&T are likely to experience volatility. Because of this, I would only consider buying these stocks on pullbacks and keeping exposure to this sector limited, in order to protect your portfolio.
Here are some key points for AT&T:
Current share price: $33.15
The 52 week range is $31.74 to $39
Earnings estimates for fiscal year 2014: $2.68 per share
Earnings estimates for fiscal year 2015: $2.85 per share
Annual dividend: $1.84 per share which yields about 5.6%
Data is sourced from Yahoo Finance. No guarantees or representations
are made. Hawkinvest is not a registered investment advisor and does
not provide specific investment advice. The information is for
informational purposes only. You should always consult a financial
advisor.
Disclosure: I have no positions in any stocks mentioned, and no plans to initiate any positions within the next 72 hours. I wrote this article myself, and it expresses my own opinions. I am not receiving compensation for it (other than from Seeking Alpha). I have no business relationship with any company whose stock is mentioned in this article.