By David Russell
Whiting Petroleum (NYSE:WLL) rallied to a 20-month high yesterday, and one trader positioned for a pullback using an unusual three-way trade.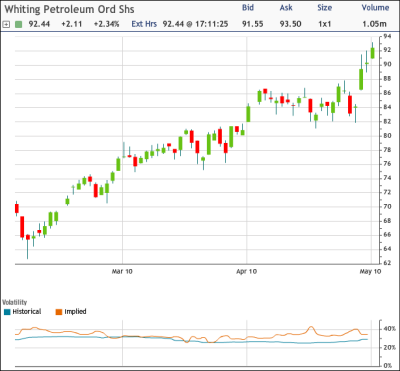 The investor bought 1,750 September 85 puts for $5.50, then sold the same number each of September 80 puts for $3.80 and September 70 puts for $1.70. The transaction, which had no net cost, pushed overall options volume in the stock to five times greater than average.
WLL rose 2.34 percent to $92.44 yesterday, its highest price since September 2008, and is up 34 percent in the last three months. The oil and natural-gas company reported better-than-expected earnings and revenue on April 28 and raised its full-year production forecast.
Yesterday's option strategy is designed to maximize the profit from a limited correction in the share price. It will earn a maximum profit of $5 per put contract if WLL closes between $70 and $80 on expiration. The gains will erode if it falls below $70 and turn to losses under $65.
The transaction is a bearish version of a "Christmas tree" trade, which is usually an upside play that utilizes calls. It resembles a ratio spread because more options are sold than are purchased, but it uses more than one strike on the short side.
Puts outnumbered calls by more than 4 to 1 in WLL, which reflects the bearish sentiment.
(Chart courtesy of tradeMONSTER)