Introduction
In this article I'll have a look at Coca Cola's (NYSE:KO) results for the financial year 2013. I will provide my view on the company's financial results and its balance sheet. Thereafter I will provide my outlook for 2014, and this will result in my conclusion at the end of this article.
All images in this article were directly sourced from Coca Cola's press release.
My view on the financial results
For the full year 2013, Coca-Cola announced revenue of $46.9B, which is approximately 2.5% lower than last year. As some other operating charges increased sharply, Coca-Cola's operating income decreased by 5%, and the net income decreased by approximately the same percentage, to $8.6B or a diluted EPS of $1.90/share. This is just 3.5% lower than last year, and this is caused by the fact that Coca Cola repurchased approximately 75 million shares, which reduced the share count by almost 2%.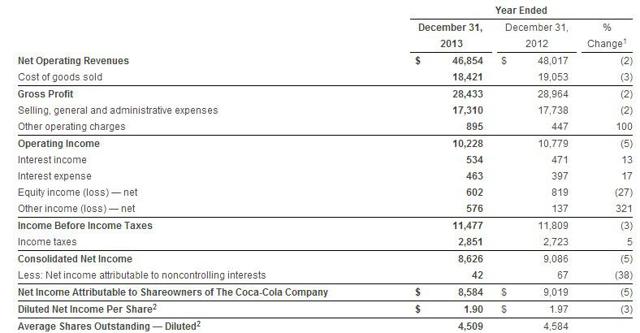 Click to enlarge
As most of my readers know, I also like to have a look at the cash flow statements because I believe the cash flow statements give investors a better impression of the quality of the underlying business.
During 2013, Coca Cola generated $10.5B in operating cash flow, but this amount should actually be increased by $932M to $11.6B to account for the changes in the company's working capital. As the company only spent $2.5B on capital expenditures, its free cash flow (calculated as operating cash flow minus capital expenditures) was $9.1B, or approximately $2.06/share. Based on Friday's closing price of $38.93, Coca-Cola is trading at Price/Free Cash Flow of 18.90 or a free cash flow yield of 5.3%. This doesn't make me wildly enthusiastic yet, but it's not that bad.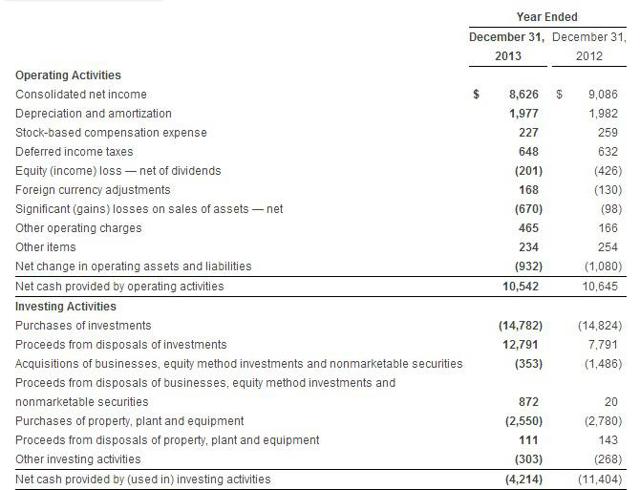 Click to enlarge
On top of that, Coca-Cola shows a lot of shareholder love by spending most of the free cash flow on dividend payments ($5B) and share repurchases ($3.5B net) which ultimately benefits the shareholders.
My view on the balance sheet
At the end of 2013, Coca-Cola had a working capital of $3.5 billion which is very decent. The current ratio at the end of the book year was approximately 1.125 which is a bit low, but sufficient. Keep in mind a ratio higher than 1 means the company has sufficient current assets to cover its current liabilities.
Moving over to the book value of Coca-Cola, I end up with a book value per share of $7.50. This means that Coca-Cola is trading at approximately five times its book value. This is relatively expensive despite the company having an ok free cash flow yield.
Outlook for 2014
Coca-Cola doesn't offer an official guidance for 2014 (yet), but I'm anticipating a revenue increase of 3% and a higher operating margin. The company did offer some guidance for its share repurchases and stated it would buy back between $2B and $2.5B worth of shares. As Coca-Cola has repurchased $3.5B worth of shares in 2013 which was the high end of the guidance, I'm expecting Coca-Cola to repurchase 60 million shares this year, which would reduce the total amount of outstanding shares by approximately 1.35%. This doesn't sound like much, but it will have a noticeable impact on the financial results per share should the company be able to repurchase between 1 and 2% of its shares per year.
Based on those share repurchases, I'm expecting a free cash flow per share of $2.11/share of which the majority will be used to pay a dividend which I expect to be increased again this year.
Conclusion
Despite the lower than expected results for FY 2013, I think Coca-Cola still deserves a position in a defensive portfolio. The free cash flow yield of 5.3% isn't a no-brainer, but I like it how the company treats its shareholders by paying out an increasing dividend and repurchasing shares for cancellation.
Depending on the share price action today, it might make a lot of sense to write put options on Coca Cola to try to initiate a position at a lower share price. I'm particularly looking at writing a P35 January 2015 for an option premium of $1.45 today. This would result in an annualized return of 4.43%. If I would get assigned the shares at $35, the expected free cash flow yield would be 6.03% which meets my standards for a large cap.
Disclosure: I have no positions in any stocks mentioned, and no plans to initiate any positions within the next 72 hours. I wrote this article myself, and it expresses my own opinions. I am not receiving compensation for it (other than from Seeking Alpha). I have no business relationship with any company whose stock is mentioned in this article. I currently have no position in Coca-Cola but will try to write an out of the money put option later today.