Executive summary:
TransCanada and Exxon are likely winners from the Keystone Pipeline.
Politics will determine the success of Keystone XL Pipeline investments.
Keystone XL Pipeline may represent a pivotal change for the American economy and markets.
Keystone XL Pipeline would be similar to Reagan's supply-side programs and Clinton's capital gains tax-cuts and deregulation of the Internet.
_________________________________
One of my favorite investment themes is capitalizing on the likely falling public support for so called "climate legislation." Five years into the Obama administration and there are very few "green" success stories, U6 unemployment remains over 13%, growth is anemic and teetering on deflationary and to make matters worse, America is experiencing its worst winter in decades. The headlines are too many to count, but one thing is for sure, everyone in America now understands that global cooling and its impact on society is infinitely worse than the extremely moderate warming that we have been experiencing. People move to Florida to get away from the cold, not vice versa.
Most damning however is that during this winter blast our society rushed to buy natural gas and other fossil fuels. It turns out solar panels don't work when covered in 2 feet of snow and gray clouds block out the sun. This rush to "green" energy sources isn't only folly, it is dangerous. While most Americans trusted the "experts" that form the "scientific consensus," I doubt that such "blind faith" will continue. I've always thought that the greatest threat to "climate change" legislation is for people to pay attention, because once people dare to look behind the curtain of climate "science" they are certain to be disappointed. Climate "science" belongs in the political science department, not in any real science department. Want proof? Just step outside.
If my thesis is correct that politicians will run from the job killing climate change agenda in upcoming elections, it is wise to start handicapping who will win and who will lose. In a recent article I predicted that the recent State Department decision on the Keystone XL Pipeline would help identify some of those winners.
Why this is important:

The climate change investment theory is important because changes in climate change legislation will have an immediate impact on various industries. If the Keystone XL gets final approval it will have an immediate impact on companies related to building the pipeline, companies that own and run the pipeline, companies that support the pipeline, companies that transport the fuel from the pipeline and the price spreads between oil at various locations...While the decision on the Keystone XL Pipeline reported recently isn't final, I would expect the top gainers going forward to be some companies related to the Keystone XL project
This theme has not gone unnoticed and Yahoo Finance did a story on it recently. The video does a great job demonstrating another one of the themes I've been outlining in my articles, that being analysis of geopolitics and fiscal policy is essentially if fully understanding these issues.
In the video it highlights how TransCanada Corp (NYSE:TRP) and Exxon (NYSE:XOM) are likely winners. It also identifies the political issues, as well as opens the discussion about the US changing its laws to allow exportation of oil. All those issues represent long-term opportunities and risks, but the only way investors will successfully navigate the energy investment landscape is by following the politics that shapes it.
The proposed Keystone XL pipeline will cut through three states, Montana, South Dakota and Nebraska, and provide a new transportation outlet for the Bakken region.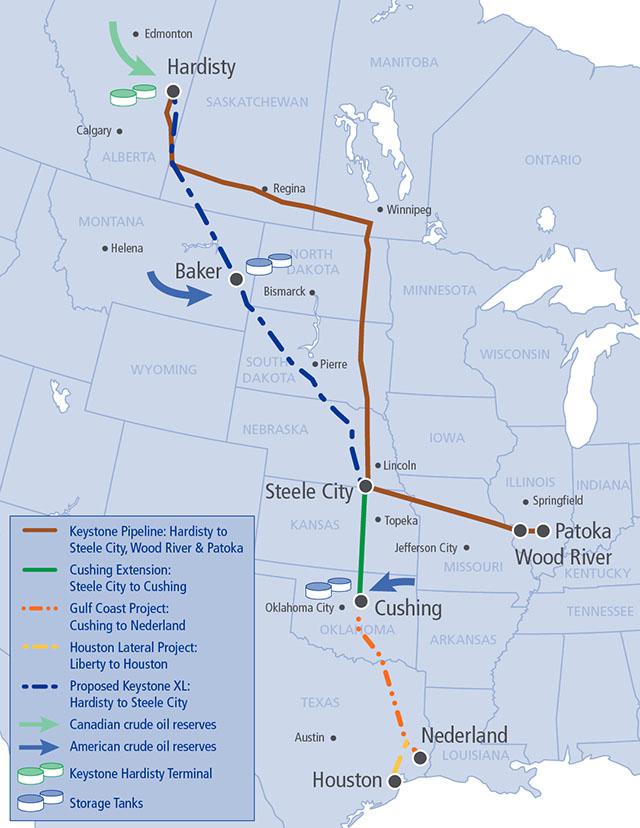 Currently 71% of the Bakken oil is transported by rail, a relatively expensive and dangerous method of transportation.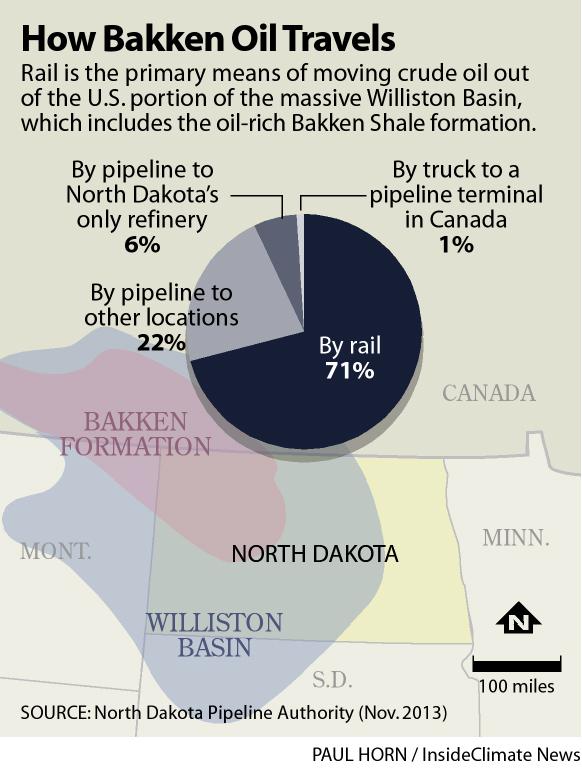 An obvious loser of the Keystone XL Pipeline will be the train companies that transport the oil currently like BNSF which is owned by Berkshire Hathaway (NYSE:BRK.A). BNSF was recently involved in a derailment, highlighting the safety issues that also play into this issue.
The winners will be the many large and small oil and gas companies that will have a more efficient method to transport their fuel. The Pipeline can cut $4 off the cost of transportation from the Bakken down to Cushing. I could try to name all the companies, but there are simply too many to list. Simply search SA for articles on Bakken to identify the companies.
Other winners from the Keystone XL would be the drillers, steel, refiners, frac sand producers, consumers and the previously unemployed workers.
Because the Keystone XL Pipeline is a long-term project, it isn't necessary to place one's bets today. The key to the Keystone XL Pipeline is understanding that the likelihood of it being approved has dramatically increased recently. If the Keystone XL Pipeline gets final approval the markets will identify the winners and losers. I would expect leading up to the decision the markets will start to bid up the expected winners and sell off the losers, and on the final decision solidify the moves. It is unlikely that the markets will be able to fully discount the future earnings immediately, so there should be time to get in even after the initial pop in the stock price.
The other major factor will be that passing the Keystone XL Pipeline would likely represent a major "pivot" for the current administration. Turning away from greater regulations towards greater job creation. If that happens, I would expect the impact to be much broader than just on the companies related to the Keystone XL Pipeline. Such a major "pivot" could trigger a bull market like what happened when Clinton chose to "pivot" in 1994, and America chose to "pivot" by not giving Carter a second term and choose Reagan. Reagan introduced the world to supply-side economics, Clinton further proved the theory by cutting capital gains taxes and deregulating the internet and Obama can continue the legacy by passing the Keystone XL Pipeline. Deregulation simply creates far more jobs than regulating.
BISMARCK, N.D. (AP) -- TransCanada Corp. says it has a growing list of U.S. oil shippers signing up to use a proposed connector to the proposed Keystone XL pipeline that would run from Canada to the Gulf of Mexico.
Disclaimer: This article is not an investment recommendation or solicitation. Any analysis presented in this article is illustrative in nature, is based on an incomplete set of information and has limitations to its accuracy, and is not meant to be relied upon for investment decisions. Please consult a qualified investment advisor. The information upon which this material is based was obtained from sources believed to be reliable, but has not been independently verified. Therefore, the author cannot guarantee its accuracy. Any opinions or estimates constitute the author's best judgment as of the date of publication, and are subject to change without notice. Past performance is no guarantee of future results. For my full disclaimer and disclosure, click here.
Disclosure: I have no positions in any stocks mentioned, and no plans to initiate any positions within the next 72 hours. I wrote this article myself, and it expresses my own opinions. I am not receiving compensation for it (other than from Seeking Alpha). I have no business relationship with any company whose stock is mentioned in this article.