By: Craig Bowles
Overview
Wal-Mart Stores, Inc. (NYSE:WMT) is slated to report 4Q 2014 earnings before the bell on Thursday, February 20. The earnings release is expected at approximately 7:00 a.m. EST with a pre-recorded call through phone numbers available at Wal-Mart Investor Relations. Results from the world's largest retailer and constituent of the Dow Jones Industrial Average tend to heavily influence the direction of the equity index futures.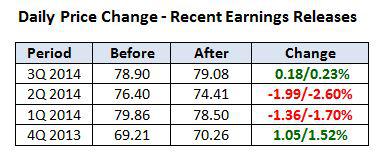 Outliers & Strategy
Key measures:
EPS: Back in November, Wal-Mart projected EPS from continuing operations of $1.50 to $1.60 for the 4Q period, which included a $0.10 per share impact from two discrete items. The company later announced on January 31 that underlying EPS for the fourth quarter of fiscal 2014 will be at or slightly below the low end of its range of $1.60 to $1.70. The Street estimate is $1.60 (Yahoo! Finance).
Revenues: Revenues are seen rising 2.1% y/y to $130.63 bln (range $128.48 bln to $136.53 bln).
Comparable Store Sales: Wal-Mart said in January the company was running slightly below its previous U.S. guidance on November 14 for comp sales to be relatively flat. According to Zacks Investment Research, analysts are expecting -0.2% (range -0.09% to 0.7%).
Earnings Per Share Guidance for 1Q2015: The current Street estimate is $1.24 (range $1.13 to $1.32).
Earnings Per Share Guidance for FY2015: The current Street estimate is $5.58 (range $5.38 to $6.00). Estimates for next year have been reduced from $5.69 three months ago.
Wal-Mart insiders sold 166,049 shares over the last six months, but insider selling has become the norm for several years. Continuing another norm is the annual $15 billion stock buybacks.
Dividend yield of 2.6% compares to a 5-year average of 2.3% and industry's 2.1%.
Wal-Mart shares have a 1-day average price change on earnings of 2.61%. Options are pricing in an implied move of 1.97% off earnings.
Recent News
02/07 JP Morgan mentioned Wal-Mart among companies that benefit from Moody's upgrade of Mexico, according to a post on Barron's Blogs.
01/31 Wal-Mart reduced its outlook for the 4Q and full year, based on several factors, including the closure of approximately 50 underperforming stores in China and Brazil, reduction in SNAP (Supplemental Nutrition Assistance Program) benefits that went into effect November 1, and weather in the U.S. that resulted in store closures that impacted traffic throughout the quarter.
Technical Review
Wal-Mart declined 11% over December and January in reaction to the lowered guidance, but the long-term chart remains relatively bullish as long as the stock doesn't start taking out numbers below $72. The 200-day MA is $76, and the stock has been ranging around current levels for nearly one year. (Chart courtesy of StockCharts.com)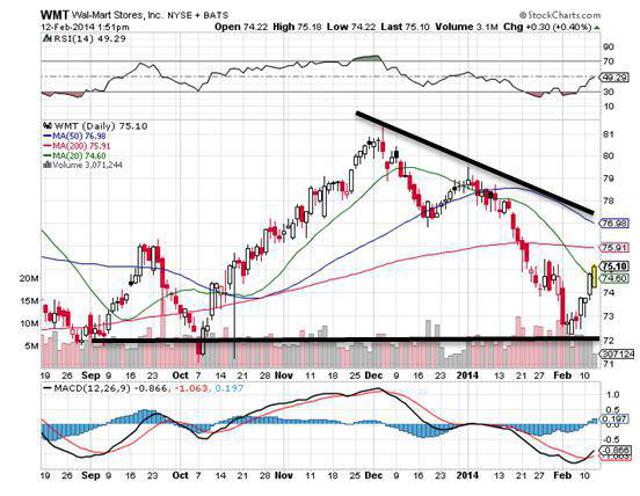 Summary
Wal-Mart's ability to decline has been limited, as $15 billion per year is a lot of stock buyback power whenever support is needed. Guidance shock has already occurred, so this is an interesting upside trade on a decent earnings release. Assuming $72.50 is support, even the stock remaining range-bound gives a potential retest of the recent high at $81.37. More negative revenue guidance would build on an already sensitive area. Comparable store sales guidance was already reduced from relatively flat. Guidance for FY 2015 should be interesting, with analysts having a wide 62c spread around $5.58.
DISCLAIMER: By using this report, you acknowledge that Selerity, Inc. is in no way liable for losses or gains arising out of commentary, analysis, and or data in this report. Your investment decisions and recommendations are made entirely at your discretion. Selerity does not own securities in companies that they write about, is not an investment adviser, and the content contained herein is not an endorsement to buy or sell any securities. No content published as part of this report constitutes a recommendation that any particular investment, security, portfolio of securities, transaction or investment strategy is suitable for any specific person.
Disclosure: I have no positions in any stocks mentioned, and no plans to initiate any positions within the next 72 hours. I wrote this article myself, and it expresses my own opinions. I am not receiving compensation for it (other than from Seeking Alpha). I have no business relationship with any company whose stock is mentioned in this article.