By Thomas E. Sobon
Executive summary:
As a triple-net leaser of hospital properties, most of MPW's earning power is recurrent and locked in at the beginning of each year.
Growth in each quarter's FFO is heavily dependent upon properties acquired and leased in the prior four quarters as each property's contribution gets annualized.
$700 million was invested in property acquisitions in 2013 and a minimum of $500 million is planned for 2014; such will contribute importantly to profitable growth in 2014 and 2015.
FFO was $0.96 per share in 2013, but the run rate at year end was about $1.10. The consensus estimate for 2014 is $1.13.
With a dividend yield of 6.3% and FFO growth well defined for nearby years, the stock at $13.25 merits consideration for its total return potential.
_________________________________
The Company
Medical Properties Trust (NYSE:MPW) is a REIT formed to capitalize on changing trends in healthcare delivery by acquiring and/or developing triple-net-leased healthcare facilities. These facilities include inpatient rehabilitation hospitals, regional acute care hospitals, long-term acute care hospitals [LATCH], ambulatory surgery centers, and other single-discipline healthcare properties. The triple-net lease arrangement allows MPW to pursue new investment opportunities that can be seamlessly integrated into its existing corporate structure.
As of 12/31/13, MPW owned facilities containing 8102 hospital beds, making it the fourth largest owner when compared to other for-profit owners. No one property represented more than 3.7% of total assets. Geographically, 92% of its assets are located in the U.S. with the other 8% located in Germany, having expanded into that market in 2013. The three states with the largest concentrations are Texas with 24% of the portfolio, California with 17%, and Arizona with 6%. From an operator standpoint, Prime Hospital accounted for 23% of the total, RS Facility 15%, and IASIS Hospitals 11%. General acute care hospitals account for 53% of the total portfolio, with rehab hospitals making up 22%, long-term acute care hospitals 15%, and other facilities 10%. The map below shows the location of the company's facilities in the U. S.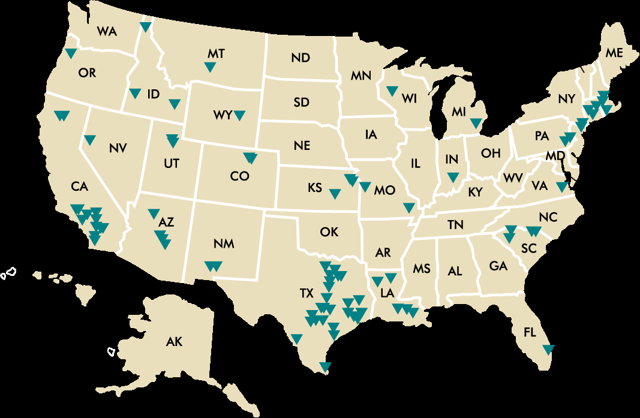 As with most triple-net REITs with portfolios having long-duration leases, MPW derives substantial recurring earning power from its properties. However, rent escalation is limited and usually about 2% to compensate for inflation. With most of its earning power locked in at the beginning of each year, management is in a recurrent position of acquiring new properties, negotiating new leases, disposing of non-core assets, and managing the balance sheet while growing FFO.
Transformational changes are taking place in hospital capital allocation, as best in class U.S. and international hospital operators expand their operations to take advantage of growth opportunities by monetizing real estate assets. Although the U. S. will remain MPW's core market, favorable demographic trends and the practice of universal healthcare in Western Europe make that area attractive for growth and diversification purposes.
Expansion in Domestic Markets
In 3Q13, MPW completed the acquisition of three acute care hospitals operated by IASIS Healthcare LLC. IASIS is one of the largest for-profit acute care operators in the U.S. with total annual net revenue of about $2.4 billion. It owns and operates 19 acute care hospitals, one behavioral health hospital, several outpatient service facilities, and more than 160 physician clinics. It also has Medicaid and Medicare managed health plans in Arizona and Utah that serve more than 176,000 members. The value of the three-hospital sale-leaseback transaction was $283.3 million and significantly expands MPW's relationship with IASIS. The transaction was financed by proceeds from a common stock offering in August at $12.75 per share and borrowing under its revolving credit facility.
Earlier in the year, MPW acquired (1) the real estate assets of two general acute care hospitals in the Kansas City market for $75.0 million. (2) It commenced development of two inpatient rehabilitation hospitals for an aggregate development and construction cost of approximately $33.5 million. (3) It acquired the real estate assets of an inpatient rehabilitation hospital in Corpus Christi for $15.8 million. (4) It entered into definitive agreements and commenced development of free-standing emergency room hospital facilities. And (5) it disposed of two acute care hospitals from which it recorded a capital gain of $2.1 million (capital gains are not included in FFO.)
MPW's $700 million of investments in 2013 increased its total assets by approximately 30% since December 31, 2012. That amount greatly exceeded the company's acquisition target for the full year, which was $400 million. The acquisitions in the U.S. are expected to result in a weighted average yield of about 8.6% on an initial year cash basis with a weighted average lease term of 14 years. The actual yield in future years may exceed 9.25% when adjusted for rates of inflation. Each of the transactions was accretive to FFO.
Management expects to make at least $500 million in property acquisitions in 2014. Most of these investments should be in general acute care hospitals with the majority being with tenants new to MPW. It also expects to be opportunistic in capital markets and has a menu of financing options to choose from. They include common stock, preferred stock, some asset sales, and possibly joint venture financing. During the last six months, it completed two successful unsecured bond financings and was an issuer in the bank and convertible bond markets. MPW recently entered into equity distribution agreements with several brokers to sell up to $250 million in shares of its common stock from time to time in "at the market' offerings. Hence, up to 17 million shares could be sold in spot secondary offerings and thereby increase the number of shares outstanding by 9.5%. It will evaluate all of the options available and make the decision at the appropriate time to maximize the accretion while maintaining a prudent balance sheet.
Benefits from Expanding into Germany
Entry into the German market has compelling opportunities for MPW. The country has a strong economy and low unemployment rates along with universal healthcare coverage and payment policies. As a percentage of its GDP, Germany has the fourth largest healthcare system in the world. It guarantees its citizens access to a comprehensive health insurance program, and they can seek coverage under (1) the government-regulated public health insurance system, (2) private coverage from an insurance company, or (3) a combination of both options. Individuals receive coverage for a vast array of services, including preventive services, inpatient and outpatient hospital care, and rehabilitation services.
The definitive $245 million agreement with the leading German rehabilitation hospital operator RHM closed in 4Q13. It involved 11 facilities located throughout Germany in a 27-year master lease structure. The facilities are strategically equipped to address the needs of patients at various stages of rehabilitation. The portfolio consisted of nearly 1,800 beds with average occupancy rates significantly above the average for German rehabilitation clinics. RHM is owned by Waterland Private Equity Investments which will maintain its operational ownership.
In this single transaction, MPW added a host of assets to its portfolio having proven long-term financial stability. They also have substantial lease coverage at 1.75 times EBITDA and an operator with a track record of operational excellence. The investment will allow MPW and its shareholders to benefit from the stable German economy, favorable demographic trends and the operational expertise of RHM, all of which will help drive MPW's FFO growth. Furthermore, RHM has robust growth opportunities because there are significant consolidation opportunities in the highly fragmented German market for well-capitalized operators.
The transaction was funded with all-debt financing. It provides MPW with a "built-in" pipeline for additional investments and creates a platform from which it can pursue additional European opportunities where business dynamics that are highly complementary to those in the U. S. market. Management expects to leverage its extensive U.S. hospital expertise as it expands to new geographies.
FFO Estimates
In 2013 funds from operations were $0.96 per diluted share. That was a 7% gain from 2012's $0.90. Management expects the FFO to be $1.08 to $1.12 in 2014 excluding allowance for any contribution from new property acquisitions. Eleven analysts follow the company regularly, and their consensus FFO estimate shows an annual gain of 18% to $1.13 in 2014. The dividend of 84 cents represents a payout of 74% of the FFO estimate for 2014 (down from an average of 92% in recent years). With the stock trading at $13.25, it is priced at 11.7 times the FFO estimates for 2014. And, it sports a current dividend yield of 6.3%. The next ex-dividend date is about March 12 2014.
The book value is $8.33 per share. There are 161 million shares outstanding. Institutions own 73% of those shares and insiders own 2%. There are about 6 million shares sold short.
The Market Appeal of Healthcare REITs
The chart below was constructed from data readily available on Yahoo Finance. It compares the performance of MPW and four prominent healthcare REITs with two market barometers during the past year.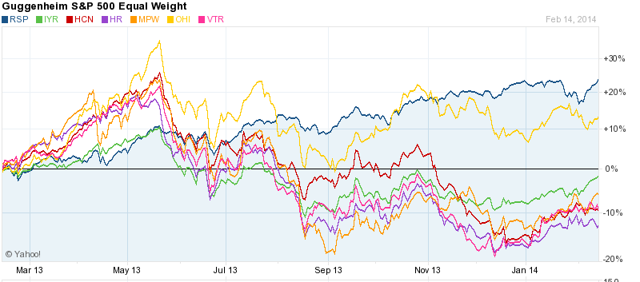 During the first five months of 2013, MPW and the four prominent healthcare REITs substantially outperformed the market as measured by the S&P Equal Weight Index (NYSEARCA:RSP) and the iShares Real Estate ETF (NYSEARCA:IYR). Those barometers are the blue and green lines on the chart, respectively. Since peaking in May all five of the REITs underperformed the RSP and most major industry groups. In fact, the healthcare sector turned out to be the weakest among the five equity REIT groups that I follow. While the market as measured by the RSP peaked when the REITs did, it rallied after a brief sell-off and went on to make new highs for the year. It backed off in recent days but is still trading near its high for 2013. MPW (orange line) and many other REITs couldn't sustain their attempted rallies and languished in the market as they finished 2013 at or near their lows for the year. MPW got as high as $17.46 in May and finished the year at $12.22, down 10 cents from where it began. Omega Healthcare (NYSE:OHI) was the best performer among the group, and it was one of the few REITs to show a gain (13%) for the year. Health Care REIT (NYSE:HCN), Healthcare Realty (NYSE:HR), and Ventas (NYSE:VTR) finished with net losses of about 12% for the year. All five of the REITs posted good operating results during 2013, but that didn't prevent them from performing poorly in the market. This underscores the fact that it is important to consider technical analysis as well as fundamental analysis when making investment decisions.
The table below relates to earnings estimates for 2014 and current dividend yields for the healthcare REITs. It is presented for the reader's perusal.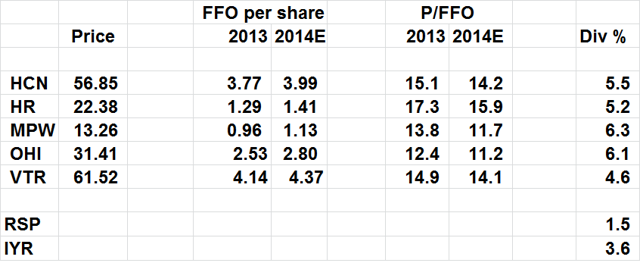 I believe that MPW and many of the 44 REITs that I follow have the "potential" to outperform the market as measured by the RSP in 2014 for several reasons: (1) the REITs will be posting significant gains in FFO, and they sport dividend yields well in excess of the 1.5% indicated for the RSP. (2) It is well known that the RSP levitated upward in recent years mainly because of the so-called "Bernanke Put" that was under the market due to QE policies of the Fed and not because of robust growth in earnings. That era is coming to an end because the Fed is now compelled to taper its purchases of bonds and eventually abandon its use of QE as a policy tool. (3) The political divide in the "do-nothing" Congress continues to grind on, and without fiscal stimulus by way of an infrastructure program, the pace of economic growth in the economy is most likely to be tepid. And most importantly (4) the REITs have already had their correction in the market and many of them are starting to rally off depressed price levels. As a result, I am neither bullish nor bearish on the economy, generally bearish on the stock market, and selectively bullish on REITs (and MLPs) where earnings growth is well defined and dividend yields are much higher than those available in other industry groups.
The Market Appeal of MPW
The chart below was constructed from data in my workbook.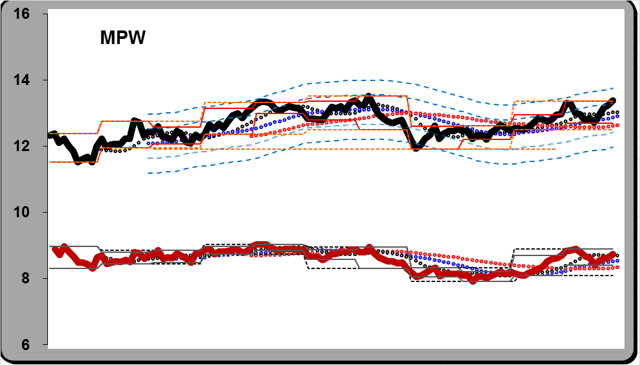 (1) The bold black line on top is price and the bold red line below it is relative strength. (2) The three dotted lines (black, blue, and red) are moving averages, and there is a set of those for price and a similar set for relative strength. They are used to define trends and detect trend reversals. (3) The 5 sets of solid-orange parallel lines and the 10 sets of dotted-orange parallel lines (the two overlap half of the time) that frame the price action are 22-day and 11-day trading ranges. (Similar gray lines are used for relative strength.) Their progression shows how the trading ranges shifted during the 110 days charted. And (4) the four wavy-blue hashed lines that straddle the price line are Bollinger Bands. They are used to detect overbought or oversold situations.
Any of the items listed as (2) or (4) is independent of the others and it could be used as a valid technical indicator for making buy or sell decisions. But in order of importance, the moving averages are of primary importance while the trading ranges, and the Bollinger Bands are of secondary and tertiary importance, respectively.
About six months ago, MPW appeared to make a bottom on its price chart at about $11.60. Since then, the price action of the stock has not been able to sustain an uptrend. Each attempt to show price strength on its moving-average trend lines was not accompanied by relative strength. Therefore, the favorable price action was short lived. During the past 22 days, the stock again showed strength on the price line, but this time it also showed strength on relative strength as well. And, the trading ranges also shifted upward on relative strength, which was not true previously. That offers some encouragement but (1) previous rally attempts failed and (2) other stocks in its peer group continue to be dullards in the market.
The price charts on HCN, HR, OHI and VTR are noticeably weaker than that of MPW, especially on relative strength bases. The group continues to be out of favor with the investment community. And until I see evidence of sustained buying interest in these stocks, I am not about to add to my position in MPW. I bought some shares at $12.48 in October 2013. I have been disappointed with its performance since then, and I am not about to buy more shares until I see tangible evidence that it (and hopefully the other healthcare REITs) is gaining favor with Mr. Market. I also like the fundamental investment merits of OHI and VTR, and when the time comes to invest new money in this space, I may even choose either of them over MPW. But, much depends upon the performance on their price charts.
I have not been ordained to preach, so I am not going to pound the table and tell you (the reader) that you must do as I do. I just wrote the article on a company I think has considerable investment appeal and told you what I am doing with the stock. It is up to you to discount what I wrote as you see fit and make your own decision according to your personal investment criteria.
Disclosure: I am long MPW, EXR, RAS. I wrote this article myself, and it expresses my own opinions. I am not receiving compensation for it (other than from Seeking Alpha). I have no business relationship with any company whose stock is mentioned in this article.