Executive summary:
Apache's likely re-emergence as an active player in the East Texas Eagle Ford sends a positive signal regarding the play's potential.
The endorsement is credible, given Apache's long-going experience with the formation.
Apache has extensive acreage in the play and ample financial resources to accelerate development should drilling results prove encouraging.
The development bears a positive read-across to Halcon Resources, Clayton Williams Energy, Comstock Resources (NYSE:CRK) and Anadarko Petroleum.
The article provides detailed account of Apache's recent and expected activity in the play.
_________________________________
The East Texas Eagle Ford Finds A New Sponsor
In a significant recent development - yet to be acknowledged by the market - Apache Corporation has re-initiated drilling in the East Texas Eagle Ford, and may soon emerge as one of the most active operators in the play. The endorsement from the E&P heavyweight is an important and credible signal regarding potential upside this emerging play has to offer.
In the second half of last year, following success in the East Texas Eagle Ford by Weber Energy (private), Halcon Resources (NYSE:HK) and Clayton Williams Energy (NASDAQ:CWEI), Apache joined the effort by drilling two "new-generation" horizontal tests of its own:
The first test, the Reveille #7H in Burleson County, was completed with a ~5,400-foot lateral and produced approximately 21,000 barrels of oil during its first 2.5 months on line.
The second test, the Leone #2H, also in Burleson County, was completed with a ~4,900-foot lateral and was turned to sales in December. Production from the well in December (partial month) was recorded at ~4,900 barrels of oil.
Apache spud two additional wells, the Stasny-Porterfield EF #1H and McCullough-Wineman EF #2H, in Brazos County in November 2013 (no public production data was available at the time of this note's submission). The Stasny-Porterfield is located in the vicinity of Halcon's highly successful Stasny-Honza #1H well, which has been on production since August of 2013. The McCullough-Wineman is a step-out test located by the Brazos-Grimes county line.
Apache's likely emergence as an active participant in the play is not at all surprising. Apache is one of the largest leaseholders in the Giddings area. The company's acreage position prospective for the Eagle Ford in East Texas spans several counties, including Fayette, Lee, Burleson, Brazos, Grimes and Washington (map below). Importantly, Apache has significant technical knowledge of the East Texas Eagle Ford and takes credit for discovering this play six years ago.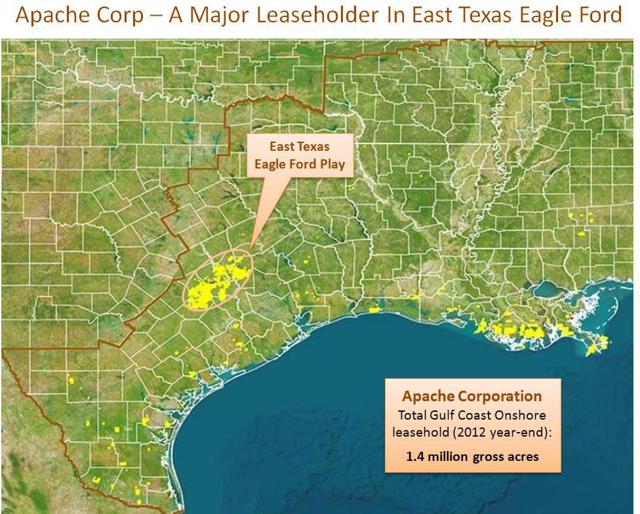 (Source: Apache Corporation; Zeits Energy Analytics)
Reveille! Reveille!
Perhaps even more interesting is Apache's recent permitting activity in the play. Since last November, Apache received approvals to drill 16 additional Eagle Ford wells in Burleson and Brazos counties. The majority of the permits were filed during the December 2013-January 2014 period, which may indicate that Apache was encouraged with its early drilling results.
The majority of the new permits - 12 out of the 16 - are concentrated on a 3,400-acre Reveille block, where two Eagle Ford horizontals are already producing.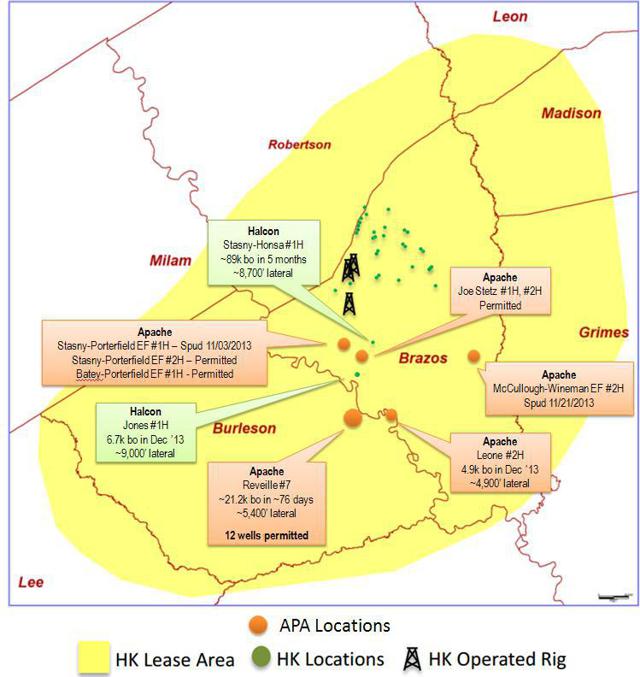 (Source: Zeits Energy Analytics)
The following table summarizes the status of Apache's most recent permitting activity in the play.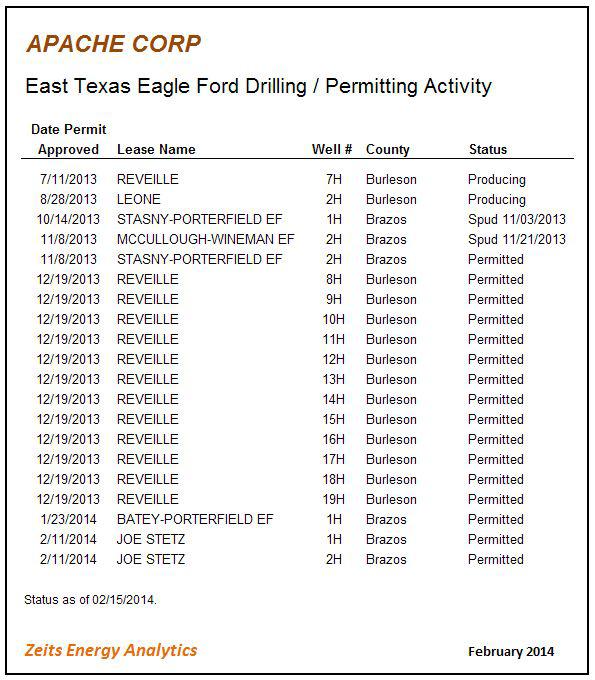 Apache Is The Pioneer Of The East Texas Eagle Ford Play
While Apache has been seldom mentioned in connection with the recent activity in the East Texas Eagle Ford, the company in fact has very strong historical presence in the play.
Apache's interest in the play dates back to 2008, when the company initiated an extensive vertical evaluation program in the Eagle Ford, followed by horizontal testing. In total, during 2008 and early 2009, Apache brought on production two dozen vertical and horizontal Eagle Ford evaluation wells, collecting vast operating data on the formation over a significant geographic area. Apache's evaluation program covered primarily Burleson and Brazos counties, with one well drilled in Lee County.
The company's 13 vertical Eagle Ford wells cumulatively produced, on average, approximately 8,000 barrels of oil over a five-year period (graph below). While the result may appear unimpressive, the vertical testing program provided extensive information of the formation and set the stage for Apache's horizontal drilling program that followed shortly after.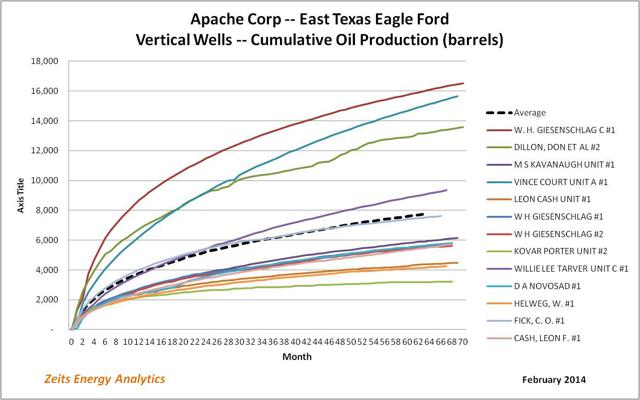 (Source: Zeits Energy Analytics)
During the second half of 2008 and in early 2009, Apache drilled 9 horizontal Eagle Ford tests in Brazos, Burleson and Lee counties. The nine wells had average cumulative production of ~37,000 barrels of oil over a five-year period. The best three wells produced an average of ~58,000 barrels of oil over the same time frame. While the result is obviously non-commercial, it is important to take into account that the wells were completed with relatively short laterals (~3,000 feet on average), used "old-generation" completion techniques and may have been suboptimal from the lateral landing standpoint.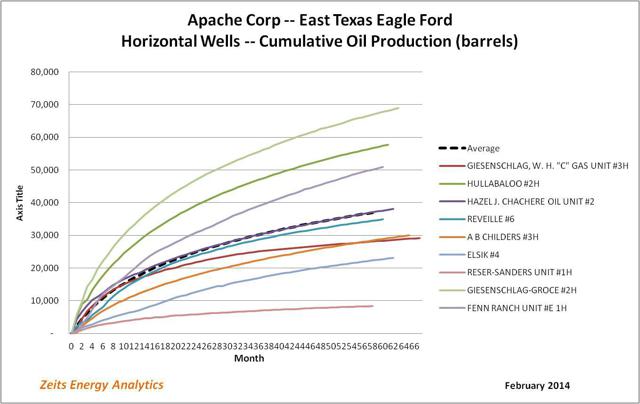 (Source: Zeits Energy Analytics)
Based on the results of its evaluation program, Apache decided not to pursue the play further and has not drilled any additional Eagle Ford wells until mid-last year.
On the surface, Apache's "old-generation" horizontal wells look weak. However, a closer examination indicates that those results could, in fact, be interpreted as inspiring. If Apache's 2008-2009 Eagle Ford horizontals shown on the graph above are "normalized" to a 7,500' lateral length - which has been more typical for Halcon's East Texas Eagle Ford program, for example - the cumulative production graph would look very different (below). The average cumulative oil production per well would increase to ~127,000 over a five-year period. Excluding the weakest three results, the average cumulative production per "normalized" well would exceed 150,000 barrels of oil in five years. While still falling a bit short of being commercial (in my estimation, EURs of 400,000+ barrels of oil are required for the play to have a shot at being competitive), the result nonetheless indicates very clearly that the Eagle Ford in this area can be successfully produced with horizontal frac techniques.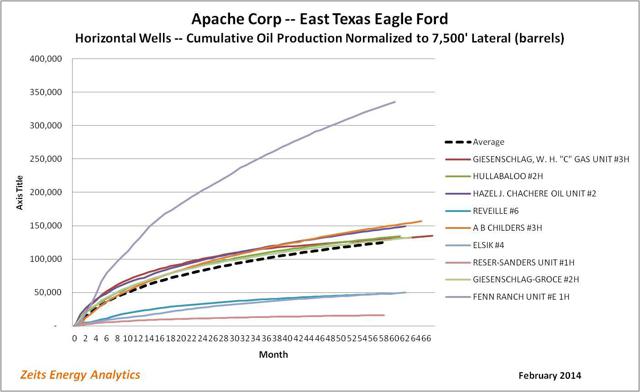 (Source: Zeits Energy Analytics)
New-Generation Completions May Re-Invigorate The Play
While it is still too early to evaluate the performance of Apache's most recent wells, the initial production data suggest that the Reveille #7H well is on track to exceed average volume for the company's 2008-2009 horizontals, on a length-adjusted basis, by over 60%. A similar (if not better) improvement can be seen from comparing Clayton Williams' new-generation Eagle Ford wells to its old-generation wells.
Given that the play is still in its infancy, it is not unreasonable to hope that drilling results will continue to improve and the operators will eventually identify the most prolific areas of the play that will "carry the day" in terms of drilling economics. In this context, it is important to focus not just on the average performance but also on the leading-edge results. Those best wells leave little doubt that the play has strong potential to prove economically competitive.
What About Anadarko?
Apache is not the only company that has a lot to gain from possible success of the East Texas Eagle Ford. Anadarko Petroleum (APC) is another potential major participant in the play, who has so far remained on the sidelines.
Anadarko's massive acreage position in the Giddings area dates back to its 2000 acquisition of Union Pacific Resources Company, at that time a leading driller in the Austin Chalk. As a result, Anadarko now has one of the largest exposures to the Eagle Ford play in terms of controlled acreage and, similar to Apache, has the ability to emerge as a significant participant should other operators' drilling results continue to improve. Anadarko's involvement has potential to be another significant catalyst for this emerging play.
Disclaimer: Opinions expressed herein by the author are not an investment recommendation and are not meant to be relied upon in investment decisions. The author is not acting in an investment advisor capacity. This is not an investment research report. The author's opinions expressed herein address only select aspects of potential investment in securities of the companies mentioned and cannot be a substitute for comprehensive investment analysis. Any analysis presented herein is illustrative in nature, limited in scope, based on an incomplete set of information, and has limitations to its accuracy. The author recommends that potential and existing investors conduct thorough investment research of their own, including detailed review of the companies' SEC filings, and consult a qualified investment advisor. The information upon which this material is based was obtained from sources believed to be reliable, but has not been independently verified. Therefore, the author cannot guarantee its accuracy. Any opinions or estimates constitute the author's best judgment as of the date of publication, and are subject to change without notice.
Disclosure: I have no positions in any stocks mentioned, and no plans to initiate any positions within the next 72 hours. I wrote this article myself, and it expresses my own opinions. I am not receiving compensation for it (other than from Seeking Alpha). I have no business relationship with any company whose stock is mentioned in this article.