Executive summary:
Wal-Mart is very likely to increase its dividend soon after it reports its fiscal Q4 2014 results.
The stock appears to be undervalued compared to its peers based on both TTM P/E and enterprise multiple.
Assuming a 15% increase to the dividend, Wal-Mart's forward yield is close to 3.00%.
_________________________________
While this stock seems to get a lot of hate, Wal-Mart (NYSE:WMT) has actually long been one of the better investments out there. The company has been able to deliver strong earnings and revenue growth year after year, which has itself fueled well above average double-digit dividend growth. Wal-Mart is also a rather inexpensive stock, trading at under a 14.00 forward 2015 P/E.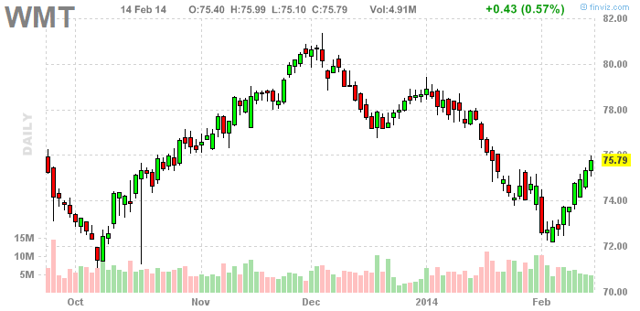 Profit warning dip was a clear buying opportunity
A few weeks ago, Wal-Mart updated its Q4 2013 (fiscal Q4 2014) guidance, warning that it now expects to see EPS come in at or below its previous estimate of $1.60 to $1.70. When coupled with the severe market turbulence seen during that time, shares of Wal-Mart fell well over 6% in barely a week.
However, this drop in share price seems to have been a classic buying opportunity as Wal-Mart's stock has now largely recovered from its losses. Indeed, Wal-Mart's performance has actually been largely inline with the broader market, hardly missing a step.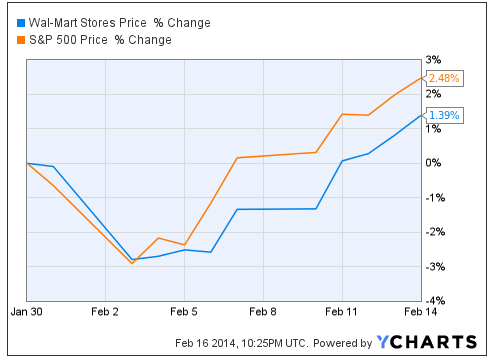 Wal-Mart has a long history of growth
Sometimes bigger is better. With Wal-Mart, this is certainly the case as it is already the world's largest retailer. However, even with its sizeable footprint, Wal-Mart has still shown impressive growth rates over the years.
Over the past 5 years, Wal-Mart has been able to increase EPS by over 50%, revenues per share by over 40%, while also reducing its share count by nearly 17%.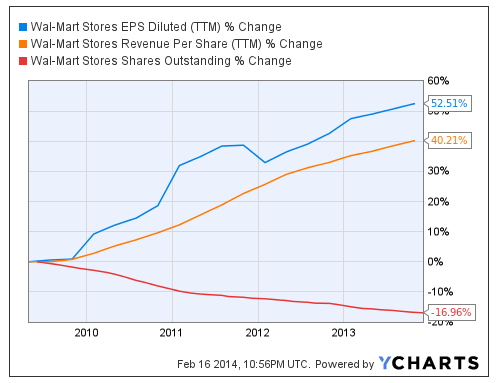 Furthermore, Wal-Mart's greatest area of growth clearly lies with its dividend. Over the past 5 years, Wal-Mart's dividend has increased a total of 72% with an average annual dividend increase of well over 14%.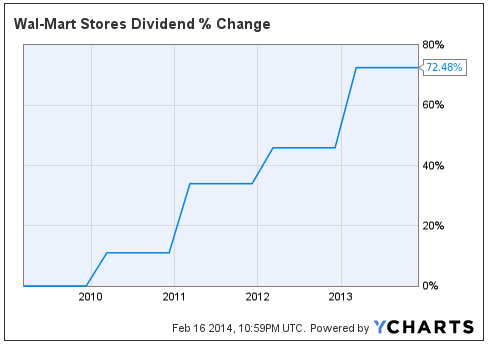 In addition, Wal-Mart is very likely to announce a dividend increase in the next few weeks. The company typically announces its new quarterly dividend level right after it reports its Q4 results. Wal-Mart's last dividend increase was for 18% to $1.88 per share, or $0.47 per quarter. Assuming that Wal-Mart boosts its dividend another 14% (its 5 year average), its forward yield would be about 2.82%.
Wal-Mart is cheap compared to its retail peers
Wal-Mart also seems to be cheap when compared to its peers. For the following I will be using Target (NYSE:TGT), Walgreen Company (WAG), and CVS Caremark (NYSE:CVS) as Wal-Mart's peers. Do note that each of these other companies do differ from Wal-Mart at certain levels. For example, some peers have little to no international presence compared to Wal-Mart and there are also some differences in terms of the profit centers for each of these retail chains.
Let us first look at TTM P/E. As shown below, Wal-Mart appears to be trading well below its peers in terms of its 14.60x valuation based on this metric. The drug store stocks Walgreen and CVS appear to be quite richly valued based on their P/E ratios approaching or over 20x, about 40% above Wal-Mart's. Indeed, even struggling Target is commanding a 3% premium to Wal-Mart based on its 15x P/E ratio.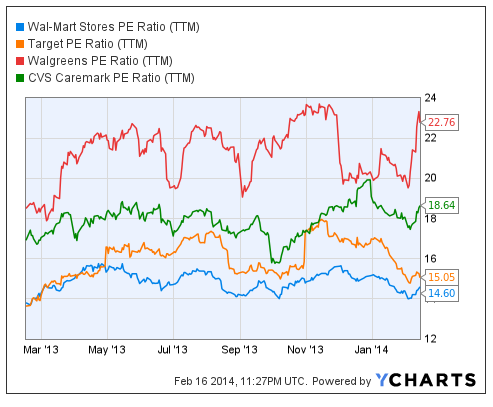 In terms of enterprise multiple, or EV/EBITDA, Wal-Mart's valuation to its peers appears to be much more rational. At about 9.3x, Wal-Mart is roughly inline with CVS, though still 40% behind Walgreen. Lowly Target seems rather cheap in this regard, at about a 7.0x multiple. However, given that stock's problems with security and its total reliance on the US consumer, that valuation may be warranted.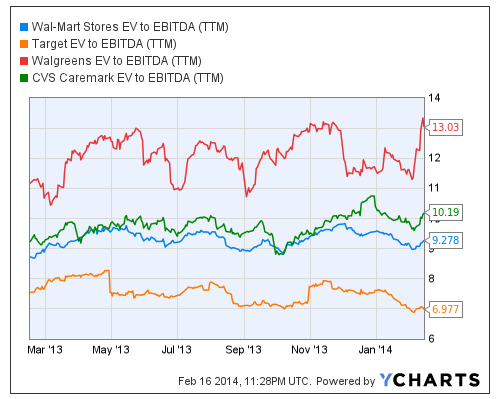 Save for Target, Wal-Mart also beats its peers where it matters the most for dividend investors, namely with its dividend yield. Furthermore, as noted above, Wal-Mart is likely to increase its dividend soon.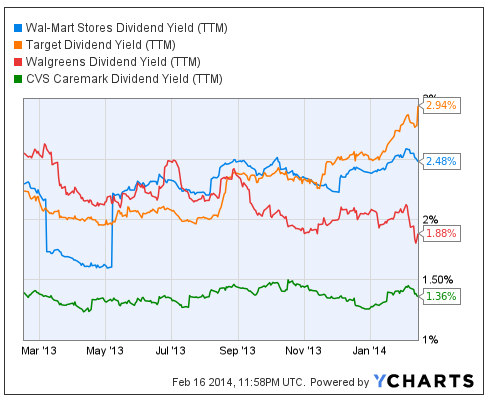 Conclusion
Yes, Wal-Mart is very likely to post lackluster quarterly results. However, this news seems to be already "baked-in" as the stock barely moved after the profit warning was announced.
Wal-Mart does have some long-term risks including its exposure to a possible minimum wage hike, it reliance on the "low-end" consumer, and the Mexican bribery allegations. However, no stock is perfect.
Given its current attractive valuation, long history of growth, and the upcoming catalyst of a dividend hike, Wal-Mart seems to be a stock worth considering for dividend growth investors.
Disclaimer: The opinions in this article are for informational purposes only and should not be construed as a recommendation to buy or sell the stocks mentioned. Please do your own due diligence before making any investment decision.
Disclosure: I am long WMT. I wrote this article myself, and it expresses my own opinions. I am not receiving compensation for it (other than from Seeking Alpha). I have no business relationship with any company whose stock is mentioned in this article.