Executive summary:
Berkshire Hathaway swapped one video provider for another.
It's apparent that Liberty Global looks better in terms of valuation and growth.
The stock has the potential for 25% annual growth over the next few years.
_________________________________
Berkshire Hathaway's (NYSE:BRK.A) (NYSE:BRK.B) fourth quarter 13F filing shows that Liberty Global (NASDAQ:LBTYA) is one of Warren Buffett's newest holdings. Liberty Global provides video, internet, fixed-line telephone and mobile services in Puerto Rico, Europe (U.K., Germany, Belgium, the Netherlands, Switzerland) and Chile. Berkshire also sold out of its position in DISH Network (NASDAQ:DISH). It appears that Liberty Global currently looks attractively valued, while DISH Network appears to be overvalued. The analysis of Liberty Global will show what investors can expect from the stock.
Valuation
Liberty Global is at a turning point for profitability. The company had negative earnings in each of its four quarters in 2013. However, EPS for 2014 is expected to be positive at $1.24 due to an improving gross margin. At first glance, the forward PE of 39.6 and PEG of 2.6 do not look all that attractive. I think what Berkshire is looking at is the fact that Liberty is expected to grow earnings at 143% this year and 70% in 2015. I think that Berkshire sees strong growth for Liberty beyond these two years. Another compelling metric is that Liberty has an enterprise value of $75 billion, but is only trading with a market cap of $33 billion. This suggests that Liberty has significant upside potential as earnings return to the positive side.
As a comparison, DISH Network's market cap of $26 billion is trading much closer to its enterprise value of $30 billion. DISH Network also has a high price to book ratio of 38 as compared to Liberty's reasonable price to book ratio of 2.73. This shows that Liberty is priced much more attractively in terms of its balance sheet as compared to DISH Network. Also, with Liberty Global, Berkshire is getting a more diverse company since it offers mobile and fixed-line telephone services in addition to video and internet. DISH Network only offers video and internet satellite services.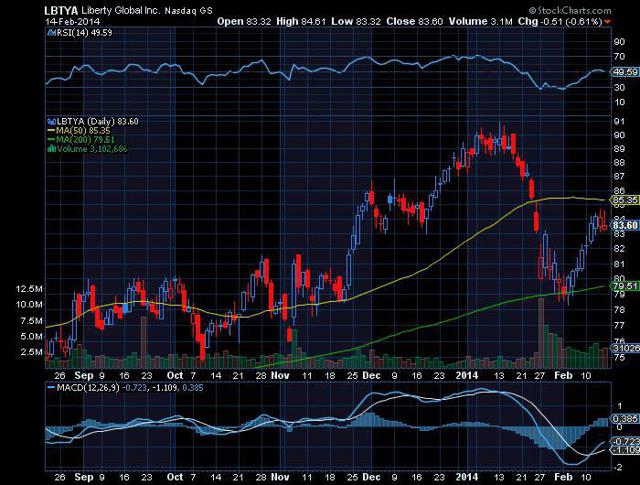 Future Growth
Liberty Global has grown its footprint over the years through acquisitions. The proposed acquisition of Netherlands cable operator Ziggo was the company's latest move to expand. The acquisition of Ziggo should provide Liberty with over $2 billion in additional annual revenue. The deal is expected to close in the second half of 2014. Liberty can continue to look for strategic acquisitions to further expand its operations throughout the world. This strategy is being used by similar companies in the industry such as Comcast (NASDAQ:CMCSA) (CMCSK). Comcast is getting aggressive with its acquisition strategy by going after Time Warner (NYSE:TWX). Liberty Global can continue to seek out other companies to expand its footprint and to increase revenue and earnings in future years.
Liberty can also grow within its current markets by adding subscribers and by offering customers additional or enhanced services. Faster internet speeds have been a popular upgrade with current customers as more devices are being used in a single household. When many devices are used simultaneously in one household, higher internet speeds are needed for seamless service. Additional income can also be generated in current markets through its DVRs, video-on-demand and pay-per-view services.
Liberty increased its share repurchase program to $3.5 billion which will be used through 2015. This should have a positive impact on EPS for 2014 and 2015 as more shares are retired. Liberty is expected to achieve average annual earnings growth of 25% to 26% over the next five years. This will come from revenue growth, gross margin improvement and buybacks. As mentioned earlier, earnings growth for 2014 and 2015 is expected to be significantly above the long-term average. For this reason, the stock should perform well for the next few years. The monopoly or oligopoly status that Liberty has in its markets reduces competitive risk, places a moat around the business and increases the likelihood of success for investors. Given the company's expected growth, I think the current stock price of $83 can reasonably trade over $100 by the end of this year and over $130 by the end of 2015.
Disclosure: I have no positions in any stocks mentioned, and no plans to initiate any positions within the next 72 hours. I wrote this article myself, and it expresses my own opinions. I am not receiving compensation for it (other than from Seeking Alpha). I have no business relationship with any company whose stock is mentioned in this article.