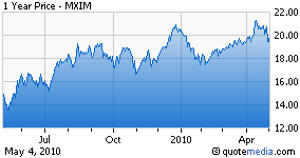 Maxim Integrated Products Inc.'s (MXIM) third quarter earnings missed the Zacks Consensus Estimate by $0.08. This was particularly disappointing since the company's closest competitors, Linear Technology Corp (LLTC) and Intersil Corp (ISIL) easily beat the Zacks Consensus. Moreover, we expect Semtech Corp (SMTC) to also exceed expectations.
Shares dropped sharply in response to the news, but started tracking up again, with the realization that weakness was primarily on account of inability to fulfill very strong demand and a significantly higher tax rate that will moderate in fiscal 2011. Fundamentals, however, remain strong.
Revenue
Revenue of $508.9 million was up 7.5% sequentially and 49.8% year over year. Although this was a neat increase, it fell slightly short of the mid-point of management's guidance range of $500-520 million (up 5.6-9.8% sequentially). However, the end market contribution was better than historical trends in the March quarter, with industrial picking up strongly, followed by consumer, communications and then computing.
Revenue by End Market
Consumer was the largest end market in the last quarter, with a 31% revenue share, growing 7.5% sequentially and 65.9% year over year. Consumer continues to be driven by very strong growth in the LCD TV market. The cell phone market strengthened marginally and order momentum is strong.
Industrial generated 26% of revenue, up 11.8% sequentially and 39.1% year over year. Segment strength was much better than historical trends and could indicate some pent-up demand. While growth was broad-based, automation and control remained the major driver. Medical also picked up in the last quarter.
The computing market generated 24% of revenue, representing sequential and year-over-year spikes of 3.2% and 56.3%, respectively. Revenue benefited from strength in the financial terminal and notebook segments.
Communications brought in the remaining 19% of revenue, a sequential increase of 7.5% and a year-over-year increase of 35.5%. Again, communications growth was broad-based across all segments, although fiber optic modules remained exceptionally strong in the last quarter.
Orders
Management does not provide specific information on orders, as shifts in customer vendor managed inventory programs distort quarter-to-quarter comparisons.
Our estimates indicate that orders were up double digits in the last quarter, the second straight quarter of double-digit increase. The strong growth in orders, coupled with lower turns, seems to indicate the stretching out of lead times. Consequently, backlog grew strongly in the last quarter. In fact, the stretching out of lead times is one of the main reasons why revenue fell short of expectations.
This trend is expected to continue, as the company remains supply-constrained, despite its efforts regarding the stepping-up of internal utilization rates, as well as agreements with existing and new foundry partners. The book-to-bill ratio was well over unity.
Both end customers and distributors increased their bookings, so inventories at Maxim were down 3% in the last quarter. Although distributor sell-in increased, sell-through was extremely strong. Customer lead times stretched by a couple of weeks.
Consumer market bookings were up strongly, driven by market share gains in several products targeted at the LCD TV market. Additionally, cell phone demand also returned after the year-end inventory rebalancing, and the company recorded a number of new design wins at both domestic and international customers.
Although notebook demand is the largest driver of bookings in the computing market, the company also saw strength in servers, storage and financial terminal segments, which were fueled by higher enterprise spending. The expansion of the portfolio of products serving the financial terminals vertical also helped.
Communications bookings grew strongly across all segments, with particular strength in datacom and base stations. Orders for telecom, networking and datacom products were driven by the next stage of 3G deployment in China.
All segments within industrial witnessed strength in the last quarter, although bookings were particularly robust in medical, control and automation, and automotive segments.
Margins
The pro forma gross margin was 60.7%, down 96 basis points (bps) sequentially and up 765 bps year over year. While this is within management's guided range and also the long range targeted model of 60-62%, the decline is a trifle disappointing especially given the fact that the high-margin industrial business had such a good quarter. Management attributed the decline to inventory credits in the December 2009 quarter that were absent in the March quarter.
Operating expenses of $180.0 million were flattish sequentially in absolute dollar terms. However, the operating margin of 25.3% was up 161 bps sequentially and down 2,224 bps year over year. Stock-based compensation expenses were notably lower at 5 cents a share, compared to 9 cents in the previous quarter and 13 cents in the year-ago quarter. However, these expenses will trend up again, since the reduction was on account of a one-time adjustment. Research and development expenses will also trend up, since design activity remains strong.
Net Income
The pro forma net income was $55.7 million, or a 10.9% net income margin compared with $47.9 million, or 10.1% in the previous quarter and a loss of $8.3 million, or 2.5% in the year-ago quarter. Our pro forma calculations exclude restructuring charges, certain one-time litigation charges and tax adjustments related to international restructuring in the last quarter.
Including these items, on a fully diluted GAAP basis, the company recorded a net income of $65.8 million ($0.21 per share) compared with $58.6 million ($0.19 per share) in the December 2009 quarter and a net loss of $26.4 million ($0.09 per share) in the March quarter of 2009.
Balance Sheet
Inventories were down 2.8% to $190.6 million. Inventory turns were 4.2X, down slightly from 3.6X in the December quarter. Days sales outstanding went down from 54 to 53.
The cash and marketable securities balance was $858.9 million, up $20.3 million during the quarter. The cash generated from operations was $164.5 million, of which the company spent $25 million on PP&E, $61 million on cash dividends and $49 million on share repurchases in the last quarter. Maxim has no long-term debt and long-term liabilities totaled $200.9 million at quarter end.
Guidance
In the fiscal fourth quarter, revenue is expected to lie in the $550-570 million range (up 8.1-12.0% sequentially). The revenue increase is expected to be broad-based across all served end markets. The guidance takes into account the company's ability to fulfill demand and management expects to add sufficient internal capacity to be able to generate $50-75 million of incremental revenue.
The GAAP gross margin is expected to lie in the 60-62% range. While within a tight range, product mix, utilization and inventory reserves will continue to result in slight sequential variations.
Operating expenses are expected to increase to $188-192 million, as stock-based compensation comes back within the normal range. An additional $19 million provision for taxation will be made in the next quarter for international restructuring.
The tax rate, excluding special items for international restructuring, is expected to be 36%. The pro forma EPS is expected to be $0.30-$0.33. The Zacks Consensus at the time the company announced guidance was earnings of $0.28 a share.
Capital expenditure is expected to be at the high end of the targeted range of 5-7% for the year.
Estimates Going Up
There have been significant estimate revisions since the company reported last week, with 8 of the 24 analysts covering the stock already raising estimates for the June quarter. Analysts have also raised estimates for fiscal 2010 and 2011. Overall, 7 analysts have raised their estimates for fiscal 2010 and 9 for fiscal 2011. Moreover, the agreement between analysts also appears to be strong since only one analyst lowered estimates for the June and September quarters, while no one lowered for the two fiscal years. This raised the fiscal 2010 estimates by 2 cents and the fiscal 2011 estimates by 5 cents. We expect further upward revisions over the next few days.
Moreover, the earnings surprise history for the last four quarters seems to suggest that analysts have been conservative in their estimations, since Maxim has beaten the Zacks Consensus by 30.13% on average. Since estimates appear to be improving, the surprise percentage could come down in future.
We have a Neutral rating on Maxim shares, since we believe that order fulfillment will be something to watch out for.
Disclosure: No positions