Tesla (NASDAQ:TSLA) shares skyrocketed out of the gate this morning yet again, leaving the $200 mark well behind.
It's been part of an unheard of 12 months for the auto maker, which finds investors with nearly 4.5 times as much money they had if they invested in the company just a year ago. For the last three months alone, Tesla has been up 67%.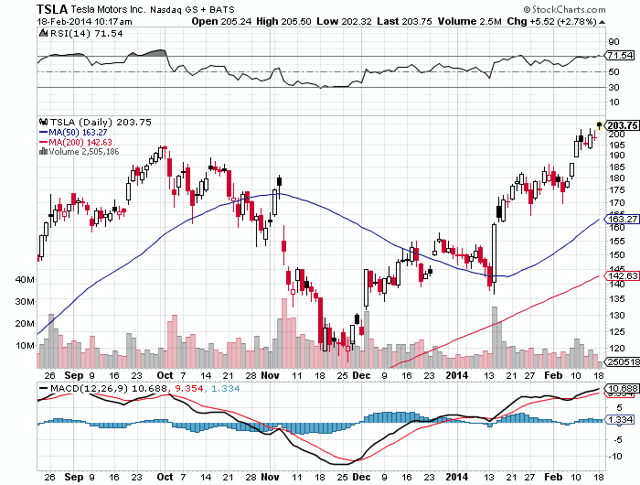 This morning's move is in response to news that dropped over the weekend that Apple's (NASDAQ:AAPL) M&A chief, Adrian Perica, had a meeting with Tesla's CEO, Elon Musk, in California last year. CBS Marketwatch reported:
Apple Inc.'s AAPL +0.92% merger and acquisitions chief, Adrian Perica, met with Tesla Motors Inc.'s TSLA +2.65% chief executive, Elon Musk, in Cupertino, Calif., last year when speculation abounded that the iPhone maker could make bid for the electric car maker, The San Francisco Chronicle reported in its online edition Sunday, citing an anonymous source.

The report suggested that a high-level meeting between two major Silicon Valley players is a sign that Apple was very interested in Tesla.

The Chronicle also reported that Apple is looking at the medical devices business, specifically technology that can predict heart attacks.

Led by Tomlinson Holman, a renowned audio engineer who invented THX and 10.2 surround sound, Apple is exploring ways to predict heart attacks by studying the sound blood makes at it flows through arteries.

Apple's interest in electric cars and medical devices, areas far afield from its core business, is a clear signal that the tech giant is looking to take risks and expand beyond iPhones and iPads, the newspaper said.
With regards to that meeting, what do I think? I think it's much more likely that the companies would be discussing a potential partnership for iOS to run in Tesla cars - as Apple has already come out and said they're working on iOS for vehicles - as opposed to Apple doing something drastic like buying the company.
First, I don't think Musk would sell to Apple at current levels. Secondly, the first scenario just makes a lot more sense when looked at from all angles. After all, the inside panel to Tesla's Model S does look suspiciously like an iPad.
Tesla is set to report earnings tomorrow, February 19th, and my earnings trade is to write out of the money covered calls or hedge with puts if you're long.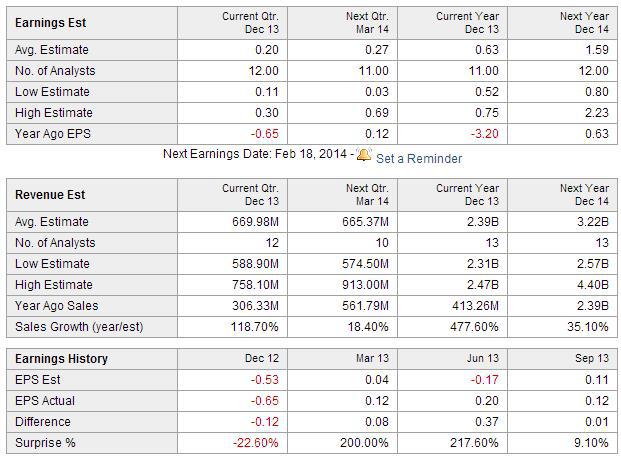 We need to remember that Tesla's great Q4 and guidance is already priced into the stock - that's what stopped the company's freefall back down under $140 in the beginning of January. Since then, the stock has been on a tear. So, unless Musk comes out with something out of left field, that news is already priced in.
The amount of news that Tesla can come out with, by process of elimination, to move the needle up is far outweighed by the potential negative (or what the market would view as negative). We've had a great run these last three months, now it's time to take a deep breath and remember to trade smart.
TSLA $220 calls that expire on Friday this week are selling for a $5.19 premium per share right now. I'd be ripping off as many of these as I could and banking the premiums immediately. They carry almost no theta, are priced simply due to potential IV from earnings, and are a great way to hedge.
Here's a list of ways the Tesla trade can turn out:
1. You're wrong and the stock rockets about $220. You have to sell your shares at $220 to someone, which still represents about a 8% upside to today's current trading price. Win.
2. Tesla does nothing and stalls. You're still up on your original trade big, plus you've just collected $519 for every contract you've written.
3. Tesla fails to impress and dips. Again, you're going to keep all of the premiums which you just sold those contracts for, and have a potential buying opportunity for more TSLA if you want to remain long.
Don't get me wrong, I remain an enormous Tesla bull and am bullish on the company for the long term. But, I think the unique timing of these earnings makes this a spot where the smart trade is, amongst the mass positive hysteria, to hedge a bit.
If you're long the stock, you can also hedge buy going long (buying to open) vanilla puts.
I remain a long term bull on Tesla and wish investors the best of luck going into earnings.
Disclosure: I have no positions in any stocks mentioned, and no plans to initiate any positions within the next 72 hours. I wrote this article myself, and it expresses my own opinions. I am not receiving compensation for it (other than from Seeking Alpha). I have no business relationship with any company whose stock is mentioned in this article.