By Damien Hoffman
This morning the Wall Street Journal is out with an excellent piece of journalism exposing our elected officials of hypocrisy only Dante can appreciate:
According to The Journal's analysis of congressional disclosures, investment accounts of 13 members of Congress or their spouses show bearish bets made in 2008 via exchange-traded funds — portfolios that trade like stocks and mirror an index. These funds were leveraged; they used derivatives and other techniques to magnify the daily moves of the index they track.
Shameless. While Washington was spending 24/7 trying to reassure the fearful masses, behind closed doors these assholes took off their public servant hats and started making money off the crashing portfolios of their constituents. If they were regular citizens they were free to bet their money however they chose. But as elected representatives who were supposed to calm the selling panic, this feels criminal (although I am sure it's completely legal).
This excellent report comes on the heels of Goldman Sachs' (NYSE:GS) public tongue lashing by Congress. Seems Congress better get their act together and figure out which team they are on before they continue their reprimands. (Of course, this has absolutely no bearing on whether Goldman broke the law.)
Unfortunately, this is yet another example of lawmakers enriching themselves first and representing us second. We are all free to work in either the public or private sector. If you choose a career in public service, serve the public. It's really not complicated.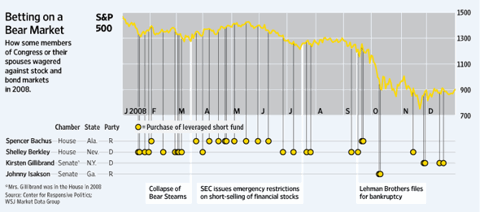 Click to enlarge
(Click to enlarge)
Disclosure: No positions