Executive summary:
Philip Morris is undervalued compared to its peers.
The company should command a premium to peers due to its international growth prospects.
Quarterly results met expectations, yet the stock still fell 5%.
Share buybacks are slated to decline in 2014 due to increased capital investments.
_________________________________
About a month ago, I wrote my thoughts about Philip Morris (NYSE:PM) and the potential reasons as to why the stock has been struggling. Soon after that article was published, Philip Morris reported its Q4 2013 results and the stock subsequently collapsed 5% before recovering most of its losses over the past week or so. I believe this decline was an overreaction by the market and that Philip Morris' stock clearly remains undervalued.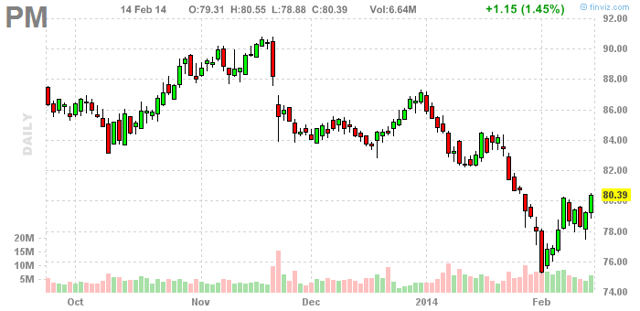 Click to enlarge
Q4 2013 Overview
On February 6, Philip Morris reported its Q4 2013 results. Overall, Philip Morris' results were quite strong, likely the best quarter of 2013 for the company. For the quarter, the company posted net revenues after excise taxes of $7.8B, down about 1.3% from last year, but broadly inline with estimates. Cigarette shipment volumes were down 4.3% to 223.2B units. However, when adjusting for the Philippines, volumes were down only 1.9%.
EPS came in at $1.24, down 1%, or $0.01, from last year. However, when adjusted for forex and other one-time items, Philip Morris' EPS was actually $1.35, up 8%, or $0.10, from last year.
2014 Guidance
Philip Morris' 2014 guidance clearly demonstrates the struggles it is facing in regards to forex issues. Below are some of the key figures provided:
Diluted earnings per share of $5.02 to $5.12, down from $5.26 in 2013

Unfavorable currency impact: $0.71 per share

Adjusting for currency, earnings are projected to grow 6% to 8% from the $5.40 of adjusted earnings in 2013

One-year productivity and cost cutting gains of $300 million

Share repurchase target for 2014 of $4.0B
As shown, Philip Morris will be taking a massive $0.71 per share hit to its earnings in 2014 due to forex issues. Excluding this impact, Philip Morris guidance points toward adjusted EPS growth of between 6% to 8% in 2014 from 2014's adjusted EPS of $5.40. Philip Morris' projections also assume $4.0B in share buybacks and $400M in savings due to cost cuts and other productivity measures.
Share buybacks to slowdown in 2014
Also note that Philip Morris guidance points toward $1.0B per quarter in share buybacks. This would mark a slowdown in Philip Morris' buyback program from 2013's $1.5B per quarter. As I noted in my previous article, a slowdown in share buybacks was already widely assumed as the company mentioned in November that 2014 was to be an "investment" year.
The company will need to use a portion of its cash flows for capex related to e-cigarettes and expansion into cigarette volume growth regions. This is already well underway as seen by Philip Morris' purchase of several equity stakes in Russian, Algeria, and Mexico, as well as its €500 million ($686.5 million U.S.) investment in a manufacturing facility near Bologna, Italy.
Do note however that Philip Morris' dividend policy will likely remain unchanged. The company has long stated that it targets its dividend growth based on its adjusted currency neutral earnings. Furthermore, Philip Morris' payout ratio has been typically pegged at about 65% to 70% of adjusted EPS. Therefore, I think Philip Morris will be able to easily boost its dividend in 2014, likely to about $1.00 per share per quarter, implying a forward yield of 5%.
Philip Morris is clearly cheap compared to its domestic peers
As I noted in my previous article, Philip Morris is now very attractively priced when compared to domestic tobacco companies such as Altria Group (NYSE:MO), Lorillard (NYSE:LO) and Reynolds American (NYSE:RAI).
By TTM PE, Philip Morris now trades at about the same multiple as all of its peers, though Lorillard is above the group mainly thanks to its Blu brand of E-cigarettes.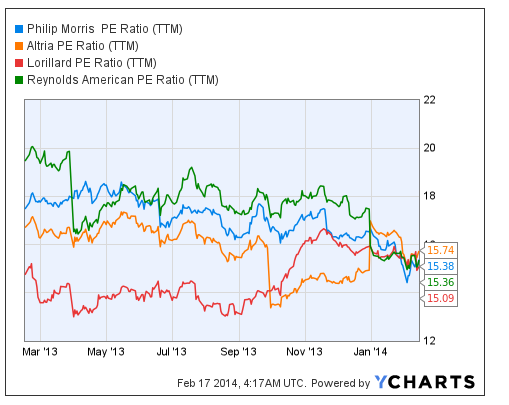 Philip Morris is also extremely cheap based on its FCF, or free cash flow, generation. As these stocks are often seen as income and/or dividend plays, their ability to generate cash is a good yardstick for valuation. As shown below, Philip Morris is priced at a discount compared to all of its peers.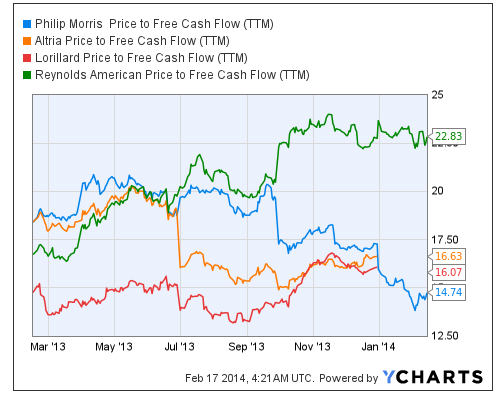 Frankly, Philip Morris has no reason to be anywhere close to the valuation of these stocks as it has much better growth prospects. US tobacco stocks face a population whose demand for cigarettes is in secular decline.
Volumes are declining throughout the industry, with both premium brands and discount brands suffering equally. In addition, some consumers are shifting to e-cigarettes, further cutting into traditional cigarette volumes.
While Philip Morris is also facing some volume declines, it does have access to major growth markets, especially in Africa and Asia. However, the same cannot be said about US tobacco stocks. Save for E-cigarettes and chewing tobacco, tobacco volumes have been declining for decades in the states.
Conclusion
Yes, Philip Morris will face EPS declines in 2014. However, this is due to forex issues rather than operational problems. If the situation were reversed and Philip Morris were seeing large forex tailwinds, the stock would command a much higher premium as was the case in 2011 and 2012.
With the stock trading at levels not seen in roughly two years, Philip Morris is clearly a buy at current prices. Its FCF generation remains robust, while its 4.70% dividend yield is hard to beat.
Disclaimer: The opinions in this article are for informational purposes only and should not be construed as a recommendation to buy or sell the stocks mentioned. Please do your own due diligence before making any investment decision.
Disclosure: I am long PM, MO. I wrote this article myself, and it expresses my own opinions. I am not receiving compensation for it (other than from Seeking Alpha). I have no business relationship with any company whose stock is mentioned in this article.