Pandora (NYSE:P) has begun its bounce back since its earnings call earlier this month, where the company's guidance failed to impress the street and the stock was clipped accordingly. Since falling a bit on earnings, the institutionally propped company began its slow walk back upwards, now pressing again at the $37.50 levels we saw prior to earnings. For the last year, the company has shown returns of 188% - and technically, since the beginning of 2014, it's up 40.8%.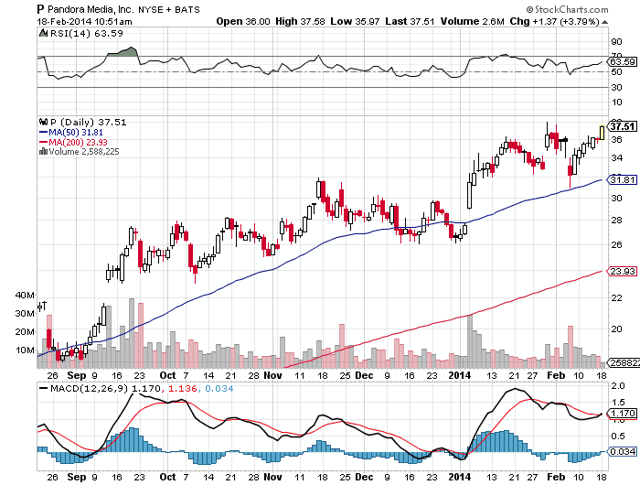 Earlier this month, Pandora reported EPS of $0.11 ex-items versus expectations of $0.08. The company also reported revenues of $200.8 million versus expectations of $201 million. It is the best quarter in terms of profitability that the company has ever had.
Pandora's guidance for the first quarter was for a loss between $0.14 and $0.16 per share, with revenues of $170 million to $176 million. Revenue for the year is supposed to be between $870 and $890 million with EPS ex-items of $0.13 to $0.17 a share.
It wasn't the guidance the street was looking for on this stock that trades at over a hundred times forward earnings.
There is no doubt to those of you that read me regularly that I'm bearish on Pandora. I simply just don't see this company correctly valued at $7.1 billion when it has struggled to turn a profit, is competing with Apple and Google, and hasn't shown the explosive growth necessary to warrant such a high multiple.
One of the biggest vulnerabilities for Pandora is the amount of people with the amount of resources they have competing in streaming radio. The one thing the company didn't need is another competitor on the same playing field - which is now growing extremely quickly.
This morning, the bear case just a tiny bit more news when Seeking Alpha reported that there's speculation that Spotify - another Pandora competitor - is likely getting set up for an IPO:
Spotify has posted a job listing for a U.S. financial reporting specialist, a move that's fueling speculation the streaming service is getting set for an IPO.
A banker talking to Reuters thinks Spotify could be valued at $7B-$8B in an offering. Last year, the company raised $250M at a reported $4B+ valuation. Rival Pandora , whose shares have taken off over the last 12 months, is currently worth $7.1B.
Spotify has reported 2012 revenue of $577M, and a net loss of $77.9M; its 2013 were doubtlessly higher. The company has 24M+ active users and 6M+ paid subscribers. Pandora, by contrast, had 2013 sales of $647.5M. It had 73.4 active users at the end of January, and ended December with 3.3M paid subs (lower ARPU than Spotify).
Why is this important - what does it do for Spotify, exactly?
Well, first, going public is going to give Spotify the financial backing that the company is going to need to have a shot at serious growth. Whether the company continues its current game plan or tries growing in a new, unique way, they're certainly now going to be on a more level playing field with Pandora in terms of resources and financial backing.
The second thing it's going to do is make sure that comps between the companies are all consistent with one another. When you're private, you can report to the public whatever metrics you want, whenever you want to, and in whatever accounting methods you want. This is going to force some real industry comps for Pandora, who's numbers would likely be pinned directly up against Spotify's if and when the company becomes public.
This, in turn, focuses the microscope on the company just a bit more, and may help to let the public see that Pandora's valuation may be a tad out of control.
Pandora's CEO, on the other hand, doesn't seem to be very forward looking. He commented on the company's last call that last years metrics were more important than the coming year's guidance. Even junior brokers working their first week know this isn't true - and it especially isn't true for a company trading at Pandora's multiple.
With Spotify likely to help crash the party, I'm still cautious on Pandora's long-term prospects. Again - even if the company survives and flourishes, it's still likely that its valuation gets roped in at some point - likely around the time the institutions exit.
I'm bearish Pandora long-term. Best of luck to all investors.
Disclosure: I have no positions in any stocks mentioned, and no plans to initiate any positions within the next 72 hours. I wrote this article myself, and it expresses my own opinions. I am not receiving compensation for it (other than from Seeking Alpha). I have no business relationship with any company whose stock is mentioned in this article.