Of all the names I follow on Seeking Alpha, there may not be a more crucial report this quarter than for biotech darling Dendreon (NASDAQ:DNDN). The name that brings you the prostate cancer treatment Provenge has a lot to prove in 2014, which could prove to be a make or break year for the company. With the announcement that Q4 results will be officially out on March 3rd (the company did pre-announce), investors need to prepare. Dendreon has a number of questions to answer, which hopefully management does at this report. Today, I'll break down the key numbers and statements to watch for, and look at this crucial year for the company.
Fourth quarter of 2013:
About a month ago, Dendreon pre-announced some of its fourth quarter results. The company said that preliminary Q4 revenues would be $74.8 million, which was about $2 million ahead of analyst estimates at that time. The company mentioned that revenues were up about 10% from Q3. While that was positive, and Q4 revenues were the best quarter of the year, Dendreon still will announce a 12% or so yearly drop from 2012. Dendreon also beat significantly reduced estimates. Between Dendreon's Q3 report and the Q4 pre-announcement, analysts had reduced estimates by about $9 million. That was not a surprise after three bad quarters. Current analyst estimates call for $73.59 million in Q4 revenues, so Dendreon should announce a revenue beat at the actual report.
However, there still are a bunch of numbers we didn't hear in the pre-announcement. Dendreon did not provide any income statement numbers other than revenues. Gross margins will be a key, as will be expenses. Dendreon has announced another restructuring aimed at saving even more on the operating side. Also, how much did Dendreon lose for the quarter? That's a key number, and will also go towards cash flow. The balance sheet is key for Dendreon, and I'll cover that in the next section.
Balance sheet and debt payment:
The following table shows a history of Dendreon's balance sheet and key financial ratios in the past couple of years, ending Q3 2013. (Dollar values in thousands.) The debt ratio presented in the table is also known as the liabilities to assets ratio.

An ever-weakening balance sheet is one reason I started pitching Dendreon as a short in the mid teens. While I have not been one that has definitely called for bankruptcy, there are some out there that believe it will happen. At least one analyst has a price target on the stock of $0.
Dendreon stated in the pre-announcement that cash on hand was about $199 million at the end of 2013. That means that about $34 million in cash was burned through during Q4, which sadly was the best cash burn quarter of the year. Dendreon's restructuring plans, improving revenues, and other efforts like automation are expected to help cash flow. In the past, Dendreon was targeting cash flow being positive at $100 million in quarterly revenues. Dendreon is a ways away from that revenue number, but hopefully some of these restructuring efforts can lower that bar.
Dendreon management stated on the Q3 conference call that it expects to provide more detail on the debt situation at the Q4 report and call. Dendreon has nearly $28 million in notes due in June. If Dendreon pays back the money, it would take away about 14% of the Q4 ending cash amount. That percentage is most likely even higher now as the company has probably burned through more cash since 2013 ended. The working capital balance would not be affected here, since the notes are classified as a current liability. However, with working capital trailing cash in recent quarters, Dendreon is getting a bit closer to the edge. One possibility is to refinance the notes, but with a balance sheet this weak, it will either require a high interest rate or more convertible notes. It might be easier to just sell stock.
Dendreon also had more than $550 million in notes due in 2016 at the end of Q4, and the amount due increases each quarter. Dendreon will need to significantly improve its cash position in the next couple of years, or the same issue the company is facing now will come up again. Dendreon management has a lot to answer for when it comes to the balance sheet, cash, and debt. This may be the most important part of the call. If Dendreon doesn't improve cash burn quickly, bankruptcy will become an increasing possibility. The company is not to that point yet, but it is not out of the question.
European opportunity:
In 2013, Dendreon received marketing authorization for Provenge in the EU. Dendreon's ability to get Provenge into Europe was one of the biggest points for the bull camp. Dendreon is looking for potential partners in the region, and news could be announced on the call. It might be nice if the company also announced a launch date. On the Q3 call, an analyst asked when he could start to model revenues for Provenge in Europe. Dendreon wouldn't give a date. It's also unclear how big the potential opportunity would be at first, and whether or not this opportunity would incur more losses for the company. More losses probably means more cash burn, which Dendreon cannot afford right now.
One of the items that will be key for Europe is automation, which is expected to significantly reduce the cost of goods sold. Dendreon believes it can get the cost of goods sold down into the 30s (percentage of revenues). In Q3, the cost of goods sold was roughly 60% of revenues. Dendreon has not been able to get the cost of goods sold down as much as hoped recently, which is one reason why heavy losses have continued and cash burn has been high. The good news is that Dendreon feels it is better prepared for a European launch than the company was for its US launch.
Short interest headed lower:
One item I have detailed a bit in the past few months when it comes to Dendreon is declining short interest. Dendreon has been a very heavily shorted stock for years, and throughout much of 2013 short interest went higher and higher. The number of non-believers continued to increase, and that was not surprising given the company's multiple disappointments in the year. At the peak in mid-October 2013, just under 60 million shares were short. That was about 40% of the float and outstanding share count (which average about 150 million between the two). That's an incredible amount, and was another reason why some investors were so bullish on Dendreon. With any good news, a massive short squeeze seemed plausible. For a while though, there was no good news. Well, the latest short interest update is out, and you can see how the number fared in the chart below.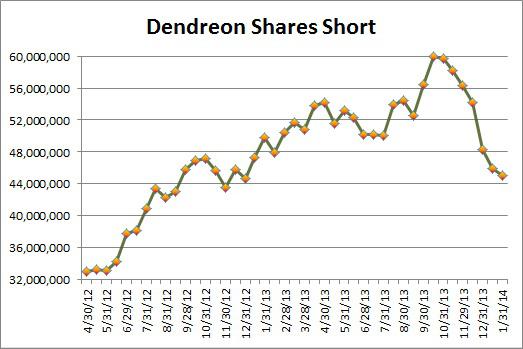 At the end of January, just over 45 million shares were short. During January, a little more than 3.3 million shares short were covered. As you saw in the chart above, this was the seventh straight decline for short interest in Dendreon. Nearly 15 million shares, or about 25%, have been covered since the peak. Dendreon remains a highly shorted stock, but short interest has come down a bit. The end of January number was a 13-month low.
Competition:
One of the reasons Dendreon struggled so much in 2013 was competition from Zytiga and Xtandi. Zytiga is a product from Johnson & Johnson (NYSE:JNJ) while Xtandi is from Medivation (NASDAQ:MDVN). Dendreon was completely derailed in Q1 thanks to competition from these other products. Dendreon provided this competition update on the Q3 call:
First, let me address competition. During the third quarter, the competitive environment continued to evolve. Specifically ZYTIGA and XTANDI increased their share in the post-chemo setting, and we have begun to see some impact of XTANDI in the pre-chemo setting in oncology.

We continue to see the greatest impact of competition in small and low volume accounts across our market segments. Some of our top urology accounts slowed during the quarter. Urology, while down in the third quarter, is up 30% from Q1 to Q3 of 2013, over the same period in 2012. We continue to believe community urology has significant growth potential and believe our commercial efforts will enable us to continue to grow in this segment.
While they are competing products, there are studies being done currently to determine if multiple products can be used at once. Dendreon discussed this on the call as well:
The Phase II sequencing study of PROVENGE and ZYTIGA is also fully enrolled. Data presented at ECCO indicate that PROVENGE and ZYTIGA can be given concurrently, without affecting PROVENGE potency and immunologic prime boost responses. In addition, the safety profile of drugs in combination appear to be consistent with the individual drugs' existing labels.

These data may lead physicians to enlarge the pool of patients they consider for PROVENGE to include those with rapidly progressive disease who may be in need of cytoreductive therapy in the near term.

Finally, the Phase II sequencing study of PROVENGE and XTANDI is also active and enrolling patients, and the first patient has been treated.
At this point, you have three very different companies. Dendreon is the smallest of these three companies, with a market cap just above $450 million as of Friday's close. Medivation had a market cap just over $6 billion, and has been one of the market's biggest winners in recent years. Johnson and Johnson is an industry giant of course, with a market cap of over $261 billion.
In terms of revenues, Dendreon was expected to have a little more than $285 million in 2013. Medivation was expected to see revenues of $248 million in 2013. Medivation reports on Feb. 27th. However, once we get into 2014, the picture changes drastically according to analysts. Dendreon is projected to see revenues of $310 million, while Medivation is expected to see about $437 million. The biggest difference here is profitability. Medivation is expected to swing from a $0.69 per share loss in 2013 to a $1.24 profit in 2014. Dendreon is expected to lose $0.96 per share in 2014 after an expected loss of $1.73 per share in 2013. Getting to profitability quicker may be one reason why Medivation shares have soared in recent years while Dendreon shares have plunged.
Dendreon's possible 2014 outcomes:
In this section, I'll discuss a couple of potential outcomes for Dendreon this year. But first, here's a chart of Dendreon since the company went public in 2000. This name has certainly been a roller coaster investment, which is why there is such a struggle between the bull and bear camps. That is not likely to change anytime soon, and the potential for extremely large returns (in both directions) is what attracts so many to this stock.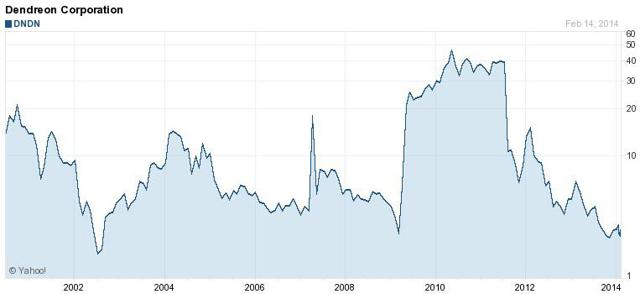 (Source: Yahoo! Finance)
Without some major news completely out of left field, I don't see Dendreon getting back to those $50 plus levels anytime soon. The bull camp is probably hoping that the teens or even $20 is possible at the moment. For 2014, the bull case rests on the following:
Provenge revenues in the US improve.
A launch in Europe occurs during the year.
Automation and restructuring reduce expenses dramatically.
Cash burn improves, Dendreon becomes cash flow positive.
2014 notes repaid, balance sheet starts to improve.
A continued decline in short interest leads to short squeezes.
Dendreon bought out by larger biotech or pharma name.
If Dendreon can achieve most or all of these, particularly getting closer to profitability and cash flow positive, I would not be surprised if Dendreon doubles or more in 2014. In fact, I would think that $8 to $10 is possible if everything goes right. That's basically where the highest price targets on the street are. 2014 estimates have been coming down for quite a while, so Dendreon certainly has a chance to beat. The table below shows 2014 estimates since May 2013.

Unfortunately, the past history of this name doesn't provide too much confidence that everything will go right. There will probably be at least one major disappointment during 2014, whether it be an earnings report or something else. The potential for disappointment leads me to the bear case in 2014:
US Provenge revenues don't continue late 2013 momentum.
Dendreon faces problems with a European launch.
Restructuring efforts don't pay off as much as expected.
Cash burn continues at a high rate.
Balance sheet weakens further.
Dendreon forced into massive secondary offering.
Obviously, the worst thing that could happen in 2014 is that Dendreon goes bankrupt and shares lose most or all of their value. The bear camp would certainly love that. However, I don't think Dendreon will get to that point. If Dendreon has a bad year and needs to raise money, I think my last bullet above sums it up, a massive secondary offering that could dilute shareholders by up to 50%. In this bear case, I think Dendreon shares could end up in the $1 to $2 range, or potentially even lower before the secondary. It's possible that investors would cheer a secondary in this case because it would eliminate the bankruptcy worry, at least for a time.
Dendreon closed Friday at $2.95. Obviously, you can make the argument that the risk/reward here is tremendous. In the worst-case scenario, you lose 100% or close to it. But if Dendreon gets everything right, a triple is possible. That doesn't even get into the argument of another run to $20, $50, or more. There is massive upside, but it is incredibly risky.
Final thoughts:
2014 is set up to be a make or break year for Dendreon. The company's weakening balance sheet has bankruptcy increasing as a possibility. On the flip side, Dendreon is in the midst of getting Provenge into Europe and improving its cost structure. A double or triple in shares, or even perhaps a greater return that, might be in the cards if everything goes right. Dendreon will certainly be a roller coaster stock in 2014, and might be the perfect play for investors looking for a small speculative name. I wouldn't bet the farm on Dendreon, but the latest news in January was positive, and short sellers are starting to cover. Dendreon investors have been disappointed in recent years, but 2014 offers a new hope. It is time for the company to deliver for its shareholders, and that process starts in a few weeks with a crucial earnings call.
Disclosure: I have no positions in any stocks mentioned, and no plans to initiate any positions within the next 72 hours. I wrote this article myself, and it expresses my own opinions. I am not receiving compensation for it (other than from Seeking Alpha). I have no business relationship with any company whose stock is mentioned in this article.
Additional disclosure: Investors are always reminded that before making any investment, you should do your own proper due diligence on any name directly or indirectly mentioned in this article. Investors should also consider seeking advice from a broker or financial adviser before making any investment decisions. Any material in this article should be considered general information, and not relied on as a formal investment recommendation.